Indonesian edtech Cakap continues to leverage its online platform to educate teachers and enhance their digital teaching capabilities.
This year, 483 participants enrolled in the Cakap Teacher Academy (CTA), which aims to empower educators with the knowledge and skills to teach digitally.
In 2022, the CTA had three intakes, compared to 2021, the year in which the program was launched with a total of two intakes. The participants included school teachers, translators, financial professionals such as accountants and auditors, and recent college graduates.
Hoesni Fuad, Cakap's teacher management manager, said many CTA participants believe the program has benefited their personal growth and career development.
"The CTA has made significant improvements in their language skills through the workshops in this program," said Fuad. "As a result, the participants have gained the ability to teach more effectively in both online and offline classes."
The program's modules include educational learning theories and language learning; classroom management in language education; and English language teaching methods based on Common European Framework of Reference for Languages (CEFR) standards. The participants were also taught how to promote digital literacy through online learning.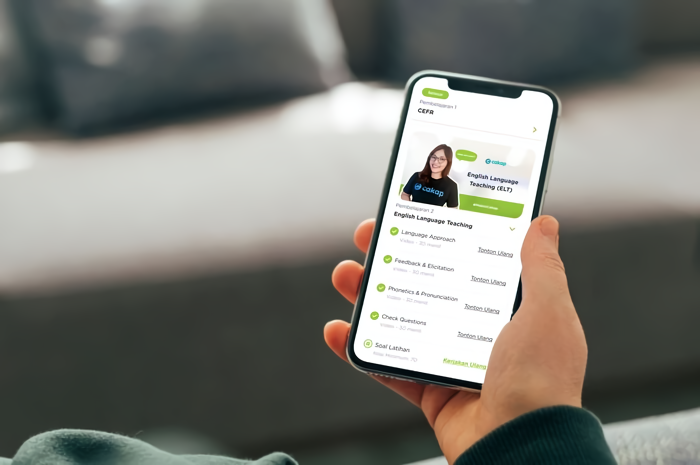 Across the world, COVID-19 has prompted countries, including Indonesia, to rethink their learning processes, as educational systems pivot from offline learning to home and e-learning. Nadiem Makarim, Indonesia's minister of education, culture, research and technology, said distance learning is in line with "Merdeka Belajar," or freedom of learning.
"The Merdeka Belajar policy gives educational institutions the opportunity to be creative and innovative in their approach to teaching and learning," he said. "However, it's important to consider the unique context of each institution, including local knowledge and culture, socio-economy, and infrastructure, when implementing this concept."
CTA alumnus, Yusuf Ari Saktianto, said the CTA program has significantly improved his online teaching techniques, especially in the English language. "In the digital era, many Indonesians who live in remote areas due to the country's geographical challenges want to study with ease and convenience. Online education not only helps students by overcoming physical distances but helps save time, whether for learning or teaching," he said.
Many of those who have completed the CTA program have signed up as educators with Cakap that caters to over 2 million students who are registered in Cakap's online learning database.
CTA alumnus, Made Rahayu Maheswara from Bali, who provides online lessons to students living in Indonesian cities in West Java such as Bogor and Depok, said the upskilling program equipped her with the latest teaching methodologies.
The CTA also gave her an opportunity to optimize her potential as a teacher. "I learned things through the CTA program that I hadn't been taught on campus, like the CEFR," she said.
Since 2021, more than 1,000 educators in Indonesia have attended the CTA program.
Cakap is a leading upskilling company in Indonesia that develops learning applications that connect students with professional teachers and industry experts through video calls and text conversations. Holding the ideal that everyone deserves a quality education, the Cakap education platform provides two-way learning interactions that allow users in various Asia Pacific countries to acquire knowledge and upskill themselves. Cakap is available on Google Play and the Apple App Store. The company provides educational solutions with an international standard learning curriculum to provide the best online learning experience. #SiapaCakapDiaDapat
This article was produced in partnership with Cakap.