Despite Myanmar's relatively immature digital economy, a rapid boom in smartphone proliferation has led the way for the nation's modernization following reforms introduced in 2013 that ended a state monopoly over phone services.
Since 2013, smartphone giants including Huawei, Apple, and Samsung have continued to tussle for a share of this fast-growing market. However, Chinese players have dominated, with three major firms, Xiaomi, Huawei, and Oppo currently occupying nearly 66% of the country's mobile market, while Samsung, the only non-Chinese brand, takes 14% of the market according to the latest data as of Canalys estimates for Q3 2020.
Myanmar's internet penetration reached 41% in January 2020, with a total of around 22 million Burmese on the internet. However, with around 68 million mobile phones in the country, a large proportion of users are not using internet-connected smartphones, but rather traditional cell phones.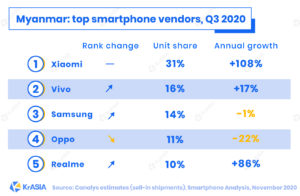 Still, Myanmar's transformation has been remarkable, Marc Einstein, chief analyst at Tokyo-based ICT advisory firm ITR Corporation, noted, "The revolution from 'no phone' to 'smartphone' is quite remarkable. That's the only country in the world where, in a few years, all of a sudden, everybody has a phone."
Yet, with Myanmar's society increasingly coming online, especially as COVID-19 has restricted offline activities, Chinese smartphone giants are targeting Myanmar's market potential more than ever.
What do consumers in Myanmar want?
Myanmar is a "young" country, with 55% of the population under 30 years old. Burmese consumers are notably price-sensitive, a consumer trait not unfamiliar to Chinese companies. Xiaomi, Huawei, and Oppo have therefore a comparative advantage compared to more premium brands like Apple and Samsung in Myanmar, thanks to these companies' affordable price point on low-tier handsets.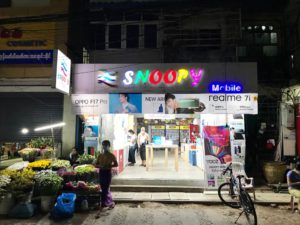 Huawei made strong inroads in the country after 2013, remaining the top-selling manufacturer until early 2016, when Xiaomi surpassed the Shenzhen-led telecom giant, according to a local news report by Frontier Myanmar, citing local retailers. In the period from 2016 and 2018, Huawei's market share was slowly eroded by Chinese rivals Xiaomi and Oppo, and from 2018, Xiaomi became the top seller and has not looked back since then.
When asked about the reasons behind Huawei's decline, Einstein cited Huawei's strategic positioning as a premium brand. "For many years, Huawei has tried to stay away from the mass market. You can tell from some of its latest mobile phones such as the Mate 30 and Mate 40. They are designed to compete with Samsung and Apple. Also, there's this big question about its Android system. But as the trade war between China and the US is still standing now, people buying a Huawei phone may run the risk of not having access to Google," he said. 
While Huawei told KrASIA in an email interview that it is "one of the biggest smartphone vendors" in the country, Beijing-based Xiaomi has capitalized to capture a leading market share of over 31% in Myanmar as of October 2020, while Huawei wasn't in the top five vendors in terms of units shipped. Xiaomi has emulated Apple by placing its major retail outlets in swanky shopping centers in major cities like Yangon and Mandalay, yet its devices are priced significantly lower than the Cupertino-based firm. Also, Xiaomi has positioned its subbrand, Redmi, as one of the most popular brands in the country.
"The price to performance ratio is our most potent weapon in Myanmar," Fuliang Bai, general manager of Xiaomi Myanmar, told KrASIA. The Redmi Note 9 Pro, the brand's latest flagship, retails in Myanmar for MMK 320,000 (USD 244), compared to over MMK 1 million (USD 672) for various Apple's iPhone and other premium devices.
Gross domestic product (GDP) per capita in Myanmar in 2019 was just USD 1,408, trailing some of Xiaomi's other Southeast Asian markets like Indonesia at USD 4,136, Thailand at USD 7,808, and Vietnam at USD 2,715, according to data from the World Bank. The relative lack of disposable income in Myanmar results in less demand for expensive premium devices, hence the success of Xiaomi's Redmi products. 
"I think Xiaomi is the most popular one compared with other Chinese brands. It is really cheap and they can have a better camera." said a salesperson at Skywards, a local mobile phone retailer located at Sanchaung township of Yangon.
The importance of the camera cannot be understated in the minds of Myanmar's consumers. With the surging access of smartphones and social media, the selfie bandwagon has been catching on in Myanmar, which makes the quality of the camera one of the most important criteria in buying a smartphone.
While Xiaomi's leading position is not under imminent threat, having steadily increased its market share over the last two years, another Chinese player, Oppo, thanks also to its budget brand Realme, is gaining momentum. With a growth of 86% year-on-year in the third quarter of this year, Realme is capturing the likes of Burmese consumers who are looking for budget-friendly deals with a decent camera, with smartphones priced from MMK 139,900 (USD 106) on one of the country's most popular e-commerce site.
The brand, accounting for 10% of Myanmar's market share as of October, is particularly targeting the lower-end segment of the country's smartphone market. Phoo Moh Moh, a 23-year-old salesperson at a local mobile shop in Sanchaung township of Yangon, told KrASIA, "From my sales experience, the quality of the smartphone is good and the camera usually has a high resolution."
Bringing smartphone connectivity to rural areas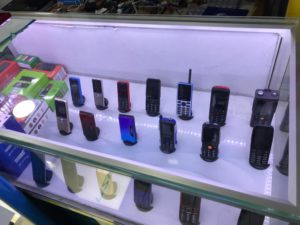 While Myanmar's mobile market may not contain the most lucrative opportunities in the region, the room for growth is immense with GDP per capita expected to rise more than 55% by 2022. Most consumers are found in Myanmar's urban areas, but the proportion of Burmese living in cities was only 30.8% in 2019, leaving many potential consumers outside the reach of traditional sales channels.
For urban consumers, sporting the latest new smartphone is seen by many as a sign of social status, while rural smartphone users barely take advantage of the smartphones' capabilities beyond basic text and calls, according to a report conducted by the Groupe Speciale Mobile (GSM) Association in 2015. That said, some rural users do recognize the need for a smartphone when it comes to Facebook, Viber, and other social platforms.
"Based on the qualitative research, most rural participants had low brand awareness; if they had any, it was Huawei. For them it was important to own any touchphone, regardless of the brand," the GSMA report added.
Min Aung Thu, a 28-year-old who is currently working in Yangon, comes from a small village in Sagaing Region's Ye-U Township. "Most of the people in the village right now are using smartphones. They are mostly Chinese brands, and the price range is around MMK 100,000 (USD 76.20 ) and MMK 200,000 (USD 152.41)."
For rural consumers, brand visibility is not always a differentiating factor, Min Aung Thu explained. "For my village, internet connectivity is not a big issue, people usually go to nearby cities to buy phones. They don't care about the brand. They just go to the shop, tell the sellers their price range, and ask for recommendations. Most of the phones in the area are imported from the Chinese border, because of the geographical proximity."
While rural users tend to have low brand awareness, Xiaomi's Bai explained that infrastructure issues have continued to hinder a greater adoption of smartphones in rural Myanmar. However, opportunities lay there.
"I made some trips to some villages where the availability of electricity and Internet are still low. While these are challenges to us, we see these as opportunities for us to grow in the near future," He explained to KrASIA.
However, the country is developing its infrastructure. A Universal Service Fund (USF) was established in 2018 to expand telecommunications services to the most remote regions of the country. This fund, which is the first of its kind in Myanmar, will use fees collected from the market's main telecoms operators to pay for network expansion.
While Chinese smartphone giants may look forward to a 5G future in their home market, Myanmar telco's are still focused on improving 4G connectivity in the nation, before eventually upgrading to the latest generation of networking technology.
"In the coming two to three years, price sensitivity will still play a big role in rural areas. There will be a lot of Chinese phones priced between USD 30 to USD 50. That's what we call the grey market phones [phones that are sold without a bill and warranty]. In the urban sector, more people will go for premium brands like Samsung, Huawei, and Apple. Samsung will be quite popular in the coming years, as it is not that expensive compared with brands like Apple," said Einstein. 
Chinese firms are also leveraging their brand recognition to expand its offerings in the country, Bai noted. "In addition to smartphones, we see the potential for our TV products, given that TV is still quickly adopted by local households."