Growing momentum for climate action makes it the right time for carbon services and trading companies to seize growth opportunities. As a leading carbon services hub, Singapore is no stranger to the climate agenda — it is firmly committed to a robust climate policy framework that seeks to enable a feasible green transition.
Besides accounting for about 50 per cent of Southeast Asia's (SEA) green bonds and loans, Singapore is the first country in SEA to introduce a carbon tax to directly fund decarbonisation. As part of its carbon pricing regime, the city-state has also allowed companies to use high-quality international carbon credits to offset up to 5 per cent of their taxable emissions from 2024.
"What [these efforts] translate to are supportive and business-friendly policies for carbon market players," observed Genevieve Soh, Head of Platforms & Ecosystems at the Singapore-based global marketplace, auctions house and exchange for high-integrity carbon credits Climate Impact X (CIX).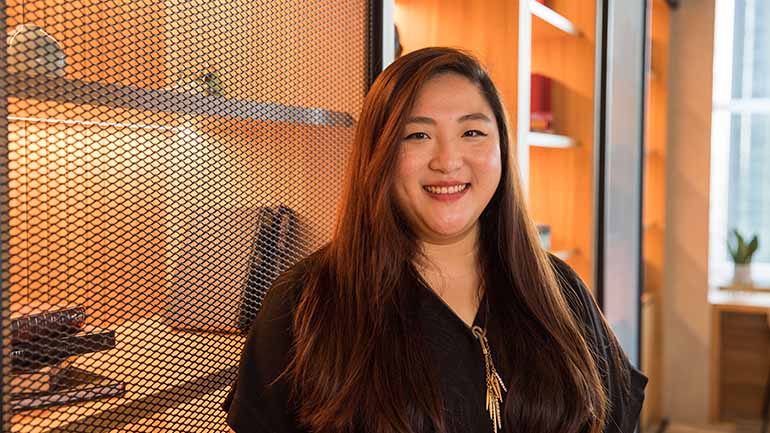 Established in May 2021 as a collaboration between local and international private stakeholders, DBS Bank, Singapore Exchange, Standard Chartered, and the Government-backed investment corporation Temasek Holdings, CIX deals with standardized and high-integrity carbon credits that are better able to deliver emission reductions consistently and credibly.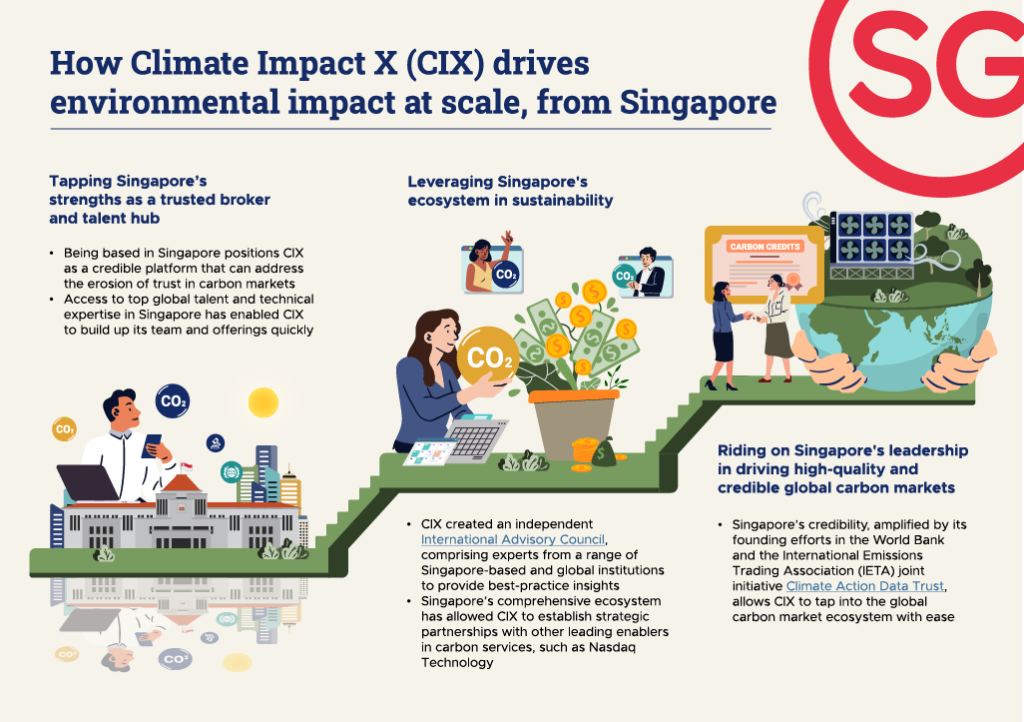 Scaling carbon markets from Singapore
"A key and ongoing challenge for carbon markets is the erosion of trust, which stems from historical issues relating to the lack of quality and standardisation of carbon credits," explained Soh. "This is why CIX places so much emphasis on trust and transparency, and in building a community of high-integrity buyers and sellers who are committed to genuine climate action," she added.
A key proposition of CIX is thus offering user-friendly data and insights so that businesses can make more informed buying decisions and transact with confidence. For example, through CIX Marketplace, firms can access trusted carbon credits from around the world, which come with rich information on a project's scope, carbon sequestration impact and its benefits beyond climate. Project developers and suppliers can also better understand the competitive market value of their project through a staged bidding process that is facilitated via the platform CIX Auctions.
"Being headquartered in Singapore helps with our cause. This is because Singapore is equipped with three important ingredients for credibility-building: a trusted political and legal infrastructure; the ability to act as an unbiased broker; as well as access to global top talent and technical expertise," said Soh.
In other words, CIX operates within Singapore's tried-and-true system of tripartite partnership, where the public sector actively supports private enterprises in sustainability.
Partnering up with the best from Singapore   
Singapore's growing ecosystem in carbon services provides a conducive environment for firms to explore and create meaningful partnerships or collaborations. Among others, CIX's partners in Singapore include various ecosystem enablers such as academia, financiers, carbon footprinting firms, technology providers and project suppliers.
"From public to private sector actors, we believe that a community of ecosystem players is needed to facilitate the development of Singapore's carbon services hub," stated Soh. "CIX works closely with a number of carbon services players across the value chain to explore synergies, in particular how we can reduce frictions for businesses and institutions looking to invest in climate mitigation solutions on the pathway to net zero."
In June 2022, CIX announced a strategic technology partnership with tech firm Nasdaq Technology, through their Singapore office, to power their new global carbon exchange. The exchange will feature bespoke exchange-grade trading functionalities and is set to launch in early 2023.
In the same vein of partnership, CIX also collaborated with Respira International, an impact-driven carbon finance company from the UK, to hold a major auction for quality nature-based blue carbon credit generated by the world's largest mangrove restoration project in Pakistan.
To build further credibility, CIX has established an independent International Advisory Council, which comprises a diverse panel of subject matter experts from Singapore-based and global institutions. The council supports CIX's work by providing best-practice insights on the latest science, policy, and market application of carbon credits.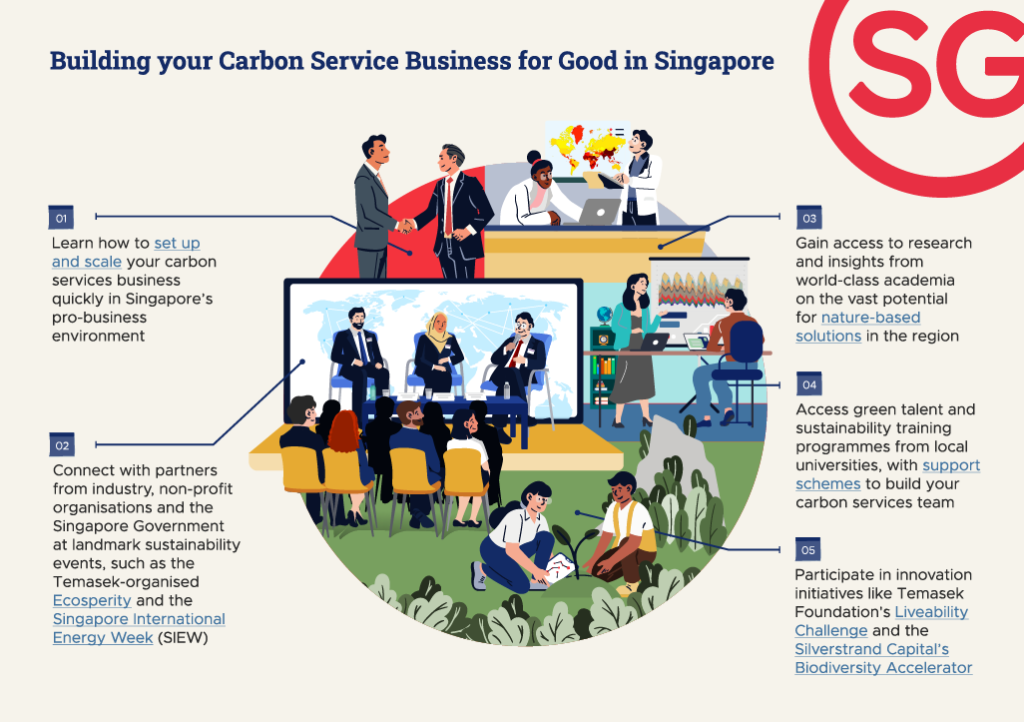 Supporting the low-carbon transition in the region from Singapore 
Singapore remains committed to balancing profit with purpose by partnering like-minded businesses to be a force for climate mitigation.
Regular innovation challenges, such as the Sustainability Open Innovation Challenge, connect investors, talent, and entrepreneurs to develop creative solutions that can solve SEA's sustainability problems. Research on nature-based solutions by the National University of Singapore's Centre for Nature-Based Climate Solutions is also important in improving scientific understanding of nature-based carbon sinks in the region to unlock their potential in climate mitigation.
Singapore's budding green ecosystem has helped CIX gain a headstart in the global marketplace, providing them with a strong base from which to serve firms with transparency and trust. Where climate change is the great crisis of the contemporary era, Singapore welcomes partners to participate in and join its carbon services ecosystem to support the green transition of the region and beyond.
This article was first published by the Singapore Economic Development Board (EDB). The Singapore Economic Development Board (EDB), a government agency under the Ministry of Trade and Industry, is responsible for strategies that enhance Singapore's position as a global centre for business, innovation, and talent. Have the latest insights, stories, and analyses on how companies are growing in Asia delivered to your inbox here.