Due to its large unbanked population, Southeast Asia is undoubtedly a hotbed for fintech innovation. Fintech lending has been speedily growing in the region during the past five years, with services such as pay later getting increasingly adopted by new players.
Pay later is an alternative to credit which gives customers the flexibility of making purchases (within a certain limit) instantly and make repayments over time. This financial product has become very popular in Indonesia, where nearly all major mobile wallets have introduced this function, while Singapore is also seeing the rise of pay later providers in the past two years, one of which is Hoolah.
Launched in February 2018, Singapore-based Hoolah works with merchants to offer buy now, pay later options for their consumers, letting them completing purchases in three separate zero-interest monthly payments. According to its website, the name Hoolah comes from the Chinese characters 后来(hòulái) which means later.
"The idea [of Hoolah] originated from hearing merchants' complaints about the lack of a solution to help them increase their e-commerce conversion rate. To get people who visit the website to actually buy from there," Hoolah co-founder and CEO Stuart Thornton told KrASIA.
Thornton added that many consumers visit e-commerce sites to look and add items to their shopping cart, but then they end up not buying any product, which means a missed opportunity for merchants.

"For 80% of consumers, price is a major consideration for their decision. Anything that you can do to help them alleviate the pain of paying the full price upfront for an item, it has a value," Thornton continued.
He believes the concept of pay later has been around since 2016, but it has really started to grow throughout Asia in the past 12 months. Hoolah has expanded to Malaysia last year and Hong Kong in October. The startup currently works with over 1,000 merchants across three markets, providing solutions in-store and online for retailers of various sizes, from small and medium, to big-name brands such as Nike and Puma.
According to Thornton, Hoolah's transaction volume has grown by 700% this year, with revenues and customer base also increasing by 350%.
"We aim to give great values to merchants, helping them reach new customers, and strengthening the loyalty of existing customers. Also, we help to increase their basket size conversion rate.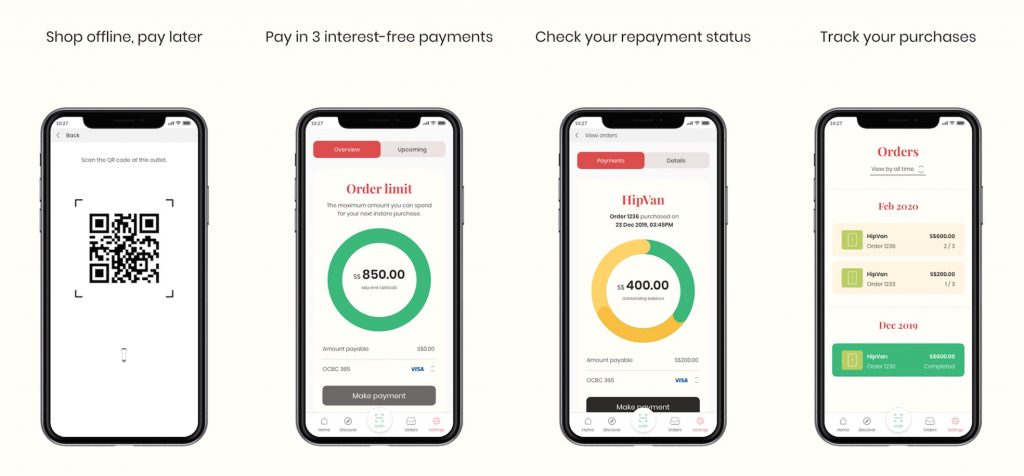 Promoting 'responsible affordability'
As the popularity of pay later rises, there have been some concerns among industry watchers about its risk, as it could give a false sense of affordability which could lead consumers to easily falling behind on payments. Responding to this, Thornton said that Hoolah promotes affordability in a "responsible manner" for customers.
"It is a valid concern because we've seen companies having a business model that promotes people to spend a lot, above their means. That is why we created the technology in the context of "responsible affordability." We want to give the ability to people to have the lifestyle they aspire, while making sure they don't get into debt" Thornton said.
He explained that Hoolah has built a proprietary risk decision engine with various data points to assess customers' financial ability. It is also looking at customers' purchasing behavior to ensure they are spending responsibly using the platform.
"Our engine is effectively looking at each and every consumer's orders. There are a number of different data points and variables that we assess to define whether the consumer is in a good position to make that transaction. We are personalizing order limits for consumers to protect them as well, while we also protect merchants and our business," Thornton explained.
Hoolah charges a merchant fee but consumers can use the product at no charge unless they fail to make repayments on time. In case of late payment, the platform imposes a variable penalty fee, which is correlated to the consumer's order value. In Singapore, the penalty fee ranges from SGD 5 to SGD 30, in Malaysia, it is from MYR 7.5 to MYR 75, and in Hong Kong, the penalty is from HKD 30 to HKD 175, according to Hoolah's website.
However, if a customer is unable to make a payment on time, Hoolah's first course of action is to determine why. This is generally due to the customer overlooking the payment date. If this persists, Hoolah will ensure that the customer is clearly communicated with and work with them to ensure that the payment is eventually made.
"We want to ensure that we're understanding these events and collaborating with customers to make the payment happen in the right way. There are times where life events can have a significant impact on a customer's ability to pay, including health issues and change of employment status, and a large number of late payment charges end up getting waived due to these legitimate reasons," Thornton said.
Although Thornton didn't share the exact number of Hoolah's default rate, he said the startup can keep the rate low thanks to its comprehensive risk assessment.
Going forward, Hoolah plans to expand its business across Southeast Asia and other emerging markets across Asia. Thornton didn't share details about expansion plans but said he has an interest in the Philippines and countries in North Asia.
"Asia is a wonderfully complex and fragmented market with different cultures, languages, and compliances, which makes it very exciting and challenging at the same time. Therefore, hyper localizing capabilities and strategies are crucial, which is what we have been doing right now," he said.
"We believe there's plenty of opportunities for the Hoolah brand to exist in multiple markets across the region. We've created a strong proposition in existing markets and we want to bring that to other markets across Asia in the coming months," Thornton added.
This article is part of KrASIA's "Startup Stories" series, where the writers of KrASIA speak with founders of tech companies in South and Southeast Asia.