From biking through one of Kathmandu's last woodlands to enjoying lunch at the iconic Eiffel Tower, it seems that Hong Kong travel activity marketplace Klook has got it all covered. It now wants to capture more users in the US and Europe.
Klook says it's now listing over 50,000 activities in over 200 destinations. The 600-staff company raised US$200 million in a Series D round last month and plans to spend it on expanding its global footprint. The latest round brought its total funds raised since its foundation in 2014 to US$300 million.
It has plans to open an office in the US by end of this year, and wants to add more US and Europe-based listings onto its marketplace, as well as to bring more US and European travellers to Asia.
In a chat with KrASIA, Marcus Yong, Klook's regional head of marketing, said that the core differentiators that set the unicorn apart from similar players are that it is mobile-first, prioritises quality over quantity, and puts in the effort to target young consumers with well-curated content. Other than that, it also works with select merchants in giving Klook customers a VIP experience. in Hong Kong's Ngong Ping 360, a scenic cable car ride, Klook users get their own line at the ticketing counter.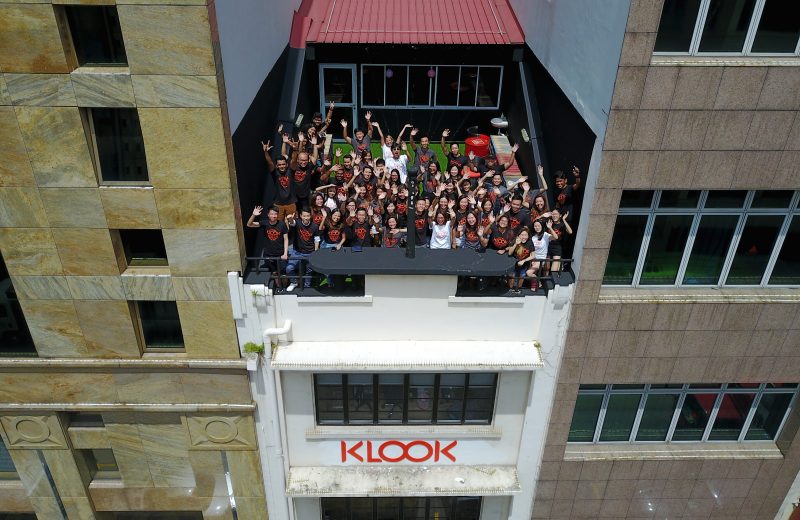 What sets Klook apart from traditional online travel agencies is that most of its bookings are made last-minute, around 24 to 72 hours before the traveller starts the experience, said Yong. Some of them are even buying the tours off Klook at the entrance of the attraction. Yong sees an opportunity in converting more of these customers. Traditionally, they would have just queued in line at the attraction rather than booking online ahead of time.
"We're pretty much the market leader when it comes to the online booking space," he says. "But the pie of the online booking space is not as big as that of people [used to] walking in. Rather than say how can I grow my pie from 8% to 9%, the question is how can we go after that 50%?"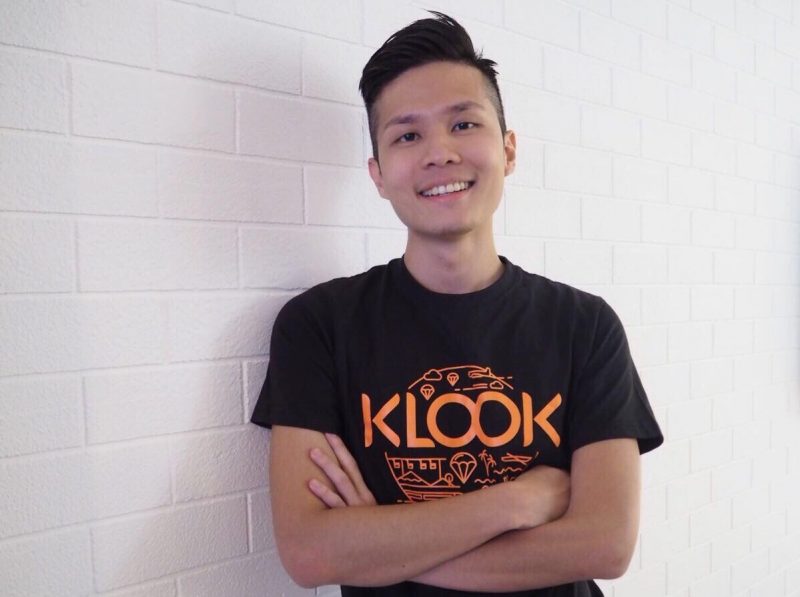 Here is our interview with Yong about Klook's strategies in Southeast Asia, whether it plans to expand into other verticals, and some of the most interesting tours on the platform.
Edited excerpts, revised for brevity and clarity:
KrASIA: What are the different strategies between different markets?
Yong: Generally, we split our thinking into mature vs. developing markets. Mature markets to us would be markets like Philippines and Singapore, where we have certain amounts of penetration in the market, where our efforts focus a lot less on quick-fire user acquisition like popup events but also structuring strategic and regional partnerships with banks.
[Klook has been operating its business in the Philippines for four years now, during which it has seen "rapid growth" as users in the country get more accustomed to booking tours online. Yong previously told Business Mirror that Filipino travellers are "extremely engaged".]
For developing markets, I'd say Indonesia and Thailand, that's where our focus is very much on not just building the team but also trying to find ways to localise our outreach.
Markets like Singapore have high credit card penetration so it's very easy for people to make online payments. But in markets like Indonesia, it's still very much a cash-based society. While we're able to target the very affluent group of people with credit cards, a lot of people will still require us to find alternative channels for them.
If you look at e-commerce brands there like Lazada, Tokopedia, very often people who buy online still hand over cash when the delivery man comes to the door. So, for us because we're largely an e-commerce platform, we also have to find ways to allow these alternative payments. But that requires time and working with the relevant authorities there to get the right permits.
There's an interesting story I'd like to share. In some of these markets, when we do events, say Vietnam for instance, sometimes people come up to us and then they hold cash and they say, "I want to buy 2 tickets to Universal Studios Singapore (USS). Can you give us the two tickets?"
Because we're not legally set up to accept the cash with a POS machine and receipts, that's where we need to educate them. We need to work with partners that will allow things like that.
KrASIA: How is Klook different from its competitors?
Yong: I think first of all, and fundamentally, we are not just a travel company. We are a technology company. Overall, 70% of our bookings come in through mobile devices. From day one, I think that was one of the core differentiating factors the co-founders wanted Klook to stand for.
The kind of bookings that we get are all very last-minute. They happen within a 24- to 72-hour window which means that people are either booking just before they leave for their trip or even at the airport, or at the entrance of the attraction when they're there.
This whole idea of mobility, combined with tech, allows for a frictionless experience. A few tabs and you get your ticket, you can scan your QR code at the entrance of the HK Airport Express.
In addition, we are still very much a 'curator' platform. For a lot of other travel brands like online travel agents (OTAs), they could function like marketplaces, which means that when you search for Bangkok cycling tours, you might get 40 different tours from different operators. But if you go to Klook and you search for 'Bangkok cycling tour', you'll realise that you'll get two different tours. The reason for that is not because we don't want to expand our offerings, but before we on board these activities, we make sure that they're tried and tested.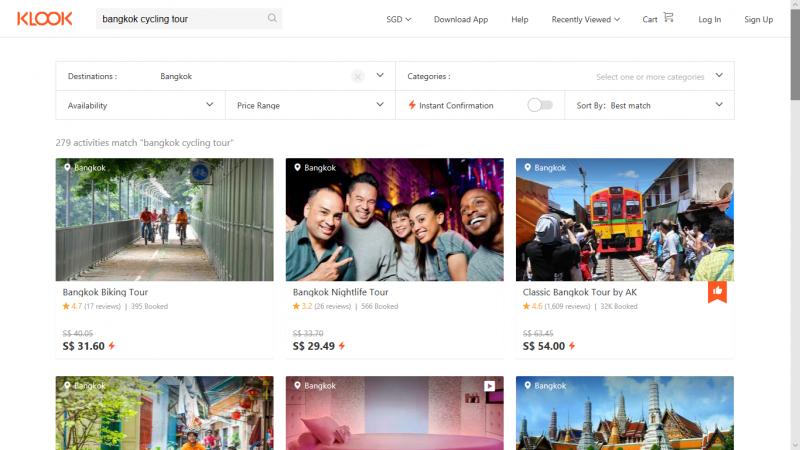 We could have people who are in that particular market trying the tour out. We also read a lot of reviews online and we talk to these merchants to make sure that safety and quality is ensured. So, when people use Klook, they can be assured that these are highly qualified activities, which have been tried and tested before we get them on board.
We also have a very strong review system. If you go to our platform, you'll notice that we have more than 5 million user reviews now. These are reviews left by real users. We take these reviews very seriously. In the event that some customers leave not so good reviews, that's where we will work with the merchants to understand why the customers are feeling this way and if the merchants can't solve it, we might delist them and on board another alternative. That's why the curator function is another important thing besides the technology.
The last thing that really differentiates us is that we market to a very young consumer base. The average age of users across markets is 21 to 40, and we also target young families.
The way these people consume information and plan their trips is very much linked to online and content, so while we're an OTA with the best prices and the most seamless booking experience, we also spend a lot of our efforts creating itineraries, guides, and travel videos, to empower these young travellers to plan their trips.
KrASIA: Will Klook ever expand into other categories or verticals?
Yong: Before I answer, maybe we can look at our categories first. People always ask us, "How exactly do you define what Klook does? Are you tour and activities booking? Are you things to do?" The official term is: in-destination travel services booking platform. A little bit of a mouthful right?
But when you expand this, you will realise that it's not just attraction tickets, it's your tours, your experiences and activities, things like cooking classes, to your transport, your wifi and even F&B, which is a new vertical that we launched not too long ago.
So as a traveller now if you come to Singapore, you could be booking restaurants like Jumbo, No Signboard, and Yakun on the Klook platform. Now the intent is not to be something like a table reservations platform Chope or Hungrygowhere, but essentially if you're a traveller and you're going to Hong Kong, then that's where we want the Klook platform to be able to serve your needs, [from tour activities to food].
By going on the Klook platform, there will definitely be an advantage given to you in a sense that not only will it be cheaper, but you might also get certain freebies like additional food toppings. More importantly, the menu is localised in your language as well because not everybody can understand Cantonese. Having the ability to check out the menu in Korean on the Klook platform is a huge benefit and plus to these travellers.
If you're asking me for specific plans to add flights and accommodation, I think we'll never say no but even when you look at accommodations, rather than looking at onboarding a brand like Marriott or Hilton onto the platform, it's more about experiences.
So if you're going to Japan, maybe after booking your Japan Railway pass and your theme park tickets and wifi, you could be booking certain experiential ryokans, which could all be part of a one-day stay on Klook. If you're going to Legoland in Malaysia, maybe you'll be booking the Legoland hotel which is also part of the experience.
Besides horizontal expansion, it could be a vertical expansion. But I think we still tie it back to our roots of helping people find things to do. It branches out from that.
KrASIA: When it comes to big attractions like Disneyland or Universal Studios Singapore, why do you think people book using Klook rather than just walking in?
Yong: There are a couple of factors. Firstly, if you're not just talking about Disneyland, for certain attractions or activities, we have certain benefits that only Klook users get. If you go to Ngong Ping 360, what you see is there will be a regular queue and there will be a Klook VIP queue. And then people there will naturally think to go on Klook to skip the queue and go to the front. The product differentiation is one thing.
Secondly, booking on Klook is cheaper than doing a walk-in most of the time. People know that by booking on Klook, they get to skip the normal ticketing line. Additionally, a lot of our tickets, especially for large attractions, are open-dated so it offers you that flexibility.
Last but not least, because the product itself is organically really good – you get to make bookings through a few tabs – when you go online to read reviews, people naturally promote Klook organically. And these are not people that we pay money to, they would say "I booked on Klook and I had no issues". Together with our own paid marketing efforts and partnerships, we are able to actually grow and scale very quickly.
KrASIA: Do you have any interesting or memorable tours on Klook you'd like to share with us?
Yong: I have two in mind. First, it's Bhutan, which is not naturally a place that people think of visiting immediately because not many airlines fly there. You need to take DrukAir and when you go there you need a guide because you need to pay the Bhutan government a daily tourist tax. When you book a Bhutan activity on Klook, essentially, you're booking a 7-day package.
That includes the guide and the traveller fees. I find it very unique because it's different from booking a normal Disneyland ticket. That's because the nature of Bhutan and how travellers have to visit Bhutan.
The other thing I thought was quite unique is that on the market side, sometimes, we do things that are pretty interesting. Like for example, a year ago, in Taiwan for Halloween we did things with a spin by creating a bookable activity where people in Taiwan could book a scare actor to scare their friends.
It's not your typical run of the mill activity, but what we wanted to do was to have fun and connect with the young travellers. Of course, we didn't open this up to hundreds of people because it's impossible to get hundreds of ghosts to go around scaring people.
Sarah Wan, Klook's marketing lead: If I can share a personal favourite of mine, there's a Meet Santa Claus tour that we have in the Arctic circle. This includes the price of a heli plane to fly to a certain point near the North Pole where you can meet Santa Claus.
KrASIA: Before you go, what is the biggest challenge you're working on right now?
Yong: The biggest challenge is trying to go after the bigger pie, obviously. Back to the Disneyland example, we're pretty much the market leader when it comes to the online booking space. But the pie of the online booking space is not as big as that of people walking in.
Rather than say how can I grow my pie from 8% to 9%, the question is how can we go after that 50%? That requires a lot of education, longer-term efforts, not just partnerships but a lot of content created to really demonstrate to people why booking online saves you time and money. If I distill one biggest challenge for us, at least on the marketing side, it would be this.
Editor: Ben Jiang and Nadine Freischlad