In Singapore, food delivery companies are dealing with increasing amounts of negative feedback posted to their social media accounts. A quick glance at the firms' Facebook pages shows angry emojis and a slew of comments from users complaining about late, cold, and missing food. It seems that the complaints have surged in recent months.
Wilron Loh said he had ordered noodles from hawker delivery platform WhyQ last week. He waited an hour for it, but his order eventually was not delivered. He called the experience the "worst delivery ever."
Meanwhile, Foodpanda user Brandon S. said his payment was rejected when he ordered his food, so he had to buy his lunch elsewhere. Alas, his card was charged, and he ended up paying for two lunches that day.
Food delivery giant GrabFood isn't spared from the heat either.
Disgruntled user Irvin Ng said he's "utterly disappointed" with GrabFood after his points were converted to a voucher after a canceled food order. He was dismayed as he couldn't use the points to buy food from other merchants. Another GrabFood user, Kylie L., said her missing orders took more than two hours to be investigated.
The Phase 2 Heightened Alert that has just ended has once again exposed the infrastructure problems of the industry. Last year, during Singapore's circuit breaker, food demand spiked, and orders were not delivered on time. The firms and experts attributed these problems to the relatively new industry and the sudden onset of COVID-19, a period when food delivery companies did not have enough time to adjust.
However, it has already been more than a year since COVID-19 first disrupted our lives. Even with time on their side, delivery problems still persist. "[Customer service] is not important until [tech firms] have a service issue, and then it becomes the deciding factor in whether a customer might decide to blow up the issue on social media," said Walter Theseira, associate professor and startup expert at Singapore University of Social Sciences.
He added that the reason why the internet is rampant with complaints about poor food delivery services is due to the industry being cheap to enter but expensive to maintain quality service. It's also costly to build an efficient infrastructure due to high operating and growth costs.

Furthermore, the food delivery model, which usually hires "on-demand riders," makes it easier for standards to go awry. "If you rely solely on on-demand delivery teams, who are paid only when they have an order to execute, you will really run into problems when you have unexpected or even expected surges in demand," said Theseira.
To improve their capabilities and cut down on bad feedback, Clive Choo, a lecturer at Nanyang Technological University's business school, said food delivery firms should invest in good software programmers and marketers. "This will help them to continuously improve their routing algorithm. Marketers might need to study the needs of a certain vicinity and collaborate with the food caterers accordingly," he added.
The food delivery customers Vulcan Post spoke to said that prices of food and delivery have been going up on some platforms. When Vulcan Post attempted to order two cups of bubble tea from renowned brands from White Sands Mall to a Pasir Ris HDB block that's 1.4 km away, a check on various food delivery platforms revealed inconsistent delivery rates.
On one app, it costs SGD 4 (USD 3) to SGD 6 just to deliver drinks. That's equivalent to the price of an additional cup of bubble tea. On two other apps, the delivery charges range from SGD 1.90 (USD 1.40) to SGD 2.50.
Experts attribute the higher delivery fees to the demand and supply of riders on each platform. The work-from-home situation also means there's more food delivery demand in the heartlands. Higher fees may also be intended to improve numbers to support firms' listing plans. "The food delivery apps are under increasing pressure to improve margins, especially since several are now public corporations or intend to go public soon," said Theseira.
As for higher food prices, Choo says it could be that food providers' profits are being squeezed by food delivery companies. "Another way of looking at this is that food delivery companies are not willing to take up these costs," he said.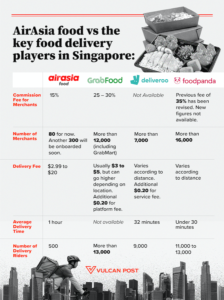 The Singapore government had provided short-term relief for F&B establishments during the lockdown, funding 5% of commission costs charged by Deliveroo, Foodpanda, and GrabFood. The usual commission rate is 30% of the total food order.
Experts say that as more people get vaccinated, and the nation recovers from COVID-19, the delivery firms may have to consider adjusting their commission rates to retain both customers and food providers.
"There is substantial evidence that logistics businesses—which is part of what food delivery offers—have substantial economies of scale. I expect the market will tend towards a small number of large players, with possibly niche platforms with a particular specialty also co-existing," said Theseira.
COVID-19 has led to new food delivery firms sprouting up.  In March, AirAsia launched its food delivery service in Singapore, dangling free delivery promotions to attract customers. At the time, the group said it had more than 500 riders and about 300 food operators. It also claims to offer lower commission fees compared to competitors.
A search on Facebook also revealed smaller food delivery providers like Deliver.sg, SG Food Delivery, and Bao Jiak Delivery.
As much as these newcomers provide alternatives and variety, experts say consumers and merchants should be more careful with less established providers in this space, especially if the company's business model is to act as an intermediary and hold cash during the transaction.
"You really need to assess the credibility of the platform or merchant. It is extremely difficult to recover small losses or refunds if services are not provided unless the platform voluntarily offers such a refund," said Theseira.
It also might take a much longer time for new startups to break even unless there are continual funds to achieve economies of scale to support their operations and app development like efficient routing algorithms and last-mile delivery routes, said Choo. He added that customers' "stored value" or prepaid amounts could be forfeited if the food delivery company folds up.
If payments are made by credit card, there's some possibility of canceling the charge, but other types of payments are probably not recoverable at a reasonable cost in the event of a business failure or non-fulfillment, Choo added.
"I don't think most startups enter the industry intending to cheat customers, and offering services at a loss is a well-established method of gaining market share on entry. The fact is that this industry is cheap to enter but expensive to master, and not all startups will be in a position to sustain their business or provide adequate services," Theseira said. Despite the many structural growth issues, food delivery services are set to stay, he added.
In a survey conducted in January this year, 80% of respondents admitted that they are ordering from food delivery services more than ever before, with half saying that they order food more than once a week. Older Singaporeans are also adopting food delivery platforms. In all, 81% of respondents aged 45 to 54 state that they are more reliant on food delivery services to order their meals.
With more people wanting their food delivered to their doorstep, the onus is on the platforms to improve their services. Theseira suggests food delivery firms look at the cost model in hiring riders to ensure quality deliveries. "I would say food delivery services would like to have as much control over riders as possible so they can provide predictable service, but they don't want to pay for the costs of making riders employees." Delivery staff are incentivized to complete deliveries as quickly as possible, which adds some risk of being reckless, he added.
As for the labor market issues around the gig economy as a whole, Theseira noted that any increased regulation and protections would likely drive up costs significantly. For public health, he said, there hasn't been a major issue since the short amount of time between food preparation and delivery really doesn't introduce much risk, and food is usually sealed by the restaurant.
Nonetheless, the platforms must hold high food hygiene standards or perhaps introduce food safety courses to help workers better understand the requirements—or be prepared to face bad press if anything unfortunate happens. "It's always a concern that mishandling and other mistakes could cause food safety risks," he said.

This article was originally published by Vulcan Post.