We live in an era of rapid change. Yet, what is the nature of such changes, and what is the result? Due to decades of national reforms, Chinese businesses have gone through significant periods of volatility, which have tempered and tested their capabilities. Now, with China's entrepreneurship market maturing and reaching a period of relative stability, businesses are looking outward to seek out diverse worldwide markets.
But this is not a simple matter of replicating China's lessons overseas. The international market environment is increasingly challenging to operate in, as requirements for entrepreneurial success and foreign capital investment become more stringent. Transplanting past solutions is not sustainable.
Facing these challenges, how can enterprises root themselves in fresh environments while utilizing the advantages they have pressed home in China to meet the needs in new markets? On December 15 and 16, 2020, 36Kr Global will answer this question.
The "Hello World 2020" year-end roundup covers four themes. Part 1 focuses on taking stock of global businesses in 2020. Part 2 addresses venture capital in emerging markets. Part 3 unpacks the globalization of Chinese businesses. And Part 4 zooms in on hot industry trends. We hope to trace a roadmap by tapping the experience of investors and business leaders.
Part 2 Preview: Venture capital in emerging markets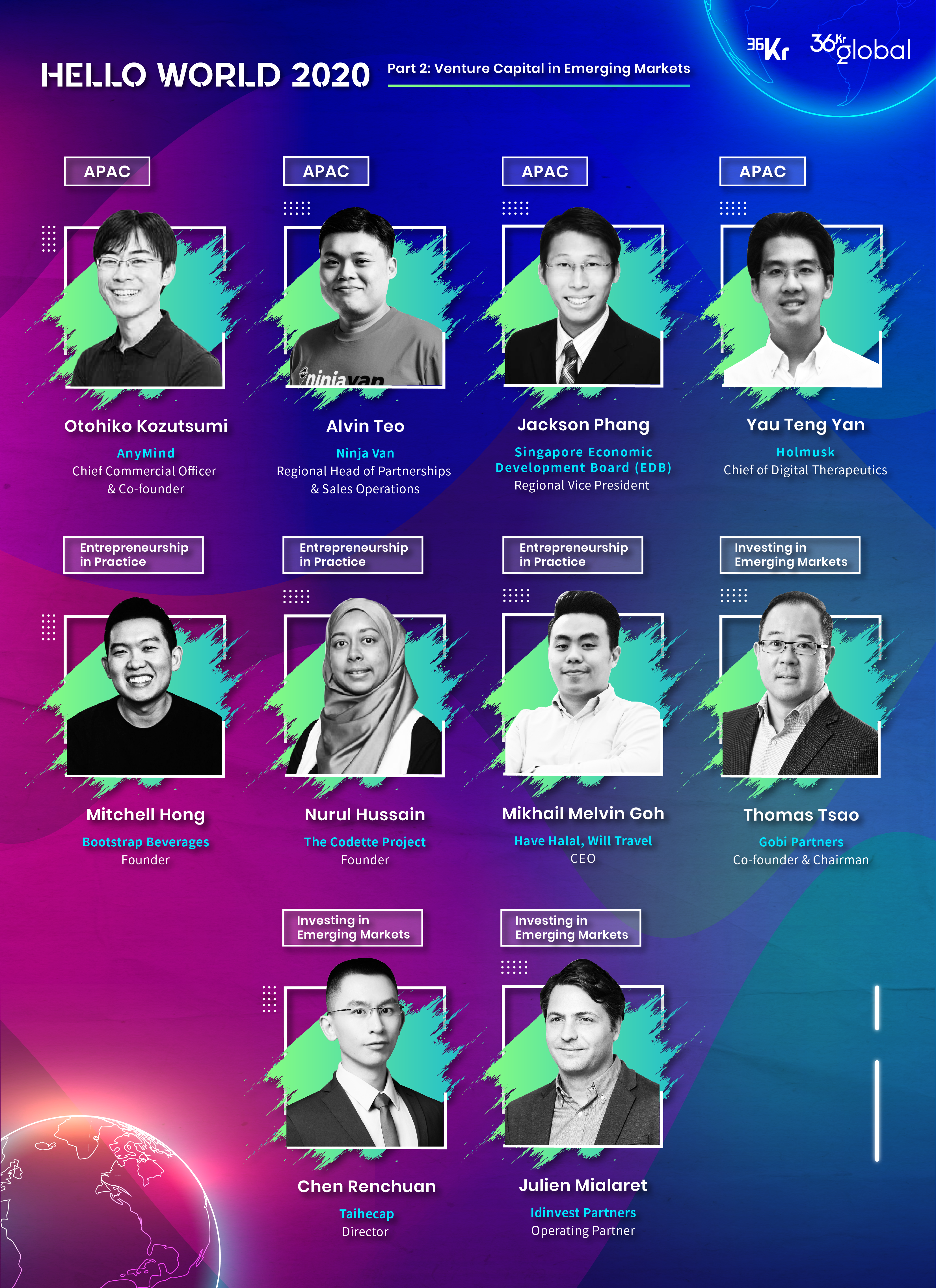 The Asia-Pacific
The APAC region is becoming the global economy's next growth engine, especially following the signing of the Regional Comprehensive Economic Partnership (RCEP) agreement, which will deepen economic and trade ties in the region. How should Asian companies make use of their networks to expand globally and maintain steady growth? In a rapidly changing business environment, how can companies make decisions swiftly? Also, how should Asian companies view the relationship between technological and business development?
Entrepreneurship in practice
What does entrepreneurship mean? Some might see it as a fast path to wealth, while others might view it as a decision to bring positive change to an imperfect world. We consider the relationship between profit maximization and social values when discussing entrepreneurship in practice in overseas markets.
Investing in emerging markets
As the internet industry grows, new opportunities emerge. Regional disparities in technological development make it possible to compare each region's growth curves. Where and how should capital enter emerging markets? What challenges do investors face when competing for blue oceans in hotly contested geographies.
Part 3 Preview: Globalization of Chinese enterprises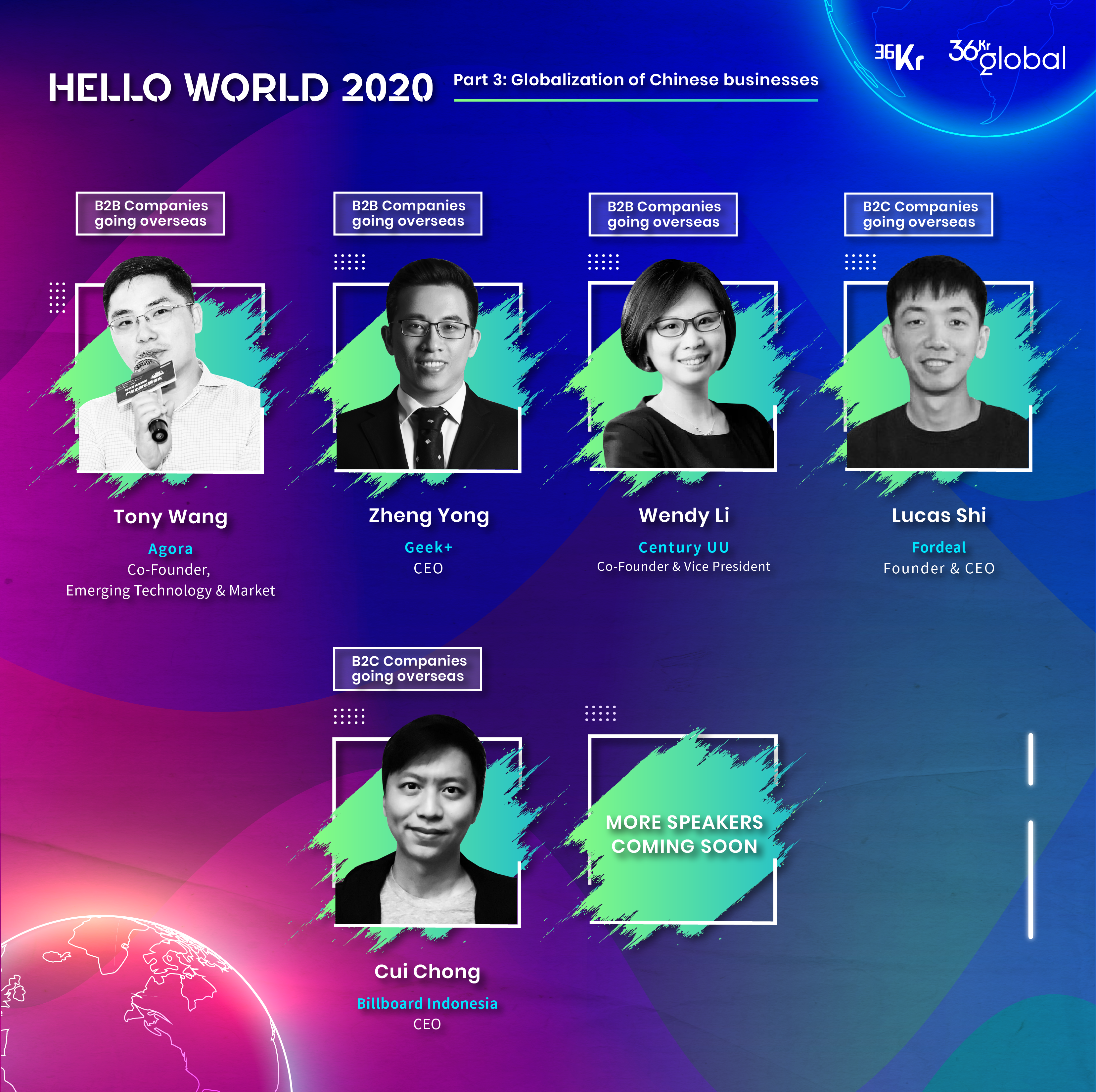 B2B companies head overseas
Although China's most prominent companies started out as business-to-business (B2B) firms, they are stepping into the spotlight and leaping on economic growth to ply their trade. Three companies will share their insights on developing business models, product design, and technology when landing in new markets.
B2C companies head overseas
Chinese business-to-consumer (B2C) companies need to learn how to retain their domestic advantages as they localize for different cultures to win over local consumers and attain success.
Part 4 Preview: Hot industry trends

Healthcare
Undoubtedly, this sector has gained momentum in 2020. There is a difficult balance to strike between reaping profits and generating social value. What problems exist in the healthcare field, and how can companies develop their business strategies in ways that are socially conscious? Furthermore, what kind of technological developments will help us identify and resolve problems?
Education
Worldwide uncertainty is making us re-examine the importance of education. How should education change, from K–12 to professional institutions, in order to optimize the training of human talent and ensure that future generations are well equipped to face major changes? What kind of values should we impart to companies and students?
Innovation
Innovation is the cornerstone of any enterprise's longevity, but it is difficult to define. Developing cross-border or new product opportunities can also be considered a form of innovation. How should companies choose which track to follow, and what pitfalls do they need to avoid? What will be the impact of sociopolitical events on innovation? Innovation is not just a buzzword, but a reflection of long-term thinking.
Further details will follow.  Stay tuned to KrASIA for more updates about the agenda and speakers!
Speaker line-up preview

Stay up to date with China's tech and venture scene through AIRP (Asia's Innovation Resource Platform). Check out which content series best fits your interests and join us in uncovering China's market.