Stella recently lost her job as a copywriter for a Jakarta-based startup due to the COVID-19 pandemic. Stranded alone in her boarding house room, and anxious about her future, she started feeling down and having suicidal thoughts. She wanted to seek professional help, but lacked information on trusted mental health facilities and was reluctant to leave her room, fearing that she may contract COVID-19.
She decided to try Halodoc's online mental health service. "I noticed they have some kind of quiz to check what problems you might have, I tried it first to understand me better," she said to KrASIA.
The Indonesia-based firm, which was founded in 2016, offers two main services: teleconsultation with healthcare professionals, and pharmaceuticals deliveries in 30 cities across Indonesia through its app. In June, Halodoc launched a mental health consultation service supported by 500 registered psychologists and psychiatrists.
The platform also offers a quiz for its users to see if they suffer from depression, stress, or anxiety. Utilizing a chatbot, it provides users with a list of questions about their mental situation and symptoms. The bot uses informal Indonesian language and emoticons when interacting with users. For instance, a sad face emoji is attached to responses to negative answers.
Stella appreciated the platform's attempt to make its chatbot sounds human. "Maybe they try to emulate the experience in real-life consultation so users feel at ease."
Like Halodoc, other healthtech firms have turned to conversational artificial intelligence (AI) chatbots to provide preliminary diagnoses for their users. Also known as "conversational agents," chatbots are software applications created to interact with human users, typically to provide answers to frequently asked questions.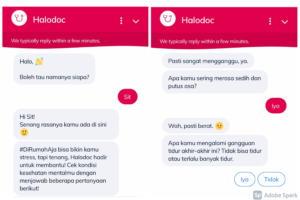 Humanizing chatbots
As AI becomes more entrenched in people's lives, developers have been trying to make it more humanlike. Nowadays, virtual assistants like Apple's Siri or Amazon's Alexa can have short conversations with people. They can even tell jokes. Studies indicate that good chatbot should drive a conversational experience like a customer service agent, a sales assistant, or even a doctor. This is especially important in healthcare, where sensitivity and compassion are necessary for patients suffering from severe illnesses.
Kata.ai is an Indonesian AI ​​and neuro-linguistic programming (NLP) platform that is developing a virtual assistant to accommodate people who use the online services of Indonesia's Health Care and Security Agency (BPJS Kesehatan). The startup is also working with a healthtech platform, Prixa, to provide an AI-based COVID-19 symptom checker.
Prixa works differently than Halodoc. Whereas Halodoc's users need to wait to link up with one of the platform's doctors for consultations, Prixa is more flexible. Prixa analyzes a user's symptoms based on their answers, then provides information about the ailment that may be the cause. The platform does this by using AI that was trained with medical data. If it does not recognize a user's keywords, it will query for new responses, or direct them to Prixa's blog. If needed, users can also arrange for online consultations with doctors through Prixa's platform.
"Our engine is based on evidence-based medicine, in which our team of doctors digest published research, utilize the results and combine them with guidelines set by the WHO [World Health Organization] and MoH [Ministry of Health] to make a comprehensive tool to assess symptoms and risk," Prixa's CEO James Roring told KrASIA previously.
For their COVID-19 symptom assessor, Prixa and Kata.ai base the responses and recommendations on WHO's COVID-19 guidelines, which have been updated regularly since the beginning of this year, with localization by Indonesia's health officials. This required "a different approach" compared to building chatbots for banks or retail businesses, Kata.ai CEO Irzan Raditya said.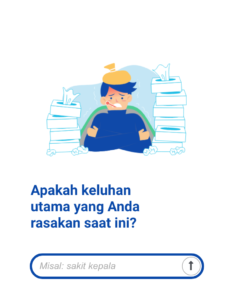 "Building an AI-powered symptom checker relies a lot on NLP and expert system technologies. We've been working closely with doctors and medical experts from Prixa's team to finetune the engine," Raditya said to KrASIA.
The bot can identify over 1,000 health problems and give the appropriate diagnoses and recommendations. Raditya claimed it has been used by more than 1 million users since 2019. However, he said that "infusing empathy" into chatbots is more about user experience (UX) design that makes them sound more "human."
Since emoticons and non-formal language are commonly used by people in daily text-based interactions, developers have coded these into bots' reactions as well. Popular chatbots such as Microsoft's Xiaoice or Pandorabots' Mitsuku, for example, occasionally include emoticons or images in their texts during chats with humans. A team of researchers from the Massachusetts Institute of Technology that developed Emma, a chatbot-powered mental health monitoring app, considered putting emoticons into the bot's vocabulary to serve as "emotional expressive delivery" that mimics humans.

More bots on healthtech platforms
According to analysis by consulting firm Reports and Data, the global chatbot market was valued at USD 1.17 billion in 2018 and is expected to reach USD 10.08 billion by 2026. Business Insider Intelligence estimates that AI will automate up to 73% of healthcare administrative tasks. The adoption of chatbots could save the healthcare, banking, and retail sectors USD 11 billion annually by 2023, according to the report.
Even though banking and retail firms still make up most of Kata.ai's clients in 2020, Raditya sees increasing interest from healthtech companies in chatbots. "Due to COVID-19, we do see the trend that healthtech companies are exploring new ways to engage with their users, and the chatbot is one of the ways."
Some companies, like Halodoc and Prixa, are already running chatbots to gauge their effectiveness. Other major medtech providers such as China's Ping An Good Doctor, which is available in Indonesia through a joint venture with Grab, and the United Kingdom's Babylon are already using AI conversational bots in their platforms, Raditya mentioned.
"They are utilizing conversational AI technology revolving around machine learning, NLP, and speech recognition. Looking at one of the major problems in the healthcare sector in Indonesia, with the current ratio of one doctor for 3,000 patients, I believe there lies a big opportunity for AI-powered chatbots to streamline telemedicine consultations for both the doctors and patients," Raditya said.