Singapore, a beloved destination for both locals and tourists, offers a vibrant mix of cultures, stunning attractions, and culinary delights. But what if you're unable to physically explore the wonders of this city-state? And if you've already been, what if there's a different way to experience its marvels?
Enter Happitat, one of the latest additions to The Sandbox, an online gaming platform built on the Ethereum blockchain. Happitat offers a digital gateway to the metaverse. In September this year, The Sandbox introduced the Lion City, a "virtual neighborhood" that comprises 720 individual plots of digital land known as LANDS, which are parts of the virtual world that players can create, own, and monetize as part of the overall experience.
Located within Lion City, Happitat offers a range of interactive and gamified components designed to showcase the rich diversity of Singapore in the virtual realm. Players can immerse themselves in digitized renditions of local landmarks, including the iconic Marina Bay Sands, and engage in quests to unlock a variety of rewards. Additionally, the Lion City serves as the primary channel for Southeast Asians to connect with The Sandbox's metaverse, fostering creative collaboration, technological innovation, and advancements in Web3 technologies.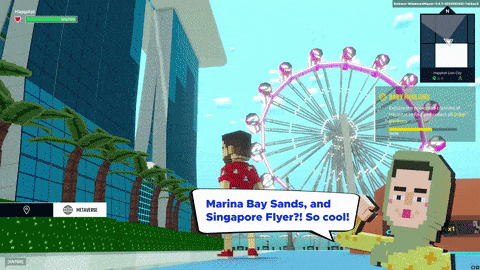 The Happitat experience is also structured to offer brands a myriad of opportunities to bolster user engagement. From renting or designing virtual bespoke spaces to launching brand-centric quests and interactions, and even offering brand-specific collectibles as non-fungible tokens (NFTs), the possibilities are vast.
Oceanus Media Global (OMG), a Singaporean media company, is the creator of the Happitat experience within the metaversal Lion City. According to Gina Pang, CMO of OMG, this move is aimed at engaging communities and fostering brand loyalty in entirely new ways.
"This is a rare occasion to champion brands in a truly remarkable way. We're no longer [constrained] by the boundaries of physical space—brands can rent and customize their own spot in our special slice of Singapore, engaging their Web3 communities and fostering brand loyalty on their own terms," said Pang.
Pang also emphasized the iterative nature of Happitat as a distinctive advantage. "Happitat's unique selling point is that it is a true microcosm of Singapore, a living, breathing, virtual city that changes and evolves over time. This means that players get to interact with a game world that features Singapore's rich culture in a way that is constantly updated to reflect real-time happenings, with fresh interactions, quests, and giveaways," she said.
As the digital realm continues to evolve, platforms like Happitat underscore the potential of virtual worlds to bridge cultural gaps and foster global understanding.
OMG has set up an exhibit at the Singapore Week of Innovation and Technology (SWITCH) event, held from October 31 to November 2, 2023, at the Sands Expo & Convention Centre in Singapore. The exhibit will feature multiple stations that will enable attendees to experience Happitat firsthand. The exhibit is supported by Samsung, Asus, Pixotope and the ITE Technology Development Centre.