Google, Temasek and Bain & Company released its e-Conomy SEA report for 2019 , highlighting some of the trends and potential of the Southeast Asian internet economy across the six largest markets, Indonesia, Malaysia, the Philippines, Singapore, Thailand and Vietnam.
According to the report, Southeast Asia's internet economy more than tripled in size over the last four years. It is expected to reach USD 100 billion by the end of 2019 and is on track to hit USD 300 billion in 2025, which is USD 60 billion more than the previous estimation.
The study which has been conducted since 2016 continues to raise the stakes for what the overall digital economy in the region will be worth.
In 2016 and 2017 Google-Temasek reports foresaw a USD 200 billion internet economy in the region by 2025. In 2018, the expected target was lifted to USD 240 billion.
Growth wise, the internet economies in Malaysia, the Philippines, Singapore, and Thailand are expanding at a rate between 20-30% annually, while Indonesia and Vietnam are growing in excess of 40% per year.
Despite the rapid pace, the growth is unevenly spread in a geographical sense as seven metropolitan areas, which house just 15% of the region's population account for more than half of the internet economy. This means on average, people living in these metropolitan areas spend six times more online than those living elsewhere. It is also because of this uneven spread that the report concludes the areas outside of big cities have the greatest potential to grow twice as fast as the metropolitan areas.
Healthy funding landscape
The funding landscape in Southeast Asia remains healthy according to the report, even as global funding takes a hit. The region's internet economy recorded more than USD 37 billion worth of investments over the last four years. The first six months of 2019 saw internet companies raising USD 7.5 billion, 7% more than the same period did in 2018.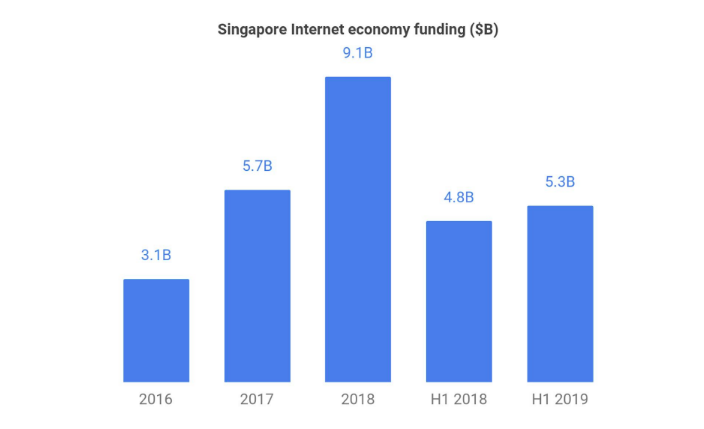 Singapore continues to be the gateway for funding in Southeast Asia. Since 2016, companies in the country have raised more than USD 23 billion. In the first half of 2019, Singapore saw a total of USD 5.3 billion worth of capital inflow, which is more than half of the total amount raised in the region. The report cited world-class infrastructure, supportive business environment and ability to attract talents as the main reasons to why startups choose to set up operation in Singapore.
Unicorns and aspiring unicorns lead in funding
Most of the funding went to unicorns–USD 24 billion out of total USD 37 billion.
The study suggests that live-streaming platform BIGO and Indonesian mobile wallet OVO have reached unicorn status this year, raising the total number of unicorn companies in the region to 11.  The other unicorns are Bukalapak, Gojek, Grab, Lazada, Razer, Sea Group, Traveloka, Tokopedia, and VNG.
There is also a growing number of "aspiring unicorns" looking to raise late-stage funding. "Aspiring unicorns" are startups valued between USD 100 million and USD 1 billion. These are companies focusing on building moats within their specific sectors or markets. Some examples are Carousell, focusing on the C2C market, ONE Championship, a sports media site, and Zilingo a B2B fashion e-commerce platform.
Altogether, there are about 70 companies in this category and collectively, they drew about USD 1.1 billion in funding in the first six months of 2019, surpassing the USD 900 million raised in the same period last year. Since 2016, these "aspiring unicorns" have raised USD 5 billion.
Bigger average deal sizes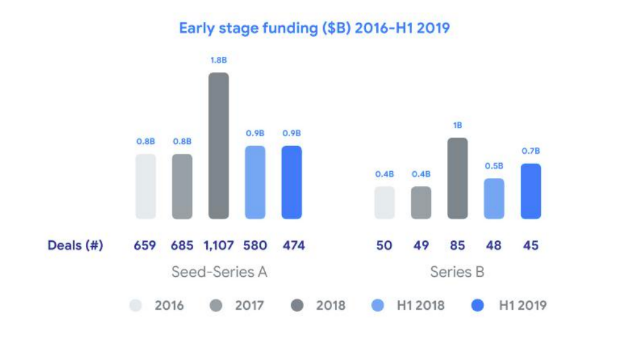 The average deal size in early-stage funding has also doubled over the last three years. The average seed funding increased from USD 500,000 in 2016 to USD 800,000 in 2019, and Series A doubled from USD 2 million to USD 4 million in the same period. This indicates strong investor confidence in Southeast Asia's maturing ecosystem.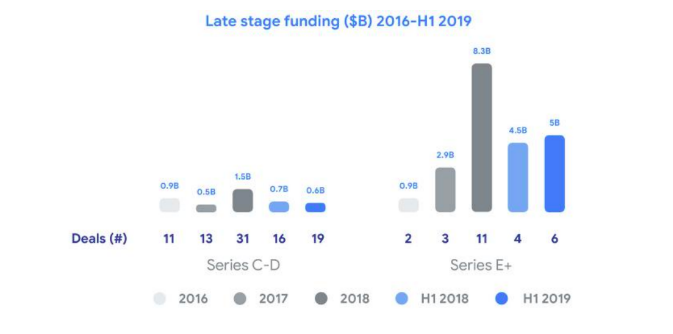 At the same time, the financing gap between Series B and C (identified in the 2018 report) has now been bridged and shifted to between Series C and D. Deals in Series C and D plateaued at USD 600 million in the first half of 2019, paling in comparison to the USD 5 billion raised by unicorns in Series E and above in the same period.
Sector breakdown
In terms of sectors, e-commerce and ride-hailing continue to be the top performers. E-commerce is valued at USD 38 billion today as compared to just USD 5.5 billion in 2015. It is expected to hit USD 150 billion by 2025 given that there are more than 150 million online shoppers submitting on average over 5 million orders per day.
Ride-hailing is also a booming industry with over 40 million people ordering transport, food and other services on demand, as compared to just 8 million in 2015. It is currently a USD 12.7 billion sector that is en route to cross the USD 40 billion mark by 2025.
Online media and online travel are two sectors that are growing steadily with ample room to expand further as more than 100 million people have come online between 2015 and 2019. Backed by the rise of budget hotel chains like OYO Rooms and Reddoorz, the online travel sector is by far the most mature and stable sector of the internet economy, according to the report.
Specifically, the biggest online travel sector is the one in Thailand, which is valued at USD 7 billion in 2019 and growing at an annual rate of 17 percent.
Education and healthcare are two up and rising sectors in Southeast Asia. While the bulk of the funding in the last four years went to unicorns and aspiring unicorns, over USD 7 billion was raised by over 3,000 internet companies, many of whom are in the early stage of validating their product and market fit. According to the report, the majority of these startups are found in education and healthcare, implying potential as new sectors.
Fintech continues to perform well, with digital payments being described as "[having] reached the inflection point". Digital payments is expected to cross USD 1 trillion by 2025, accounting for almost one in every two dollars spent in the region.
Other financial service sectors like remittance, lending, investment, and insurance are gaining traction and their penetration rates are expected to increase two-to threefold over the next five years.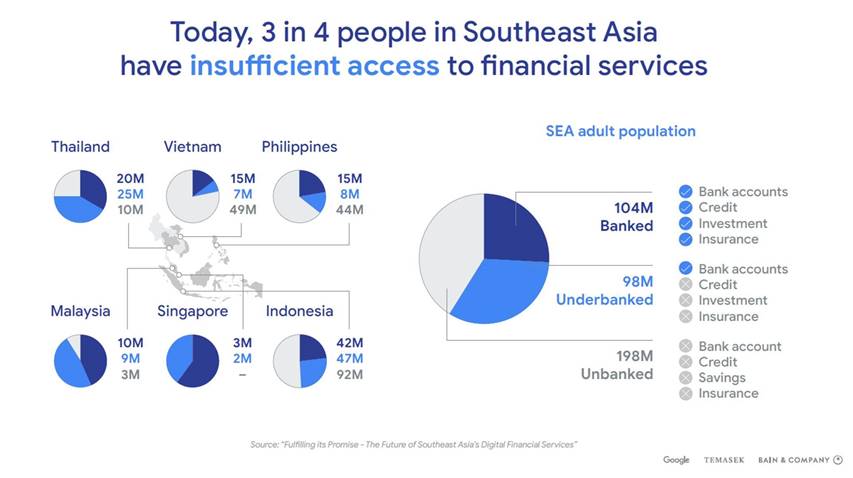 Today, three in four people in Southeast Asia have insufficient access to financial services. There are almost 400 million adults in Southeast Asia but approximately 98 million of them are "underbanked" and 198 million remain "unbanked".
The report finds that it is the underbanked that will be driving the growth of fintech sectors as technology can reduce the costs to serve and bridge the gap in data availability.
However, technology and digitization will not be a perfect problem solver for the unbanked, those who have no access to the banking system whatsoever. Serving them sustainably has proven to be tough even for digital financial companies who are known to be more nimble than traditional institutions. Established consumer players like banks might be best placed to reach the unbanked population via their physical distribution networks and governments need to play an active role in facilitating the financial inclusion of this segment.
Talent constraint is an unresolved structural challenge
Overall, while the digital sector has grown rapidly over the past four years surpassing previous expectations, talent constraints remain a pressing concern for companies in the region despite efforts like upskilling programs. The report describes the talent constraints as an "unresolved challenge for the ecosystem".
At the same time, there is also the phenomenon of "reverse diaspora" occurring in Southeast Asia as people who previously went abroad to study and work are increasingly returning to join the startup wave.
E-Conomy SEA is a multi-year research program launched by Google and Temasek in 2016. Bain & Company joined the program as a lead research partner in 2019.