In spite of gaining more traffic in times of COVID-19, movie streaming platforms are facing a lot of challenges. A giant partner with a large user base is no guarantee for survival, as Hooq painfully learned in the past months.
Gojek's video streaming service GoPlay is less than a year old. Building the business in a sustainable way is going to be key for the company to survive. KrASIA recently spoke with the CEO of GoPlay, Edy Sulistyo. He is the former CEO of Loket, an entertainment platform that was acquired by Gojek in 2017.
KrASIA (Kr): Looking at all the streaming platforms out there which are struggling, what is going to be GoPlay's strategy to survive?
Edy Sulistyo (ES): GoPlay wants to build a platform where Indonesia's filmmakers can showcase their content. We'd like to give more exposure to filmmakers and owners, so that more people can watch Indonesian movies and more Indonesian talents are formed from here.

Personally I'm getting confused when I'm trying to find Indonesian movies. In fact, after doing some research, I found that more than 3,000 films have been produced in Indonesia. That's why GoPlay wants to focus on premium Indonesian content.
However, having a good story and a vision on how to make a real impact is not enough if you later die halfway. Therefore, we have to build a sustainable business.
Strategy-wise we take a bit of a different approach from other OTT (over-the-top) players. We don't want to acquire too expensive content, which will make us inflexible and the business unsustainable.
We are aiming at a revenue-sharing model with content creators and production houses, for both GoPlay original movies and other local movies, which should help filmmakers to increase the quality. GoPlay will also support content creators, for example, to help improve their storytelling by providing script doctors, or by finding sponsorship and investors for them.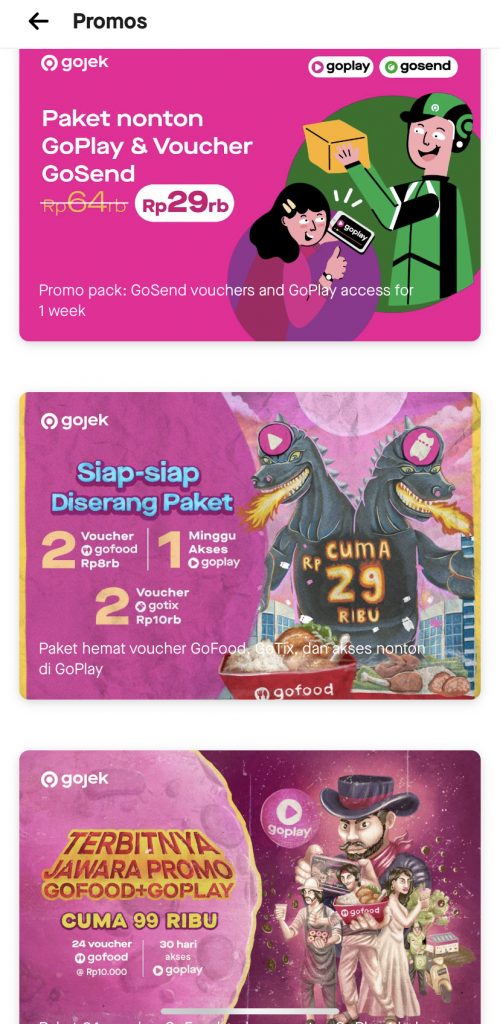 Then we also think about a bundling-pricing model with Gojek, so that GoFood or GoSend users can subscribe to a bundle with GoPlay and other products. There are many ways. It will provide more choices to customers and they can watch Indonesian content through GoPlay.
Bundling will indirectly impact our revenue, which is the key metric. With good revenue, our product will automatically sustain.
Kr: Why is GoPlay focusing on Indonesian premium content? Do you think that having local content will strengthen GoPlay and help you survive? 
ES: Most of our content is Indonesian, but it's not because we need it to survive, but because of our dream. We want to increase and multiply the Indonesian film industry. Also, we want to encourage local filmmakers to be more productive.
Kr: How many movies does GoPlay have today? 
ES: We have quite enough content, but not all of it is available to users, because of the AI and data we use behind the scenes. We don't want to overwhelm customers with content they won't be interested in. Even though we have tens of thousands of hours in the library, GoPlay might show different content for each user according to their preferences. However, there's enough so they won't get bored.
Kr: How many subscribers do you have right now? 
ES: I can't mention this. The users are part of Gojek's ecosystem. However, subscribers have increased manifold during the COVID-19 pandemic as people stayed at home.
Kr: What lesson did you learn from the Hooq bankruptcy? 
ES: It is a sad story for the film industry. The more OTT players there are, the better for Indonesian movies and the industry. From the beginning, we learned a lot from Hooq and the other OTT players. We try not to repeat the same mistakes. Surely, one of them is to focus on sustainability of the business and to return more value to the content owners and fans of Indonesian movies. There we can reach sustainability.
Kr: What is the biggest challenge for online entertainment service platforms? 
ES: There are many. For GoPlay, the biggest challenge is to tell Indonesian people that Indonesian movies are much better than before. Being part of Gojek's ecosystem brings us in the position to make an impact in the country due to the significant user base and the bundling system we implement. We can reach more users, particularly those who have not watched Indonesian movies and who still have the mindset that they are not as cool as foreign movies. We want to prove that this is wrong.
The quality of local movies and filmmakers are getting better and can be considered to be at the international level. In terms of quality, ability, and sophistication, our storytelling skills are competitive. However, few people are aware of it. That's our biggest homework, how to invite people to give it a try. Look at the film series we produce, such as Gossip Girl Indonesia, Saiyo Sakato, and even Tunnel Indonesia. They will realize that Indonesian films are really cool.
Kr: Compared to other platforms, GoPlay can only be watched on mobile and the Gojek platform. Will you expand to other formats and partners?
ES:  We are conducting further research and development to improve our technology. We will launch new features as well this year, to make the watching experience even better and we will inform about it later.
We are also open to explore collaborations with third parties to expand our business.
Kr: How does the COVID-19 pandemic impact the business? 
ES: We see a surge of users in the lockdown period. Many of them spend time watching movies on GoPlay. We have offered a free trial to new users so they can explore the variety of content before they decide to subscribe. People who used not to watch Indonesian movies, are now watching.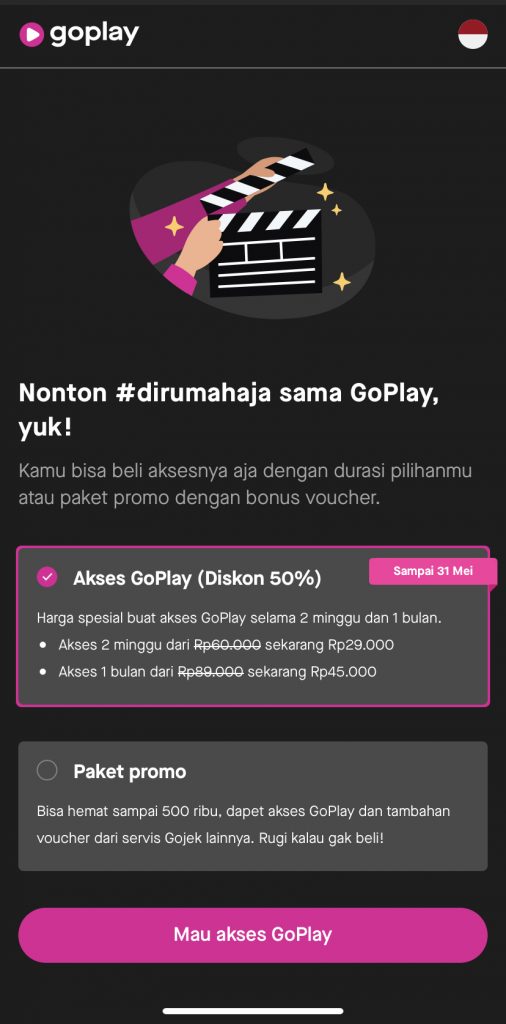 The pandemic has indeed impacted the film industry, as filmmakers and crew can't produce at the moment. Therefore, their revenue has taken a hit. However, we see many new Indonesian movie lovers which surely gives us hope that the film industry can rebound much stronger.
Kr: Did you have any blueprint in mind when forming GoPlay? 
ES: I think there is no single ideal platform for Indonesians today, but we can learn from existing players and take the positive aspects from each platform, adopt and adjust it to the local taste. For instance, we learned from the Chinese platform iQiyi on how to add social elements, where users can watch together with friends. In terms of quality content, Netflix has set the benchmark. We also learned how Korean films can introduce a country's culture and expose the audience to Korean language. This motivates us to make our films better.
As a part of Gojek's ecosystem, we have a responsibility to shape Indonesia's future generation through positive content. We don't want to promote negative influence, to make the young disrespect their parents, or teach them to swear. Not through the product, or the user interface, and not through our content. GoPlay isn't emulating any of the dominant platforms.
The interview has been adapted for English, and edited for clarity and brevity.