Indonesia—the world's largest archipelago nation—is seeing fintech companies pick up momentum as technology offers solutions for some of the difficulties faced by the traditional banking sector when scaling across a complex geography.
A report by research and advisory firm RedSeer, which is originally from India and has a branch in Singapore, explores Indonesia's fintech landscape. It looked at a total of 167 fintech companies, most of which provide digital payments and lending services.
A particularly fast-growing fintech segment in Indonesia is that of mobile wallets, where users store digital credit in an app to pay for goods and services within the app or at partner merchants. In 2018, the market size for mobile wallets in Indonesia was US$1.5 billion.
RedSeer identified Go-Jek's Go-Pay, Ovo, Telkomsel's TCash, and Doku as the major players in this category and created an infographic that shows the types of payments each wallet is used for.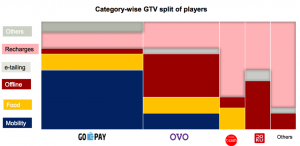 Go-Pay leads in mobility services, which is a natural consequence of the wallet being fully integrated with Go-Jek's ride-hailing app.
Ovo, whose wallet is integrated into ride-hailing platform Grab, is also used for mobility services, but leads in the "offline" category, because Ovo had a stronger focus on building a network of offline merchants from the start.
A major use case, especially for smaller e-wallets, is that of "recharges", where mobile wallets facilitate mobile phone and data package purchases.
Paying for online shopping ("e-tailing" in this infographic) through a mobile wallet is still a niche use case.
RedSeer forecasts that in five years, offline channels, not mobility, will account for the largest share of Indonesia's e-wallet market and that this shift will bring new opportunities for existing and new players.
As mobile wallet payment types diversify, the total amounts spent by users in each category will also change.
See the full report here.
Editors: Nadine Freischlad & Brady Ng