Recap part 1 of this series.
Kopi Kenangan's business thrives because it is efficient. With each cup of coffee going into a customer's hands carrying low margins, the chain relies on slinging 100,000 drinks every day (before sales were impacted by COVID-19) to maintain its profits. It manages to do this by opening up multiple channels for people to place orders and automating part of the process.
To keep costs low, Kopi Kenangan uses technological solutions to speed up its customer service workflow.
According to Kopi Kenangan CEO Edward Tirtanata, 40% of its orders come in through GoFood and GrabFood, 30% are made through the company's own app, and the rest are walk-ins. That means most of the chain's customers don't linger in Kopi Kenangan's shops. On average, a Kopi Kenangan outlet has just eight employees—fewer than a typical coffee shop. This is one of many ways for the company to keep overheard, and hence its prices, low.
"We have low cost of goods sold so we can generate good margins. One of the reasons why we were able to gain profit from the beginning is that we don't have fancy stores with large seating areas like typical premium coffee chains," said Tirtanata. "As we are promoting the 'grab and go' concept, our stores are 10–20% the size of a normal cafe, translating to lower rent and operational cost per store."

By saving that money, Kopi Kenangan can invest where it counts. Every branch has sophisticated espresso machines on its premises, and the company doesn't skimp on the goods that matter.
"We use high quality coffee beans and sugar from local farmers, and we get our milk from the premium brand Greenfields. We also use the best professional machines like La Marzocco and Victoria Arduino—both are well-respected brands in the coffee industry," Tirtanata said.
The chain takes its cost-cutting measures further by using Internet-of-Things technology to manage inventory and reduce wastage.
All of this sets it apart from its main rival, Starbucks, which sets up comfortable seating areas in large shops to build a "third place" environment—a place that is away from home and work, but still is a spot to lounge in or where customers can get a bit of work done. But in Indonesia, especially in major cities like Jakarta, consumers keep close track of their expenditure, so a longer stay doesn't immediately translate into more purchases.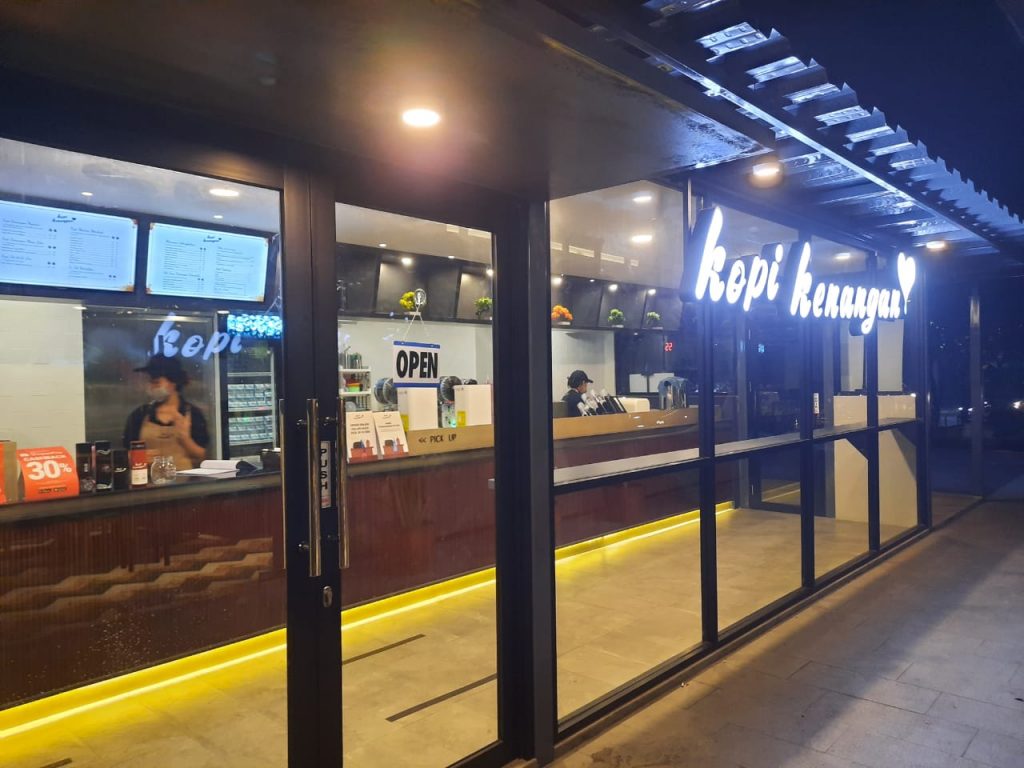 Firmly aware of this consumer behavior, Kopi Kenangan's locations are designed and built to take maximum advantage of its "grab and go" business model. There are no comfortable sofas or free WiFi. All that Kopi Kenangan offers is coffee—specifically coffee that might be as good as any international chains'. And it's after repeat business from steady customers. Once that habit is formed, the company doesn't need to market its brand as hard as before.
On top of that, the company's branding stands out in Indonesia. Eschewing the common practice for coffee shops to use English-language names, Kopi Kenangan—literally "coffee of memories"—invokes ideas of heartbreak; it's a name that sticks, particularly for young people. The chain's drinks have quirky names too. Its signature drink—its own take on es kopi susu—is called kopi kenangan mantan, referring to memories of a former lover. Its line of flavored lattes is called kopi mantan menikah, named after the feeling you get when you find out an ex is about to get married. And its series of non-coffee beverages is called minuman selingkuhan, or "cheating beverages."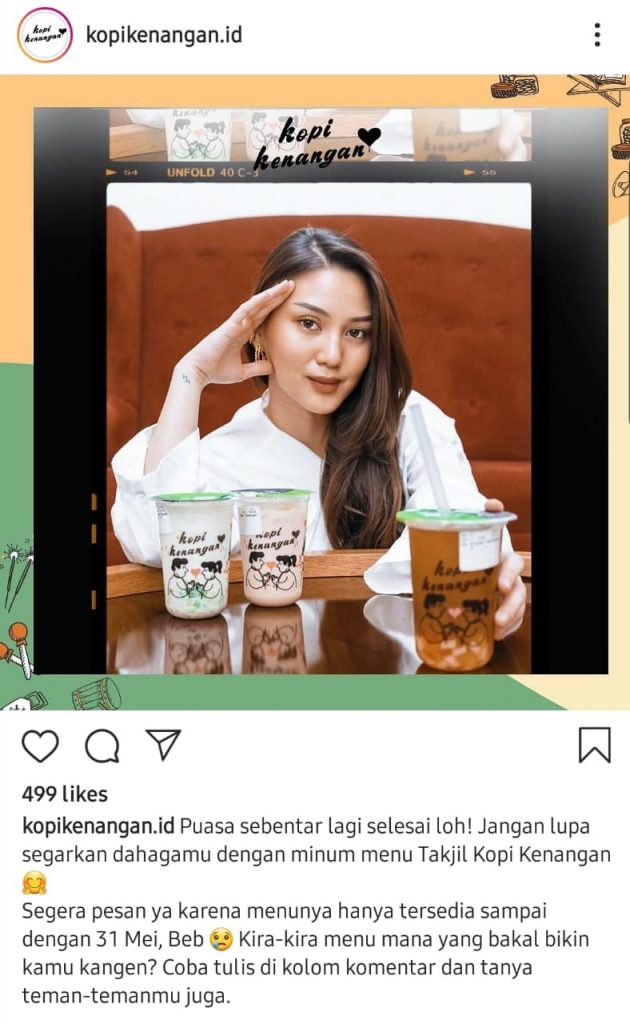 These names mesh perfectly with social media. They made Kopi Kenangan's name go viral soon after the chain opened, without the company having to pour massive financial resources into marketing campaigns. To date, the hashtag #kopikenangan has been used in more than 42,200 posts on Instagram. That's well ahead of the 37,300 instances of #janjijiwa and 5,000 for #forecoffee.
Today, Kopi Kenangan sells more than three million drinks every month.
In the third and final part of this series, we will look at how Kopi Kenangan is taking on Starbucks in Indonesia.