FUSE, Japan's largest startup conference, brings together top players from Japan and major companies, startups, education institutions, and governments from around the world to engage in dialogues and exchanges to facilitate innovation, collaboration, and co-creation.
The third edition of FUSE, to be held on December 14, 2022, will continue to shine the spotlight on companies from Japan's high-growth industries as they step onto the global stage. The event will be an opportunity for foreign investors and companies to understand the business landscape in Japan and its investment opportunities, interact directly with Japanese executives and investors, as well as access other important investment information. 
Last year, FUSE saw over 3,000 attendees and generated more than 10,000 business interactions.
This year, 36Kr Global will be a key event partner and support the strengthening of ties with China and the rest of Asia, an area of focus for Japanese companies.
The organizers will run two major events, which have evolved further since last year's edition:
      High-quality sessions with over 100 speakers, including overseas investors.
Participants of the event, including the speakers, will be able to interact and exchange business details online. One of the highlights of this year's event is a panel discussion featuring Sequoia China, which has a strong focus on Japan, alongside other top technology firms from Asia.
      DIVER: a pitch contest for 40 companies from Japan solving the world's biggest problems.
Forty of Japan's hottest startups that are currently expanding globally will take to the stage. These startups are leading the way in fields such as digital technology, hardware and materials, healthcare, decarbonization, and energy.
An expert panel will convene to discuss the best practices in the industry in the new era of work, as well as new approaches in human capital management. The panelists will include Genki Goto (Executive Officer of Lark Japan), Kazuhiro Nomura (COO of Burger King Japan Holdings), Yutaro Suwaki (CEO of Botlogy), and Hirokazu Hasegawa (Waseda University Graduate School Professor).
Find out how to attend here.
FUSE is organized by for Startups, Inc, which works closely with startups, major companies, investors, research institutes, and the Japanese government. It carries out growth industry support projects in Japan, provides startup-specific media coverage, maintains the STARTUP DB database, and operates a talent matching service.
For more details on the program, click here.
Title: Growth Industry Conference 'FUSE' Vol.3
Date and time: Wednesday, December 14, 2022 | 8:30-19:00 GMT+8
Venue: Online
Co-organizers: For Startups Inc., CIC Japan
Register for free here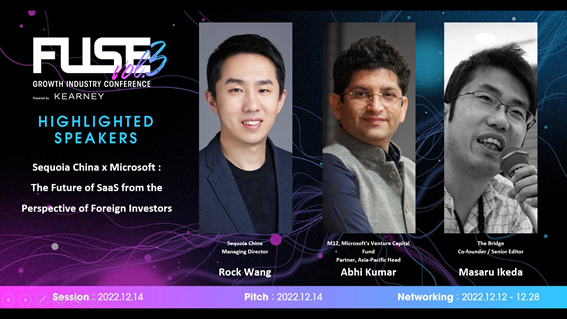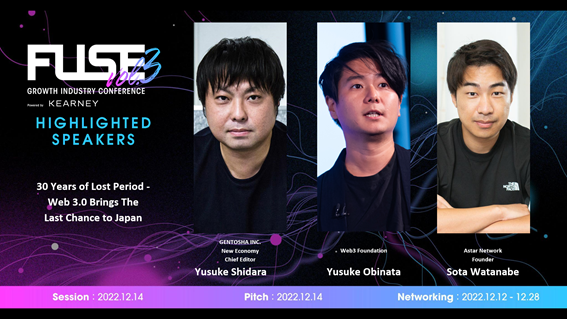 This article was produced in partnership with FUSE.