Earlier this year, when a glacier burst in the north Indian state of Uttarakhand, triggering deadly flash floods, hundreds of workers who were repairing the road got stuck. India's National Disaster Response Force sought the help of Chennai-based drone company Garuda Aerospace to help in the rescue mission.
A team of four pilots with three drones specifically built for such operations were deployed. These included a video surveillance drone to assess the damage and relay real-time information to ground forces; a stringing drone that could connect rescue lines from one end to the other to transport men and material; and a delivery drone to carry food and medicine.
This is not the first time that Garuda's drones have come in handy during a natural disaster. Last year, it sent drones to spray pesticides to combat the locust infestation in the northern Indian states of Uttar Pradesh and Rajasthan.

In the past few years, drones have become vital in saving lives during natural calamities. Companies like Garuda, Planys Technologies, and SpiceXpress have been running trials and developing tech around drones to enable these unmanned hovering objects to deliver goods, conduct aerial and underwater inspections, and remotely fix damage where humans can't reach.
Realizing the role of drones in different industries, the Indian government has also been working on giving these startups more freedom for experimentation. This month, India relaxed rules for drone companies for registration and licenses. The number of forms required to be filled by a drone company to register with the government is reduced from 25 to five. Companies in the research and development phase don't need a license for flying non-commercial micro drones [weighing up to two kg] and nano drones [weighing up to 250 grams]. Restrictions on drone operations by foreign-owned companies registered in India have also been removed.
Industrial usage
While these companies have been useful in multiple rescue missions, they see their true potential in traditional sectors such as oil & gas, infrastructure, offshore wind farms, and aquaculture, where they employ drones for inspection and surveillance.
Chennai-based startup Planys Technologies uses underwater robots and Remote Operated Vehicles (ROV) for such inspections.
"Our ROVs are made to withstand rigorous field conditions. Through non-destructive testing using ultrasonic, magnetic, and sonar sensors, our solutions offer extremely unique insights into the definitive health of underwater structures such as dams and bridges," Tanuj Jhunjhunwala, co-founder and CEO, Planys Technologies, told KrASIA.
Planys' ROVs are suitable for inspections up to 200 meters in-depth and can be applied to undertake high-definition videography in murky water, GPS mapping, ultrasonic thickness inspection, and clean algae and microorganism deposits on dam pillars.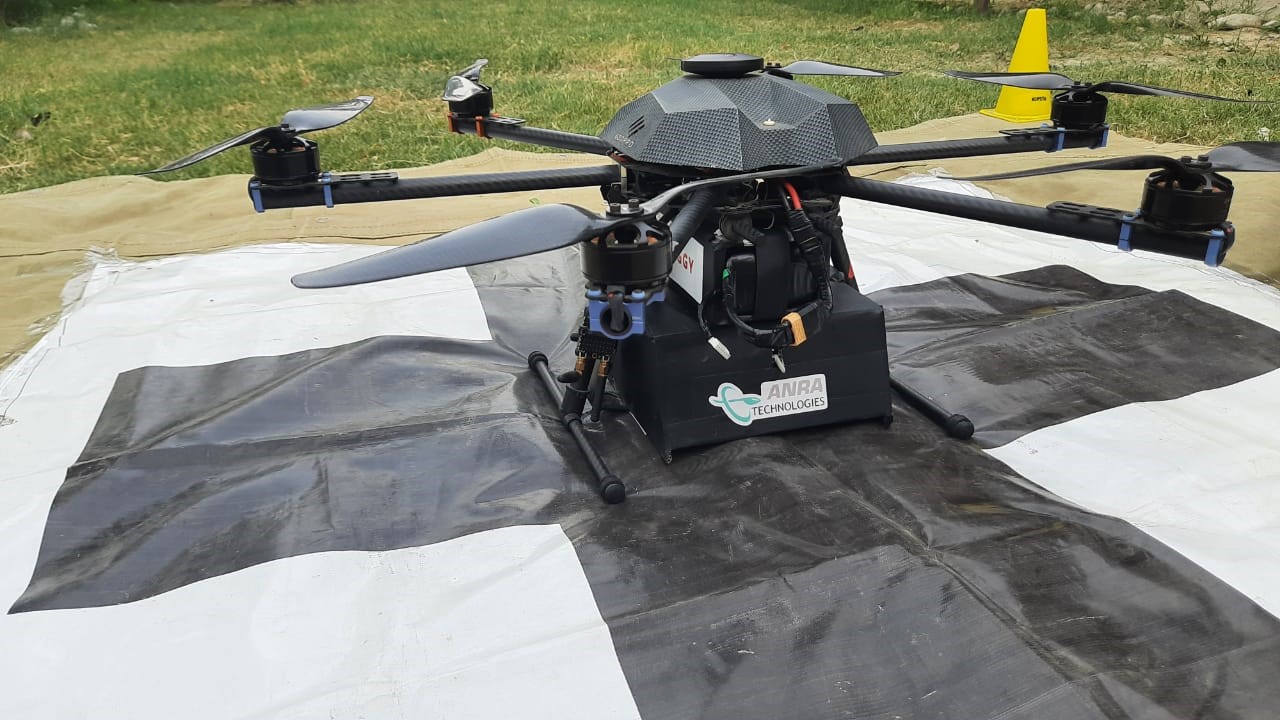 "Using drones can improve efficiency as they do more work in a shorter time. They go beyond human reach to collect useful data, helping asset owners in making informed decisions and avoid huge costs without risking peoples' lives," said Jhunjhunwala.
In recent years, the demand for underwater drones for defense and security has increased significantly. The global market for underwater drones is expected to reach USD 7,500 million by 2028.
Planys' clients include Hindustan Oil Exploration, Mangalore Refinery and Petrochemicals Limited, Indian Oil, and Reliance Industries Limited. To date, the company has inspected over 160 industrial assets across three countries, developed six products, and filed close to 20 patents.
Taking drones for a spin
In the last few years, there has been a lot of noise around employing drones for food, grocery, and e-commerce deliveries. But nothing concrete has materialized yet, as the work in this space is still in the trial stage.
Last month, the Government of Telangana, a South Indian state, in collaboration with the World Economic Forum, initiated the Medicine from the Sky project to deliver vaccines and medicines through drones.
Recently, the Directorate General of Civil Aviation (DGCA) gave emergency approval to a few companies, including Google-backed Dunzo, for the trial deliveries in difficult-to-reach terrains.
The clearance is to operate drones that fall within the category beyond the visual line of sight (BVLOS). The project's scope is to assess alternative logistics routes for safe and reliable delivery of medicines, COVID-19 vaccines, and other life-saving equipment.
The project will have primary healthcare centers place the order for medicine or vaccines via an app, which is yet to be launched. Hospitals can place orders for vaccines and medicines on the app, and once they are scheduled, drones will be loaded with supplies. Depending on the drone's weight and the load it's carrying, it will take about 30 minutes for the drone to cover 25 km.
"The eventual goal is to integrate drone deliveries with existing systems and enable urban-grade infrastructure even for remote and rural areas," said Jayesh Ranjan, principal secretary of the Information Technology department of Telangana.
While different state governments are ironing out regulations, drone companies are working on creating different use cases. Bengaluru-based Skye Air is developing a WHO standard cold box, which can piggyback on drones to monitor the temperature of medicines during air transportation. BVLOS trials will help create a framework for future drone-led deliveries and other major applications.
Through regulations and licenses, the government is allowing drone companies to function in the mainstream commercial sectors such as e-commerce, logistics, and food delivery.
Last month, SoftBank-backed food delivery major Swiggy and its partner Anra Technologies, an international drone and airspace management company, got the green light from government authorities to start trials for food delivery.

"Since we received approval for BVLOS drone flight on June 16, we have flown many hours collecting data for DGCA. Once we have the right technology and permission from Indian regulators, the operations will start at scale. I hope it will be within the next few years," said Amit Ganjoo, founder and CEO, Anra Technologies.
Similarly, e-commerce logistics company Delhivery is working with SpiceXpress, the cargo division of airline firm Spicejet, to test commercial applications of emergency medicine deliveries, other goods and monitor the quality of the environment.
However, home delivery via drones can only be scaled if companies get a high volume of orders to make it more cost-effective than traditional delivery modes.
The Indian government is also making efforts to increase the production capacity of drones in the country. According to a Forbes report from June 2020, there are 200,000 recreational and commercial drones in the country.
In a move to make India the drone capital of the world, the DGCA has set up a department to manage drone training schools, approve and fast-track third-party drone certification process, and look into delays in "no permission, no take-off" support, a clearance certificate required for drone operators every time they take off to run trials.
"India is going to be the future of the drone market. Global enterprises are getting into the transfer of technology arrangements with Indian companies to manufacture drones in bulk in the country for the global markets," said S. Vijay, COO at Skye Air Mobility.
According to Ganjoo, India is running behind on hardware production and is at risk of falling further behind on integrating drone technologies for value-added services such as BVLOS drone deliveries.
"As a technology company, we want to help advance the pace of drone adoption that allows for smart regulations along with safety and innovation."
He adds, "We are heavily invested in India and see great opportunity to collaborate with the government to help shape regulations that will permit drone operations. The government needs the industry, and the industry needs the government. Together, we can solve problems."