Florian Holm was already sitting pretty as co-CEO of Lazada Indonesia in 2018 when he got the itch to start a new venture. Leading one of the biggest e-commerce firms in Southeast Asia has been an intense experience for him, but after four years, he missed the excitement of building something from scratch.
Holm first joined Lazada in 2014 as head of vendor management in Thailand, and then was promoted a year later as chief marketing officer for Lazada Philippines. The firm then appointed him to lead the Indonesian division in 2016, when the country's e-commerce industry was growing fast.
"I joined Lazada when it was only two years old and the company grew fast, especially after Alibaba acquired it in 2016. Lazada is now already mature, and I missed the thrill of starting something new. What I enjoy the most is working in the early stage of a company, bouncing fresh ideas around, and facing new challenges. So I thought it was a good time for me to leave Lazada," Holm told KrASIA in a recent interview.
After leaving Lazada, Holm decided to dip his toes into the property market.
"I'm living between Jakarta and Bali, but I have been spending most of my time on the island lately. I met a German architect called Alexis Dornier when we were working together to build my house in Bali. We exchanged thoughts about the construction and property industry, and we both agreed that there had been very little innovation happening in this sector over the past few years, especially in terms of the utilization of technology and sustainable design planning," Holm said.
From there, the pair decided to team up and establish a startup called Stilt Studios in 2019. Based in Bali, an island famous for its paradisiacal beaches and natural landscapes, the firm promotes sustainable home designs and construction by using prefabricated house models. Most of the building elements used by Stilt Studios are built in a factory and later assembled to build new homes.
"While conventional houses are built onsite, most of the prefab house's components are built in a controlled environment like a factory. The components will later be assembled at the building site," Holm detailed. He claims that prefab houses cost less than conventional ones, while they can be quickly assembled and dismantled, and can be built on plots with steep terrain.

In June, Stilt Studios completed its prototype projects of five different houses in Canggu, Bali. The project is currently listed on Kickstarter for community feedback and to raise funds.
Holm explained that in Bali, which hosts thousands of hostels, villas, and cafes to receive over six million visitors per year, commercial spaces are often reconstructed because of the popularity of short-term leases, which usually last up to three years. He and Dornier believe that prefab prop-tech structures can become an alternative to support sustainable tourism on the island.
According to a report by consulting and market research firm Lucintel, the global prefab housing market is projected to reach USD 19.3 billion by 2024, expanding by a compound annual growth rate (CAGR) of 4.6% from 2019 to 2024. North America remains the largest region by value and volume, but the trend of prefab construction is slowly progressing in Southeast Asia as well.
For instance, since Singapore launched the Construction Industry Transformation Map in 2017, the country has been using more advanced technology and adopting new methods such as prefabricated pre-finished volumetric construction (PPVC). Last year, the Clement Canopy condominium complex was completed in Singapore, becoming the world's tallest concrete modular towers using the PPVC.
Meanwhile, in the Philippines, a company named Revolution Precrafted, which produces luxury prefabricated houses, reached unicorn status in 2017, becoming the first firm in the country's tech startup sector to do so.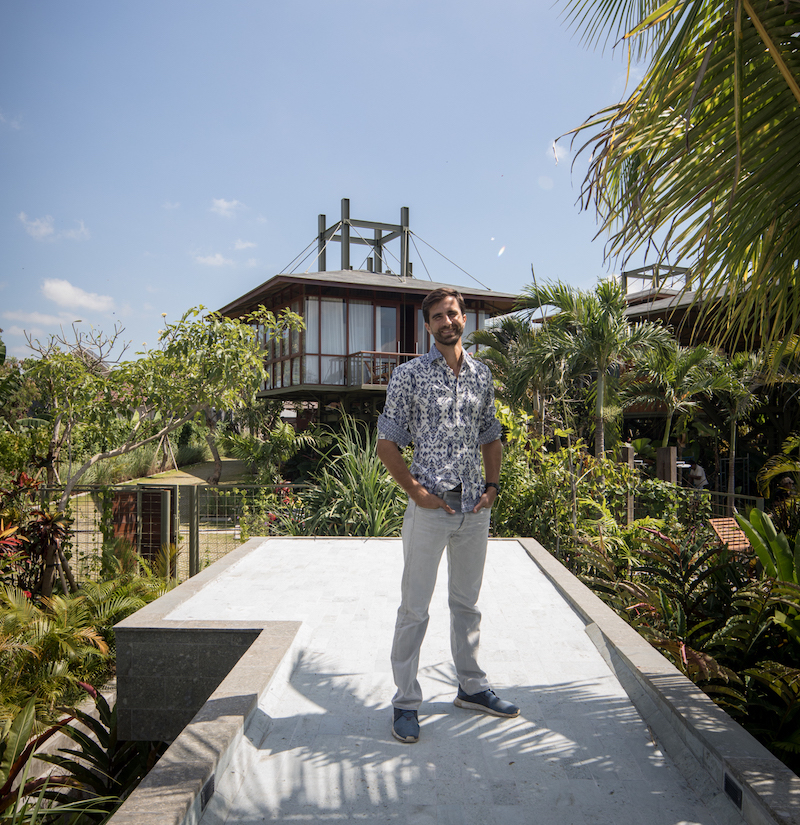 KrASIA recently talked to Florian Holm about his new ambitions with Stilt Studios.
KrASIA (Kr): Why did you choose prefab houses, which is a niche segment in property? Did you have experience in the property market before?
Florian Holm (FH): I never thought that I'd end up in the property business. But once I dived deep into it, I felt very enticed. This is a big sector and it should have more innovation. Constructions and architecture have a significant impact on people's lives. It is the place where you live, and it shapes the way your town looks.
Prefab houses are more affordable than conventional houses, and they are environmentally friendly. Since the construction is built off-site in a factory with specific measurements, there will be less waste from excess material. And even if there is any waste, you can re-use it for another project.
For example, we have prototype villas in Bali that we call "tiny tetra houses," which were built using recycled waste material such as Tetra Pak beverage cartons. Some sustainable features of our structures include large roof overhangs for energy-efficient cooling to reduce solar heat gain, rainwater harvesting, cross-ventilation, and energy-generating solar panels.
Kr: What services do you offer at Stilt Studios?
FH: Our core services are the design and construction of prefab buildings for residential, tourism, and commercial purposes. We use subcontractors for the construction part.
We have finished our first three projects in Bali, which are available for short-term stays on the island, and we want to have a nice showcase for our products, so potential buyers who are curious about prefab houses can experience it first hand.
We don't see property renting as a main business in the future, but we are doing it now because we want people to really understand Stilt Studios.
In addition to selling Stilt Studios' designs and units, we also provide "value-added" services like property management and development for non-residential buildings, as well as legal assistance to help buyers and investors from abroad navigate the Indonesian real estate and property particularities.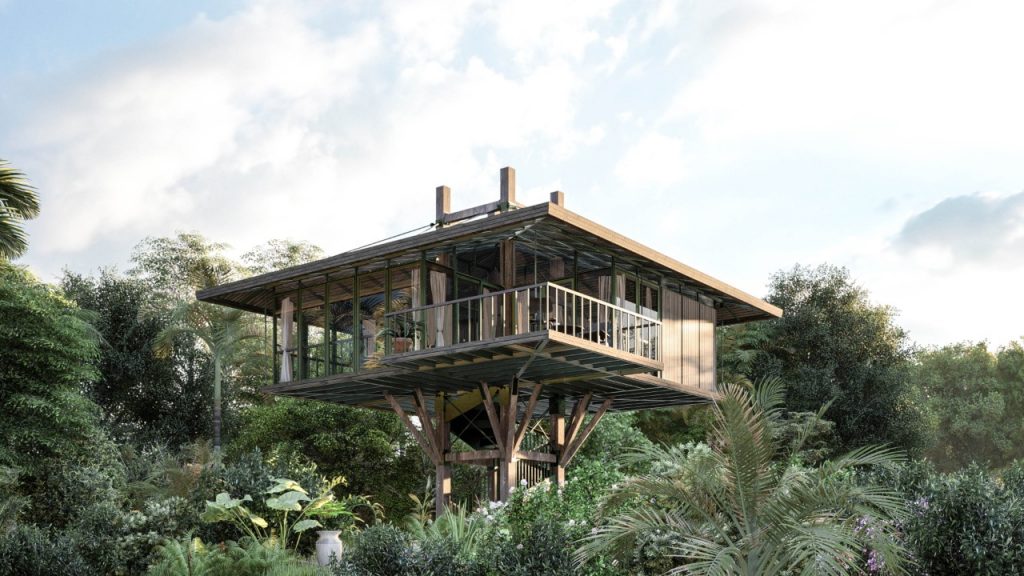 Kr: What market opportunities are there for prefab housing in Southeast Asia, especially in Indonesia?
FH: We've received orders to build cottages in Bali, Lombok, and Sumba. However, we're definitely also looking at residential housing here in Indonesia as well as in many other emerging markets in Southeast Asia, like Thailand and Malaysia. There's a huge need for new homes, especially for the growing middle class. I think there are an estimated one million new houses required per year in Indonesia, and prefab construction can be a solution for those looking for a more affordable home.
Kr: What has been your biggest challenge in building a startup focusing on prefab homes?
FH: The biggest challenge is undoubtedly the capital. When you build a software startup, you only need to hire a few people in the beginning to code and everything. But when you make physical products like this, you need more capital to buy the assets. If the product fails, you waste your money, so the risk is high.
Fortunately for us, our prototypes are up, they were listed on Kickstarter, and we got good feedback. We have quite a few orders from big customers already, and we have received inquiries and requests from potential customers in more than 20 countries worldwide.
Kr: Why did you choose Kickstarter? Why not raise funds from VC firms right away?
FH: We are using Kickstarter because it is essential to get as much feedback as possible at the beginning of product development, so that we can refine and improve it later. If you create software, you can do it easily. You simply release a beta version and see how users behave, and you can update it based on the responses.
This is why we also use Kickstarter as a bridge to connect our ideas with the public. We've received many very helpful inputs. The funding is only a small part and it doesn't replace investors. In fact, we're currently in final talks with an investor. I think it is difficult for investors to really understand our business and values because there are not many examples in this particular space.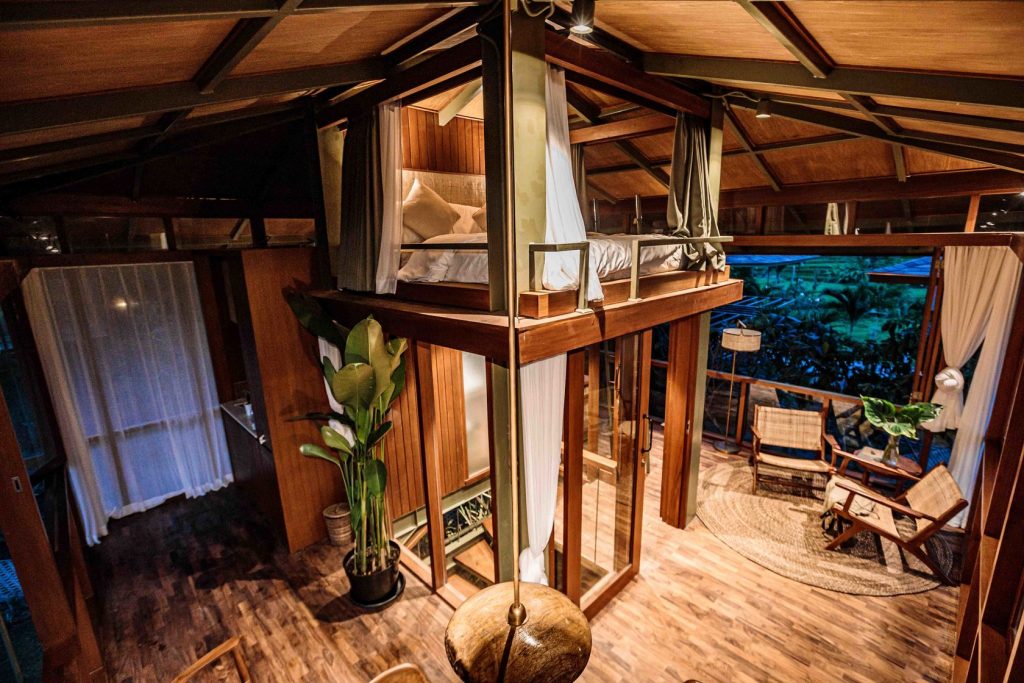 Kr: How do you implement technology in this new startup and how does your online platform work?
FH: Right now, we are using technology to find customers, basically in the same way that a direct-to-consumer (D2C) brand does it. Clients can send inquiries and see some designs on our website. They can also book a stay at one of our houses in Bali through the web or online travel agents (OTA) partners like Traveloka or Airbnb.
We operate a kind of hybrid model: we are a D2C brand in a specific niche segment, but all of our sales and marketing are made online.
Kr: Has your experience with Lazada influenced your entrepreneurial journey?
FH: I was lucky to be part of the Lazada team. We started when e-commerce was small, and many people didn't believe that the platform could be as big as it is now. It was really exciting to see what you can achieve with technology and market education. I also gained skills on how to progress from a small to a big company—what are the systems you need to put in place, and how to navigate the team. These are some lessons that I am implementing into my new company.
Kr: How do you see the future of your business? Please tell us about your plans for the rest of this year and into 2021.
FH: We have three ongoing projects for the rest of this year, and we already have another four large projects in the pipeline. We aim to finish around 70 houses by the end of 2021.
We currently have designed four house models, and we plan to add another six. We're also doing design cooperation with other parties. As a platform, we want to enable other people to share their ideas in building sustainable houses.
The long-term vision for our company is to be a design platform for prefab houses where we cater to customers worldwide, not just in Indonesia or Southeast Asia. For example, we have a lot of inquiries from potential customers in the US, but we are unable to ship our prefab structures internationally.
In the future, we aim to connect with local contractors in different markets so we can share our design and construction plans and collaborate with them to build prefab houses for customers worldwide.