As e-commerce matures in Indonesia, so does its logistics and supply chain ecosystem—homegrown J&T Express, for instance, reached a valuation of USD 7.8 billion in April, while other local logistics startups are vying to become the next billion-dollar firm.
Jakarta-based SiCepat is one of the companies touted to have the potential to become a unicorn. The company raised a USD 170 million Series B round in March, joined by investors such as Telkom Indonesia's investment arm MDI Ventures, Temasek Holdings subsidiary Pavilion Capital, and Falcon House Partners. Tokopedia, which recently merged with Gojek, also reportedly invested in SiCepat's parent company, Onstar, last year.
Founded in 2014 by Indonesian entrepreneur The Kim Hai, SiCepat started to expand aggressively in 2018 after launching SiCepat Ekspres, the firm's last-mile delivery subsidiary. SiCepat also operates in other sectors with six separate divisions. These include e-commerce fulfillment and warehouse management unit HaiStar, e-commerce enabler Hera, software-as-a-service website management platform Clodeo, and air shipment cargo service CKL. At the same time, via a joint venture with listed IT company M Cash Integrasi, SiCepat manages two other divisions—logistic solutions provider Logitek Digital Nusantara, and food ordering solution Digiresto.
"We provide end-to-end solutions for online sellers, especially micro, small, and medium enterprises (MSMEs). From helping them set up online shops, including websites and marketplaces, to operations through fulfillment and delivery to end customers," SiCepat Ekspress chief commercial officer, Imam Sedayu, told KrASIA.
The company claims to already be profitable, with revenues growing nearly 300% from 2020 to 2021, as the pandemic accelerated the adoption of online shopping, Sedayu said. SiCepat Ekspres—which currently delivers around 1.2 million shipments daily—is the main revenue source for the firm, followed by HaiStar and CKL Kargo, Sedayu added.
"Our valuation is indeed growing, but becoming a unicorn is not a priority for us. Instead, our focus is to make sure that SiCepat can grow sustainably with a healthy business that generates profits," he added.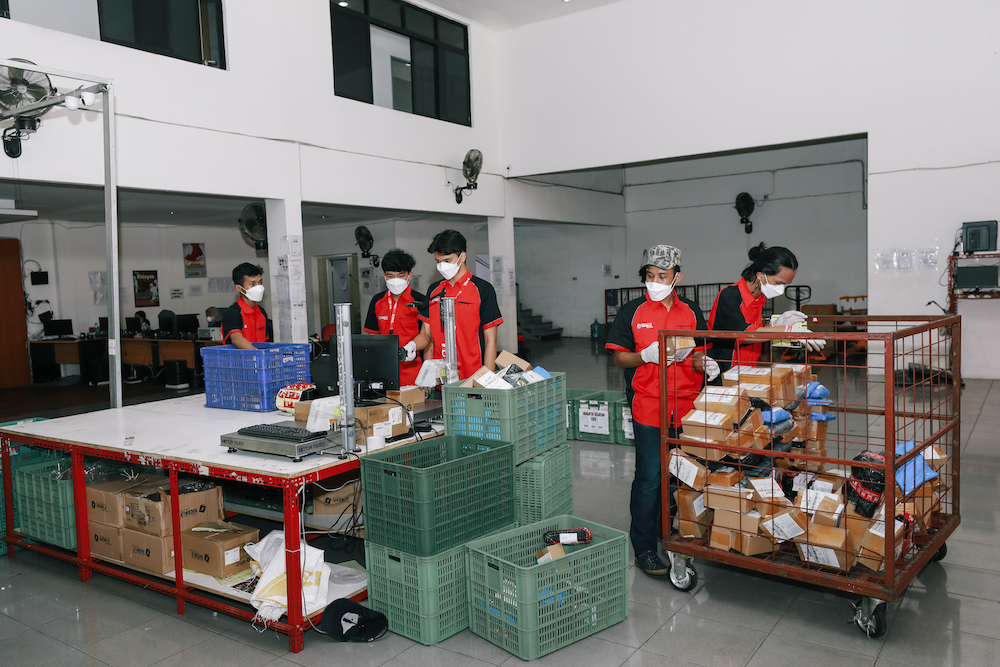 Presence in multiple sectors
With seven subsidiaries, the firm aims to build a comprehensive logistics ecosystem to make a "real impact on the industry," Sedayu said. SiCepat Group currently has 50,000 employees across all business units, including delivery couriers. The company works with over 6 million partners ranging from e-commerce platforms to individual sellers, while it operates a network of 6,600 drop points and 12 fulfillment centers across Indonesia.
Sedayu said the firm puts technology at the core of its business strategy, which has allowed SiCepat to automate different logistics processes, helping them reach "on-time delivery rates of around 98%," he said.
Amid a delicate moment for the courier and delivery services industry in Indonesia, with courier partners for Gojek's GoKilat, Grab, and Lalamove going on strike to demand better compensation packages, Sedayu explained that his company has, since its early days, chosen to formally employ all its collaborators.
"Our business model is different from other platforms that use partnership systems where they pay drivers based on the number of orders. In this business, we are all focusing on reducing costs and increasing productivity. Maybe that's why those platforms cut driver fees to save on costs. However, we believe that we can boost productivity by providing drivers with financial security and a system that makes it easier for them to work," he explained.
To address the high cost of some logistics services in remote areas, SiCepat collaborates with other industry players such as e-commerce companies, government agencies, and other third-party logistics (3PL) providers.
"The integration of our own ecosystem with other companies allows customers to have more options of seamless and affordable logistics services. For example, for shipments outside of Java, customers can choose premium services using air shipment cargo CKL, or regular services by land and sea from SiCepat and 3PL partners," Sedayu said.

Future EV mobility plans
SiCepat recently also tapped into the electric vehicle (EV) industry by forming another joint venture called Energi Selalu Baru (ESB) with NFC Indonesia, a subsidiary of M Cash Integrasi. In June, ESB acquired Volta, an electric motorcycle maker based in the central Java city of Semarang.
"As a start, we will equip 5,000 courier drivers with electric motorcycles. We'll also create a distribution network for electric motorcycles and battery exchange services by leveraging our logistics capabilities," Sedayu said.
The JV is expected to tap into a bigger market outside of the SiCepat ecosystem, Sedayu said. "Through ESB, we hope to contribute to reducing pollution and building a green economy ecosystem where we can benefit the industry and society at the same time."
The firm is currently in talks with several companies and government agencies to offer its EV services, Sedayu said. "Many companies, including state-owned enterprises, are tapping into EVs to develop infrastructure and explore opportunities in the sector. I think we will see meaningful progress in EV adoption in the next five years."
Going forward, SiCepat will continue to focus on optimizing its tech capabilities and developing its ecosystem infrastructure. Sedayu also mentioned its intention to expand across the region, although without revealing more details.
"Our target this year is to build more pick-up points to reach remote areas of Indonesia, including Kalimantan and Sulawesi, to make it easier for MSMEs to tap into online business. Regarding expansion, we are still studying which market suits our business, but for now, we're still focusing on the local market," Sedayu said.