French poet Victor Hugo once said, "The wise man is he who knows when and how to stop." The quote applies to many leaders in the business world who decide to leave their companies while they are ahead—Aldi Haryopratomo is one of them. He stepped down from his CEO position at GoPay, the fintech arm of Gojek, in January 2021, after leading the division for over three years.
The reason for his departure is apparently simple. "We [at GoPay] have changed the financial industry, and I thought it was the right time for me to move on and make changes in other sectors," he told KrASIA.
Before GoPay, Haryopratomo founded a fintech app named Mapan in 2009. The platform enabled online payment points in different physical locations in Indonesia but started to see major traction when it began offering a social commerce feature called Mapan Arisan in 2015. The feature is basically a digital version of the arisan—an informal form of rotating savings and credit association common in Indonesia, especially among women.
The startup was acquired by Gojek in 2017, along with two other fintech startups—payment processor Kartuku and merchants' payment getaway Midtrans—to form GoPay. Mapan still operates as a separate app and currently has 3 million users, Haryopratomo said.
Haryopratomo is now on sabbatical enjoying time with his wife and three kids. "Leading a high-growth tech company can be very exhausting, and as a human, I need a break. So I'm taking some time off before starting a new venture," said the former CEO.
Yet, taking a break doesn't mean that he's lounging around and doing nothing at home. As a big believer in mentorship and giving back, Haryopratomo is now helping other entrepreneurs grow their businesses. Shortly after leaving GoPay, he was appointed commissioner at aquaculture startup e-Fishery. He also joined the board of advisors at health tech company Halodoc in March. More recently, Haryopratomo invested in BukuWarung's USD 60 million Series A funding round.
"I would not be here without the kind people who have helped me, so I want to replicate this to other entrepreneurs who are solving the right problems," he said.
KrASIA recently talked to Haryopratomo about his entrepreneurial journey and life after stepping down from GoPay.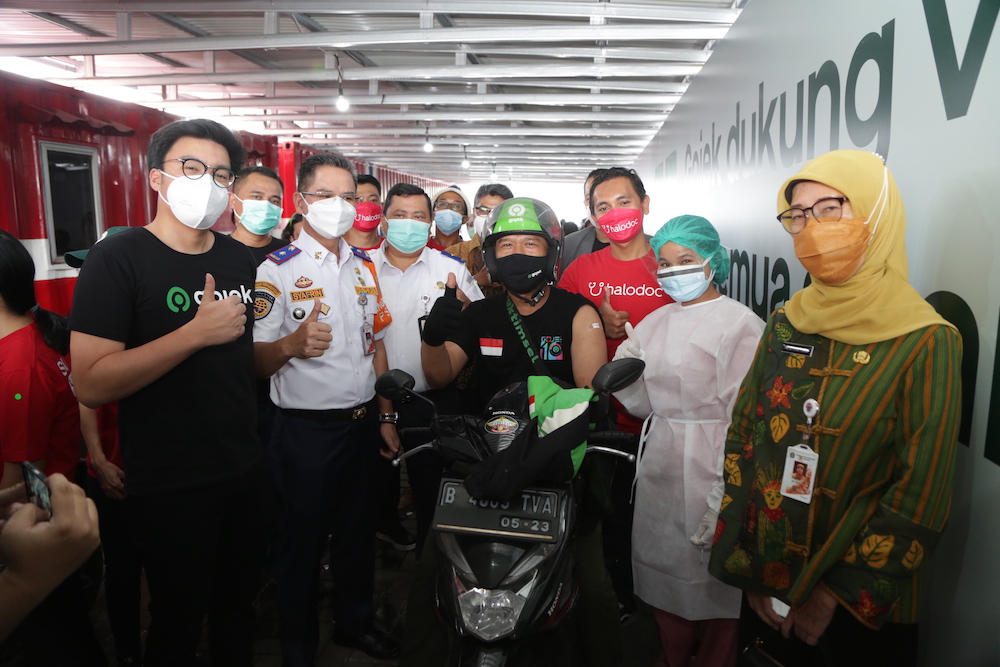 KrASIA (Kr): How did you get interested in fintech? And how did you get the idea to build Mapan in 2009, when fintech was almost nonexistent in Indonesia?
Aldi Haryopratomo (AH): Mapan was the first company I founded, but my fintech career started when I joined Kiva in 2006. Kiva is a peer-to-peer lending platform that lends to microfinance banks worldwide. My role in Kiva focused on finding microfinance banks in Southeast Asia, so I spent a lot of time in rural areas in Indonesia, Vietnam, and Cambodia. That was my crash course in fintech as I conducted due diligence on more than 1,000 banks for Kiva.
After Kiva, I worked at Boston Consulting Group, where I visited many rural areas throughout India and Pakistan. I was really curious about how to solve more problems in the village, and I felt that lending was not enough, so I decided to build Mapan to continue working with community leaders in Indonesian villages, promoting a digital version of the arisan, which in a way, is a form of microfinance.
Kr: What's the story behind Gojek's acquisition of Mapan in 2018?
AH: Nadiem Makarim [co-founder of Gojek] and I went to Harvard Business School, and he was an intern at Mapan in the summer of 2010. Nadiem was very good at selling, so he helped me complete a funding round. I think he got the idea for Gojek around that time. We founded our respective companies right after graduation. We even rented a house and transformed it into a shared office. Becoming a startup founder back then was a lonely journey, so we'd get together to share our frustrations every week.
In November 2016, one community leader from Mapan asked me for help as she needed extra income. I talked to Nadiem, and he helped her become a Gojek driver. From there, we said, "Hey, we should do a pilot project where Mapan's women leaders can recruit their husbands to Gojek." We did the first project in Yogyakarta, and we saw how families that we recruited could increase their income.
Nadiem was super excited about it because he always had a big vision to have one app for everything. Fintech was an important part of that vision, and he was humble enough to understand he didn't have the experience to do that by himself. Mapan had already gotten a P2P lending license at the time, so we decided to combine forces.

Kr: What adjustments did you have to make with the transition from Mapan to GoPay, a division that already had an ecosystem through Gojek consisting of millions of driver-partners, merchants, and customers?
AH: The biggest adjustment was integrating the three startups, as each company was built by different founders and had different capabilities. They also had different cultures. Luckily for us, we all had amazing teams who were very humble and willing to learn from each other.
Another big difference is the scale and speed. When you're trying to change an industry and have intense competition, you have to move really fast. When we started GoPay, there were only a few thousand transactions outside of Gojek's transportations and food delivery services. We had to figure out how to grow those transactions quickly, which meant making big bets and decisions, many of which we weren't entirely sure about back then.
Kr: What were your most memorable milestones at GoPay?
AH: There are three moments: When we started in 2018, we realized that SMEs couldn't easily adopt digital payments because of the expensive cost of Electronic Data Capture machines. Therefore, we believed that QR codes were essential. While our competition focused on devices and phone numbers, we already started to shift into QR codes. That was the first thing we did. Over the next six months, we increased QR transactions by 1,000x and reached a million transactions a day by December 2018.
The second moment is when I met with many merchants who said that Gojek and GoPay brought real changes to their lives; they could buy a house, send their kids to college, and go on their pilgrimage to Mecca. It was very rewarding for us.
Finally, each time we closed a funding round with global tech giants it was always memorable, as having the validation from these global investors was really important to us.
Kr: You joined e-Fishery and Halodoc right after leaving GoPay. What was the reason behind this decision? 
AH: I met Gibran [Huzaifah, e-Fishery's CEO] five years ago when we participated at the World Economic Forum as young global leaders and young global shapers. He came to me and said he wanted to help fish farmers in rural areas by building a smart feeding system that could detect when fish are hungry so that farmers can feed them more efficiently. I was impressed because it was a really unique problem that nobody cared about. Every month, we talked about his startup, and GoVentures eventually invested in e-Fishery, so our engagement became more formal. When I left GoPay, Gibran and I wanted to work closer together. I currently help him with business and scalability strategies, as well as with fundraising strategies.
Meanwhile, Jonathan Sudharta [Halodoc's CEO] and I go way back—we met in high school. We discussed a lot about Halodoc and his mission to make healthcare accessible for everyone. I also have an interest in health tech. In business school, I created three business plans for a competition: a health tech startup that connects doctors to people in rural areas, a hydropower generation company, and Mapan, which won the competition. Gojek is also investing in Halodoc, so I've been working with the Halodoc team for a while, and I saw how the company was able to grow and collect all the pharmacies and thousands of doctors into one platform. I'm excited to be a part of this growth.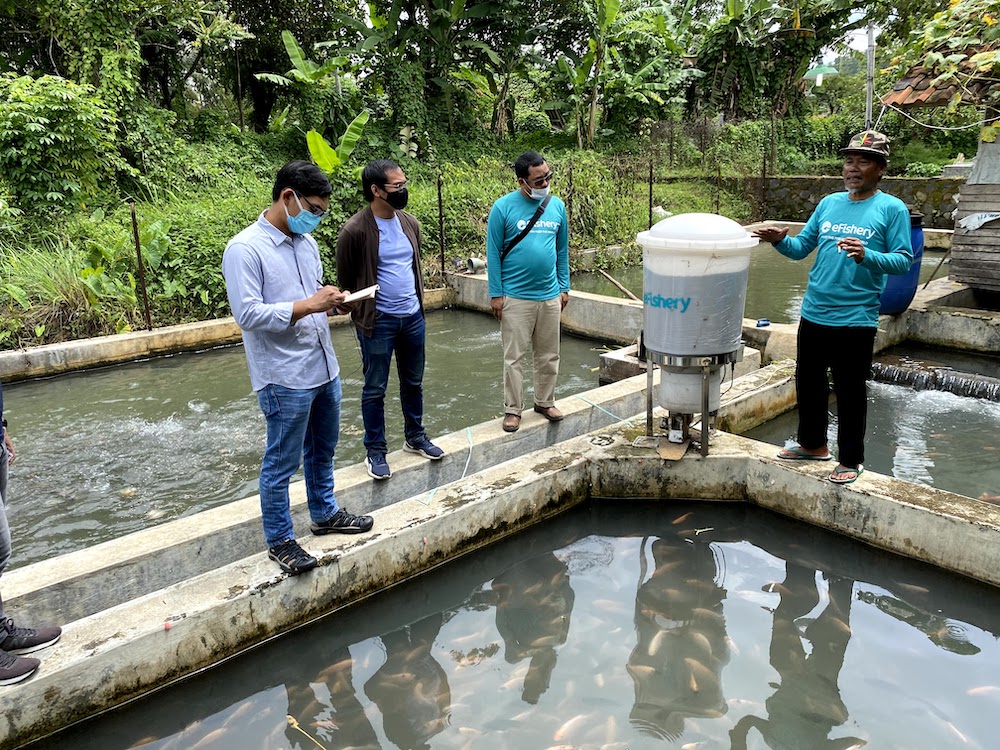 Kr: You also recently invested in BukuWarung. Was it your first investment? Why is it important for you to work with other entrepreneurs?
AH: I've made investments in ten startups already, including BukuWarung, Crewdable, Green Spot, and Beehive Drones. As an entrepreneur, your experience and lessons can be limited to the company that you built. However, by being a mentor for other companies, you can see whether what works in your industry can work in another sector. I recommend that every entrepreneur become a mentor because you learn more as a mentor than a mentee. For instance, Gibran taught me a lot about fish farming, and I learned about healthcare from Jonathan.
I believe in good karma, and angel investment is about giving back. The hardest part of an early-stage startup is finding the first backer who believes in your mission. Mapan's first investor was Muhammad Yunus from Grameen Bank. It was amazing that someone like Yunus believed in someone like me, and I want to do the same for other entrepreneurs.
Kr: What's next for you? What will you be doing in the near future?
AH: The most important thing about being on a sabbatical is to be on sabbatical. Right now, I'm just learning different things: how to be a better father, a better mentor, and a better investor. I hope that after learning different lessons, I can find a problem in an industry that needs my help. I am an entrepreneur at heart and love building companies and growing teams, so I'll continue doing what I do best.