Indonesia has always been known as a hot market for e-commerce businesses due to its large population and growing middle class. Although the country's e-commerce industry is dominated by giant platforms like Tokopedia, Shopee, and Bukalapak, there is a growing reality of players offering personalized consumers' services, one of which is Social Bella, which operates beauty e-commerce site Sociolla.
Social Bella was established in 2015 by John Rasjid, Chrisanti Indiana, and Christopher Madiam.
"We saw a high demand for beauty products but we did not meet an adequate supply of authentic products. There were many unauthorized distributors selling their products online without a license from the official food and drug agency (BPOM). This could harm consumers and the beauty business itself," Social Bella's co-founder and president Christopher Madiam told KrASIA in a recent interview.
"Consumers needed a platform that sells original and safe products with trusted reviews from other users, so we decided that this is something we needed to bring for Indonesian consumers," he added, talking about the company's foundation.
The startup quickly caught attention from investors. East Ventures made the first investment in 2015 and has been supporting the company ever since. Fast forwards to 2020, Social Bella has raised USD 110 million over the span of five years, according to Crunchbase, with the latest funding round in July coming from big-name investors such as Temasek, Pavilion Capital, and Jungle Ventures.
Today, Social Bella has also grown beyond its core business, with the mission to build up an entire digital beauty ecosystem in Indonesia.
Social Bella currently has five business units: beauty e-commerce site Sociolla, a community platform called SOCO, beauty and lifestyle online media Beauty Journal, as well as a brand development division that offers end-to-end distributor service for beauty and personal care brands. Moreover, the firm recently launched a mom and baby marketplace called Lilla by Sociolla.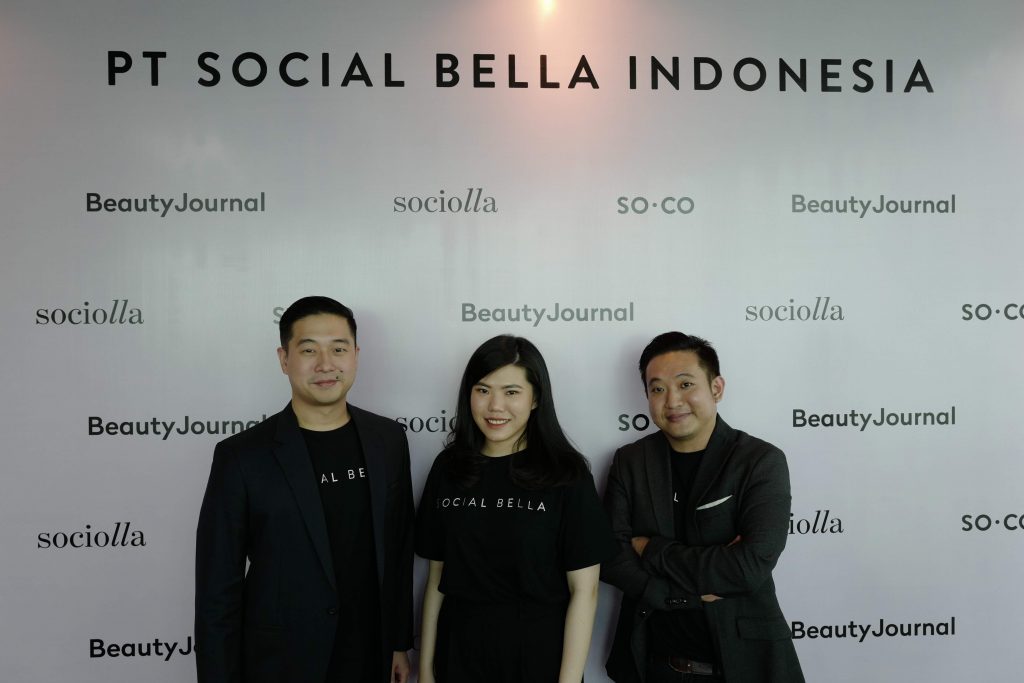 KrASIA recently talked with Social Bella's president Madiam about the company's journey.
KrASIA (Kr): Started as an e-commerce platform, how did you expand into five business units? How is Social Bella growing so far?
(CM): Social Bella ecosystem, which combines technology with deep understanding of our consumers, aims to break down all the barriers in the beauty industry. What we have on our ecosystem today comes from the most fundamental question: What can we do better to serve our stakeholders?
For example, working with many different merchants on e-commerce sites makes us understand that availability of major trendy brands and products is important to keep the retail scene vibrant. Meanwhile, for consumers, the right information to help them make informed buying decisions is also crucial.
Consumers also need a community platform where they can share reviews and experience with fellow beauty enthusiasts. Along the way, we continue to innovate to meet those needs and create value for customers and merchants.
All of our business units are estimated to serve around 30 million users in 2020, while we have over 1.5 million product reviews on our platforms. There are over 5,000 products on the Sociolla platform, and also, we manage seven offline stores in Jakarta, Bandung, and Surabaya. Our flagship store in Lippo Mall Puri Jakarta is 425 square meters and is the largest among all.
(Kr): Why did you decide to also open offline stores, considering that you already have a strong online presence? 
(CM): From the early days of Sociolla, we understand that when it comes to beauty products, physical shopping experience remains relevant. Customers want to feel, touch, smell, and try the product before making purchases.
As a tech company, we combine the best from both the online and the offline world to establish the firsts omnichannel beauty stores in Indonesia. We serve customers in a more interactive way while the stores also serve as platforms for new aspiring brands.
(Kr): What are some particular services offered by Sociolla stores?
(CM): We provide real-time and personalized information for every customer. When entering the store, they can scan QR codes from the Soco app to get product recommendations according to their beauty profile, which includes skin type, favorite makeup style, and more. Customers can also read reviews from the app by scanning the products' barcodes on the shelf before making the purchase.
If a store is running out of products, customers can still buy and pay them in stores and have it delivered at home. Vice versa, customers are able to purchase products online and pick them up at a preferable location. These are only a few examples, but we believe that these services give a unique shopping experience for customers.
(Kr): How much are physical stores contributing to overall Sociolla's sales?
(CM): We can't disclose the number, but stores' sales contributions are quite significant, although they have been only operating for less than a year. The presence of these omnichannel stores also strengthens our e-commerce position in the market.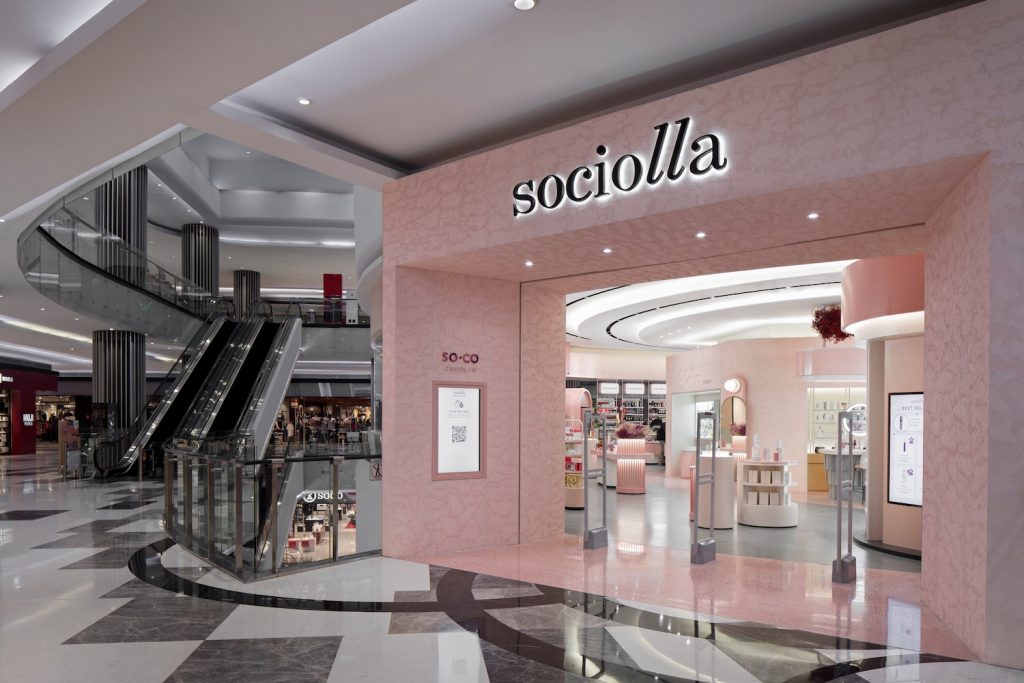 (Kr): The firm has recently launched a new mother and baby line named Lilla. What drove your decision to tap into this segment?
(CM): It is a natural extension of our business model. Currently, we are serving a big group of the young population in Indonesia to fulfill their beauty and personal care needs. These customers will eventually become parents, so we want to expand our services to serve them.
The market potential for this segment in Indonesia is quite tremendous. According to a survey titled "Indonesian Digital Mums Survey 2019," from the Asian parent, internet consumption will increase significantly for future mothers searching for parenting information and tips online.
(Kr): Please tell us more about your brand development business unit. How does it work and how many international brands have you worked with so far?
(CM): We are working with brands around the world to bring their products to Indonesia and act as their representative here. We provide distribution channels through B2B and B2C sales ecosystem, insights into local market trends, and we also conduct marketing and branding activities through our media platform. So far, we have worked with over 30 international brands and we have many more to come.

(Kr): How do you utilize data from different business pillars in your ecosystem?
(CM): We use data to improve customers' experience. For example, anyone can write a review on our platform but we differentiate between reviews by random users and reviews by users that actually have purchased our products. We put the "trusted review" stamp on these customers.
Through the media platform, we get insights on trending products and categories, so we can ensure the availability of these products in our online e-commerce as well as our offline stores.
(Kr): What trends do you see in the beauty tech industry today? How do you envision the future of your business?
(CM): Internet has enabled significant changes in the beauty and personal care industry. Nowadays, big brands are no longer dominating the beauty and personal care market. Consumers are always in search of the next trendy products, and we see a huge flow of new brands coming into the market thanks to the internet and social media platforms. We believe this will continue to shape up the beauty and personal care industry.
Going forward, technology will continue to play a significant role in promoting and marketing new beauty products. We want to be in the epicenter of these improvements, and be able to provide value and serve all our stakeholders better, by leveraging our vast digital ecosystem.
(Kr): What's next for Social Bella?
(CM): As the leading beauty tech platform in Indonesia, we'll continue to strengthen our business units while keep improving services. It will be done through expansion into other relevant categories as well as taking major business opportunities. We will be closer to our customers by having more stores across the country and by bringing more international brands into Indonesia.
The interview has been edited for length and clarity