This article was originally published on Oasis.
Before founding his company, Yong Shin Leong served for more than four years as an engineer and technical lead for Singapore's Agency for Science, Technology, and Research (A*STAR), a statutory board under the Ministry of Trade and Industry. During his time in the governmental institute, part of Leong's job was to lead the development of immersive technology solutions for corporations.
"As I furthered my understanding of automation and mobile programming, the more I wanted to make the processes simpler and more accessible," he told Oasis.
While working in a stable corporate environment, Leong started to build a desire to create something on his own. In late 2019, Leong, together with A*STAR colleague Chong Voon Foo, and Daryl Lim, decided to launch Augmentus.
"We started the company after we left A*STAR. Subsequently, we licensed a technology from A*STAR to expedite our tech development," Leong told Oasis.
Augmentus provides a no-code programming software that allows customers to program dynamic industrial robots for different applications. The technology can boost productivity for companies and lower the entry barrier for automation, according to Leong.
In the interview with Oasis, Leong shares why he defines Augmentus as "the Adobe and Canva in robotics," while he also commented on some key challenges and opportunities for deep tech startups.
This interview has been edited and consolidated for clarity and brevity.
Oasis (OS): What does Augmentus do? What's your advantage over competitors?
Yong Shin Leong (YSL): We provide a robot programming platform that resides on tablets, making it easy and possible for anyone to control and program robots. The way I understand this is similar to what Adobe has been doing for designers and what Canva has been doing for non-specialists—lowering the entry barrier.
With Augmentus, companies and users are the operators. They don't need to carry a very bulky PC when they go into a factory's shop floor, which could be pretty messy, dusty, and chaotic. The whole notion is to let robots become more accessible for everyone, not just reserved for people who understand coding.
Regarding how we differentiate from our competitors, we are the only firm that provides a "scan and plan" feature, meaning that you can use an iPad to digitize the environment around the robot.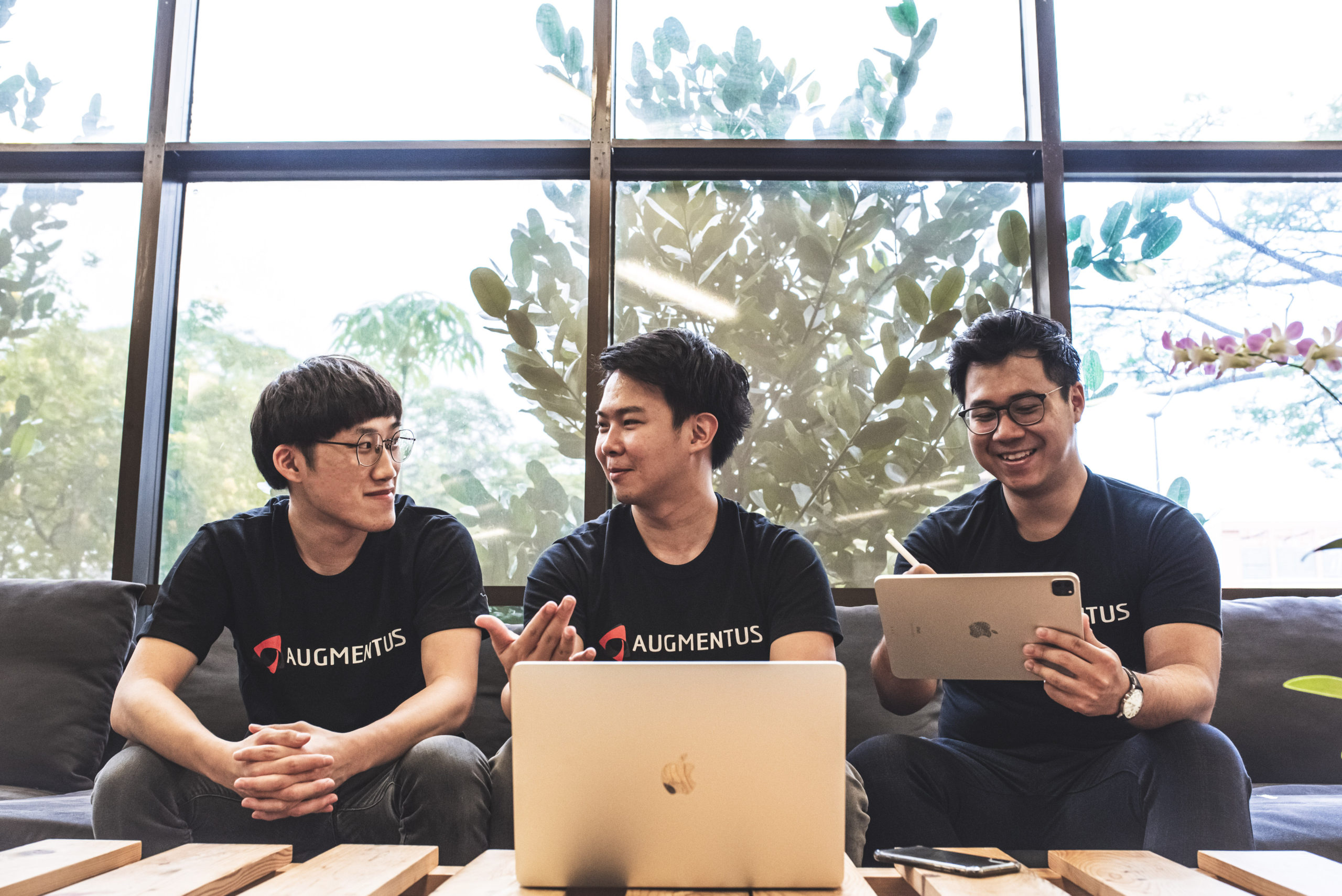 OS: Augmentus is a spin-off of A*STAR. So instead of just growing from zero like other startups, is it fair to say that you started from a good foundation, a safety guard?
YSL: I will say it's a safety net.
Deep tech requires a lot of research, development, and in-depth knowledge. So spinning off from A*STAR helped us start not from zero but from one, in terms of technology and readiness. It also accelerated our development.
However, it's not like when a company spins off from a government agency that they automatically receive funding and a lot of support. The most valuable thing that we receive from A*STAR is the technology research, which served as a foundation for us.
OS: It sounds like founding Augmentus was natural and effortless, but I'm sure there were some challenges along the way. Can you tell me about it?
YSL: It wasn't an easy journey. We started in late 2019. Then, as COVID-19 hit at the start of 2020, everything shut down. It was a difficult time to raise money because everybody was trying to conserve their capital. We had a tough time trying to raise funds at the start. Fortunately, we met up with venture capital firm Cocoon, and they believed in us and our ambition, later becoming an investor. Before we received funding from Cocoon, I only had USD 200 in the bank.
Product development was also not as easy as we initially thought. We imagined how the product should be, and we developed it. Yet eventually, it turned out that there was a gap between R&D, the real world, and customers' needs. Ultimately, we completed the product by working ten times harder.
Sales were also tricky at the beginning. Our product was something very visual that customers would want to see, feel and touch, but we could not travel much due to COVID-19. As the outbreak eased, we started to have more customers, and it became easier for us to secure deals, especially with big companies.
OS: How your experience at A*STAR helped with you navigating the startup world?
YSL: I need to give a lot of credit to A*STAR and to a particular mentor I used to have, who believed in me and formed a team for me to manage. I don't think I did a perfect job managing people, because I was more of a technical person, or individual contributor. I suffered imposter syndrome during the transition into a manager. I made some mistakes along the way, but these mistakes made me grow and gave me the learnings and fundamentals of being a leader.
The government provided me with a safe environment to develop my leadership and management style. When I transitioned to the startup, I carried forward a lot of what I learned. It helped me to manage a little bit better and smoother.
OS: What's the biggest pain point for deep tech startups like Augmentus?
YSL: Transitioning from research into commercial production is an arduous process. As the old saying goes, "the devil is in the details." There is a lot of complexity and innovation behind every single modification or improvement to an existing product. It requires a lot of effort in terms of capital and manpower to translate research into something that everybody can take and use.
We leveraged national agencies' research, because they already spent a lot of money and resources on intellectual property and technology. Like a trampoline, it helped the startup get a bounce at the start so we could focus more on commercialization and less on fundamental research.
OS: What's the general business environment for deep tech startups like right now?
YSL: It is an exciting time now, where many multinational corporations and government organizations are starting to work with startups. Big companies want innovation and speed, whereas smaller firms want brand equity and resources. It is much easier for startups to work with big companies now, partly because of the digital transformations and the development of the industrial internet of things. The prejudice is also getting lower and lower. Big companies are more willing to work with startups, as they understand that speed is more important than reputation.
OS: Looking back on your journey, how do you feel about your decision to leave A*STAR and launch Augmentus?
YSL: I think it is a blessing that I can now run a startup. I know many people who wanted to accomplish things, but they couldn't do it due to family circumstances or lack of support. In contrast, my family and friends have been very supportive since the beginning of my entrepreneurial journey. I was in a very good position to form a startup.
To have a good idea at the start is very difficult. I spent many, many years trying to find a good idea. The second part is to form a team, which is also not easy. I was quite fortunate and blessed to have a good founding team. Then, you also need to seek a target market. Overall, I believe it has been a delightful journey rather than a painful sacrifice.
---
Oasis, the brainchild of KrASIA, aims to provide a haven for human-centered stories on Asia's leaders. Click here to read similar stories.