After the bike-sharing race that took China by storm between 2016 and 2018 — where millions of bikes were poured onto China's streets by several private Chinese companies — which ended with several bankruptcies and a few acquisitions, major tech firms are now betting on a similar yet different business: e-bikes. 
Founded in 2014, Mebike is one of the first local companies that launched an e-bike sharing platform. Ride-hailing giant Didi is a backer of Qingju e-bikes, which signed a partnership with electric battery maker Phylion for the supply of one million units of lithium batteries. On-demand service giant Meituan is also planning to launch e-bikes in Chengdu and other cities later this year, and Alibaba-backed Hellobike, together with CATL and Ant Financial, also joined the race to establish an e-bike battery joint venture.
Electric bicycles and scooters are trendy nowadays in China. According to data collected by Hellobike, nearly 300 million rides per day were completed on conventional bikes in the country in 2019, but more than twice as many journeys were made on electric bikes and electric scooters during the same year, or about 700 million rides a day.
The recent business moves by Chinese tech giants combined with electric vehicles rising popularity makes industry observers wonder if e-bikes will become China's new craze?

An evolution of the once-popular bike-sharing trend
Just a couple of years ago, Chinese bike-sharing firms were praised by investors, users, and even by the government as environmentally friendly alternatives to crowded public transportation in most Chinese cities. Yet, the bike-sharing craze did not end up in the best way.
Although bike-sharing was not a new idea in China, sharing "dockless bikes" was an innovation everybody loved. Ofo was one of the first companies to launch the dockless bike-sharing model in Beijing, where users can pick up a bike anywhere on the street, and park it later wherever they choose in public areas. Quickly, other companies like Mobike took over Shanghai with the same concept, while many other bike-sharing startups emerged, with support from the government and enthusiasm from users.
However, the bike-sharing fever soon led to chaos in urban areas with the clutter of bikes littering city sidewalks, apartment gardens, and parks. First, signs forbidding parking shared bikes appeared on apartment complex gates, in commercial districts, and even in public parks. Later, the government pulled back its initial encouragement for the industry.
Many local governments even started to impose fines on bike-share companies for improperly parked units, which led to investors questioning the profitability of the business.
Bike-sharing companies were burning money by offering low prices to acquire users. In the beginning, it was even free for new users to ride the bikes, with fares starting as low as RMB 1, (USD 15 cents) for two hours.
However, revenues were insufficient to cover rising operational costs. According to an analysis published by Xinhua, each bike costs around RMB 200 to manufacture and RMB 10 for each tune-up. With this model, there was no short-term return on investment for the companies. Although firms finally tried to increase the price per ride, they discovered that demand was elastic, as users could easily opt for buses and subway rides, costing between RMB 2 to RMB 4 (USD 0.30 to 0.60).
Many bike-sharing startups like Ofo, Kuqi Bikes, and Xiaoming all went bankrupt, leaving only a handful of bike-sharing companies and millions of wasted bicycles behind.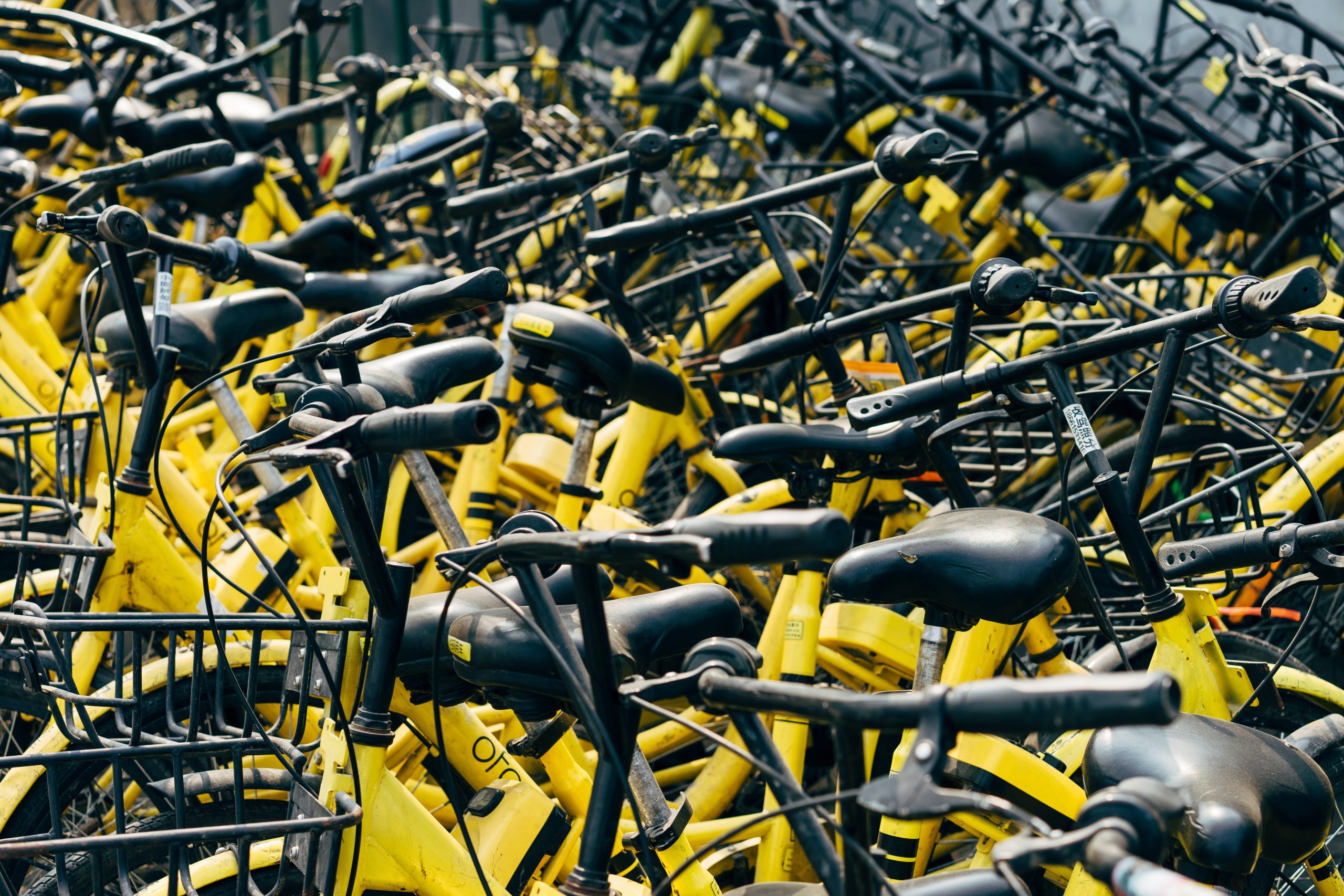 What is now driving the e-bike sharing business?
Thanks to large Chinese cities like Beijing or Shanghai lying on relatively flat terrain and with loose regulations, electric bikes and scooters became widely popular. According to the Global Times, last year, there were nearly 250 million electric scooters registered in China. Taking unregistered scooters into account, that number could be as high as 300 million.
For users, there are also several benefits to share rather than buy an e-bike. For instance, for a small fee of RMB 3-15 (USD 0.4 to USD 2.15) per ride depending on the distance, users can enjoy these vehicles without the need to worry about charging batteries themselves or running out of charge.
Currently, most e-bike sharing platforms such as Hellobike, are setting up their own charging stations, where riders can swap their battery for a new one without having to plug in and wait. Users can conveniently pay online via third-party payment platforms such as Alipay and WeChat Pay.
"As an expat, I find the idea of buying an electric bike meaningless when I have the opportunity to rent one," says Aysu Bayrak, a Turkish interior designer who has been living in Beijing for almost a year.
She uses Mebike's electric scooter regularly to travel around the city. "I think it is fairly priced, and it gives me the freedom to switch between different forms of transportation. For instance, I can use Mebike to go somewhere, and later, from there, I can just take a taxi or use public transportation."
While for shared e-bikes platforms, users need to pay a deposit of around RMB 300 (USD 22), buying a new e-scooter would cost several thousand yuan. A mid-range Niu scooter starts at RMB 3000 to 5000, while a high vehicle would cost over RMB 7000.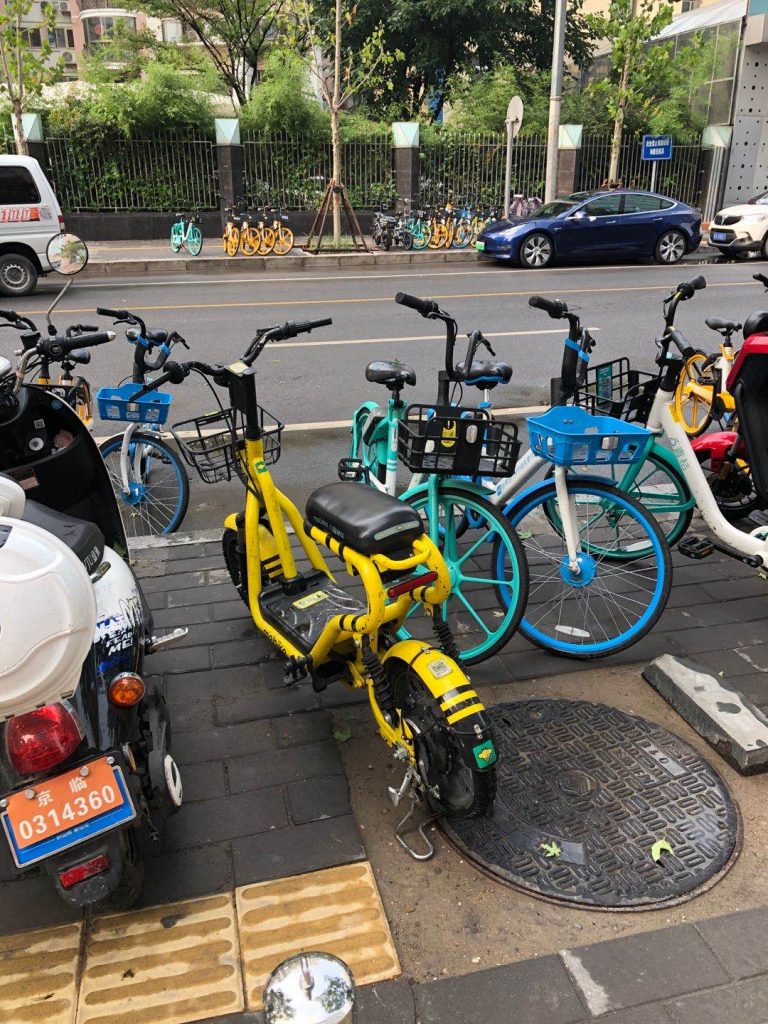 Would e-bikes lead a new sharing-economy boom?
Whether or not the entry of various firms to the market will create a chaos-like situation similar to what happened with shared-bikes remains to be seen. However, the government is setting higher safety regulations and companies and investors must have learned some lessons from the past.
Last year, the government implemented new national standards for electric bicycles, which include restrictions on the speed and weight of the bikes and battery voltage. Additional technical requirements include tamper-proof, fireproof, and charger protection systems. These safety regulations will increase the manufacturing and operational costs of the e-bike companies.
Moreover, most cities, such as Shanghai, Shenzhen, and Beijing, require electric bikes and scooters to have a license plate, which might also limit the companies' early expansion in those cities. In 2017, Mebike's operations were suspended for a while because they did not meet the licensing standards for electric bicycles in Beijing.

Another concern is that e-bikes have invoked high rates of traffic accidents and noticeable violations of traffic rules. During the period between 2004 and 2015, police data reported that in China, e-bike fatalities increased more than 11 times, from 589 to 6,539, while nonfatal injuries increased 5 times, from 5,295 to 30,532 cases respectively.
Yet, smaller cities seem to have looser regulations, which has led to most emerging e-bikes companies choosing third and fourth-tier cities to launch their e-bikes businesses. For instance, Hellobike distributed its e-bikes in provinces such as Henan, Jiangsu, Yunnan, and Hubei. Didi Qingju is also following the same strategy, as it as reported plans to start operations in third and fourth-tier Chinese cities.
China is currently the largest exporter of e-bikes around the world, which provides e-bikes service providers with a consolidated supply chain. Companies will have to adapt to the government's new national standards while promoting innovation and development in the race for new users.