Melbourne is fast becoming a hub for major tech companies from Asia, including Alibaba, SoftBank, NCS, and Bukalapak.
Hosting a vibrant innovation ecosystem, the city offers various investment opportunities in technology, health, advanced manufacturing, clean energy, transportation, infrastructure, digital games, and more. As a homebase where companies of any scale can set up operations and reach consumers across the Asia Pacific, Melbourne is where businesses grow and thrive.
Victoria has a proven track record of functioning as a hub for major tech companies, including Alibaba and Infosys. These businesses and many others have chosen Melbourne as a target for expansion because of several reasons—the presence of highly skilled talent, robust manufacturing and logistics infrastructure, advanced research and development capabilities, as well as state-of-the-art digital, air, and maritime connectivity. Additionally, Australia has free trade agreements with Singapore, mainland China, Japan, South Korea, Thailand, Malaysia, New Zealand, Hong Kong, Indonesia, and other markets.
Another drawing card for entrepreneurs is the Global Talent Visa program that provides an accelerated pathway to permanent residency for those leading a business or with exceptional skills. It has created a pathway for founders and employees to relocate to Victoria seamlessly to support their business expansion into the state.
These factors have fostered an active commercial environment in the Victorian capital and its surrounding areas. Of the 2.3 million businesses that operate in Australia, more than 27% are in Victoria. The employment opportunities have attracted talent from all over the country and the rest of the world, with Melbourne expected to become the largest Australian city by 2029. More broadly, the State of Victoria's economy rivals that of most Southeast Asian nations. Between 2018 and 2019, it generated AUD 455 billion (USD 315 billion), surpassing Singapore's USD 258 billion.
Access to top talent is a critical decision factor for many companies from Asia to set up operations in Melbourne. Victoria's nine universities nurture a broad range of professionals who are able to work in various business sectors and technical roles. This includes the University of Melbourne, which is ranked as the top tertiary education institution in Australia and fourth highest in the Asia Pacific region. In all, Victoria produces one-third of graduates in Australia in key areas such as business, IT, and hard sciences, as well as the highest rate of enrollments in math and computer science PhDs.
As pandemic-induced travel restrictions are lifted and borders reopen, the agency is exploring new opportunities to engage investors around the world, particularly Asia.
"The biggest takeaway from the last two years from COVID is the importance of having capabilities in tech and research, then converting that into products and advanced manufacturing within the region. Having that sovereign capability within Victoria can't be understated, and we have identified that as an opportunity for us to bring sectors together and distribute the products within the region," said Danni Jarrett, CEO of Invest Victoria. Invest Victoria is the state government's investment attraction agency that connects foreign investment with the state to create opportunities for job creation.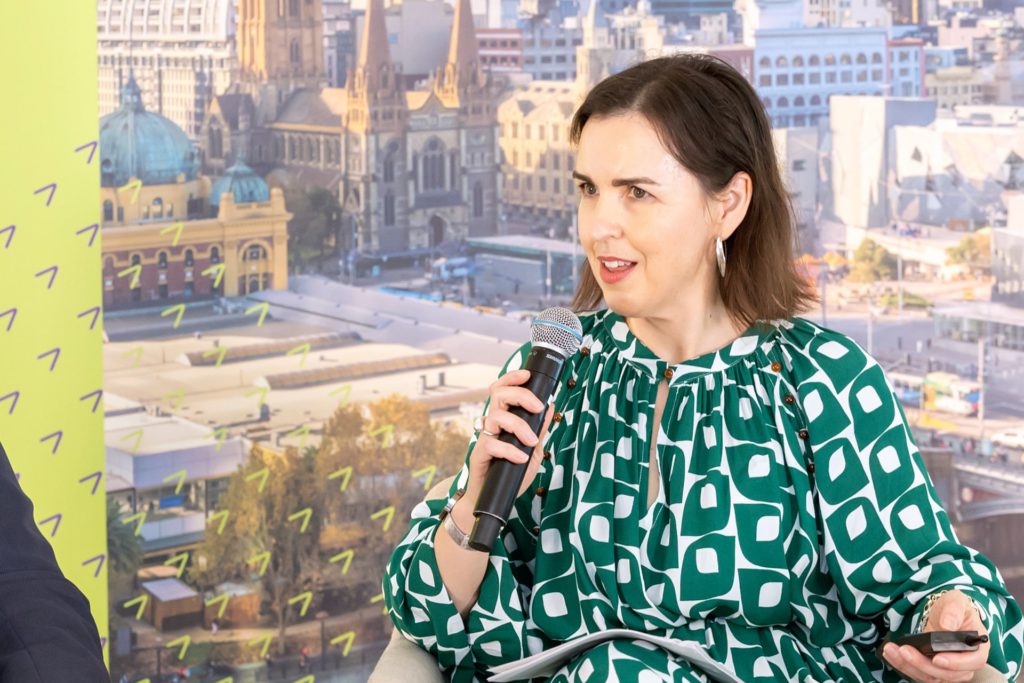 Even during periods of disruption and uncertainty, Melbourne and Victoria have a track record of being safe harbors for businesses.
​​This year, two major companies from Asia expanded into Victoria. In February, ST Solutions Australia Pty Ltd, a subsidiary of Japan's SoftBank Corp, established an office in Melbourne to broaden its customer reach in APAC, specifically focusing on areas such as robotics, cloud, security, and AI. Additionally, in April, Infosys launched a Melbourne Living Lab to ideate, prototype, and test new innovations.
In the biomedical sector, Victoria has anchored itself as one of the leading hubs for R&D and manufacturing. Moderna has chosen to establish its first mRNA manufacturing facility outside of North America in Melbourne. Pfizer's Centers for Therapeutic Innovation (CTI) and RNA Accelerator have also partnered with mRNA Victoria to advance critical therapeutic and vaccine research and development.
Cosmopolitan, multicultural, and business-friendly, Melbourne and the State of Victoria are prepared to be the next destination of expansion for startups from across Asia. Find out more by visiting Invest Victoria's website or contacting a Victoria Commissioner stationed at one of the organization's 23 offices around the world.
KrASIA was an event partner for Invest Victoria's Investor Partner Summit Asia held on May 10, 2022.