At a tech conference in Jakarta last year, the audience was asked to vote which tech sector they're most bullish on in 2019. Health tech, surprisingly, was the most popular answer, beating trendy topics like artificial intelligence and established sectors like e-commerce and fintech.
More efficiency in healthcare in areas like medical diagnostics, and the prevention of health issues with the help of digital technologies — clearly this promise appeals to many, from the US to India, Indonesia, and China.
In a report based on 2018 data,  Singapore-based digital healthcare research firm Galen Growth, looked at investment trends in the Asia-Pacific healthcare startup landscape last year.
It found that the overall funding volume continues to grow, driven largely by mega-rounds in China, while the total deal volume dropped a little – a sign of a maturing ecosystem, where high-potential companies attract large amounts of venture capital,
Across APAC, digital healthcare startups attracted US$6.3 billion in funding across 294 deals. That's still much less than what hot verticals like fintech attract. Fintech companies in APAC garnered US$ 16.8 billion in the first half of 2018 alone, according to KPMG.
What health tech and fintech in the region have in common is that venture capital investments here are driven mostly by China, which by its own attracted US$5.4 billion in funding for healthcare startups. China had a particularly successful year, with two major IPOs. Ping An's Good Doctor platform and Alibaba-backed Babytree, which is an online parenting community with a touch of healthcare business,  together raised US$ 1.4 billion on the public markets.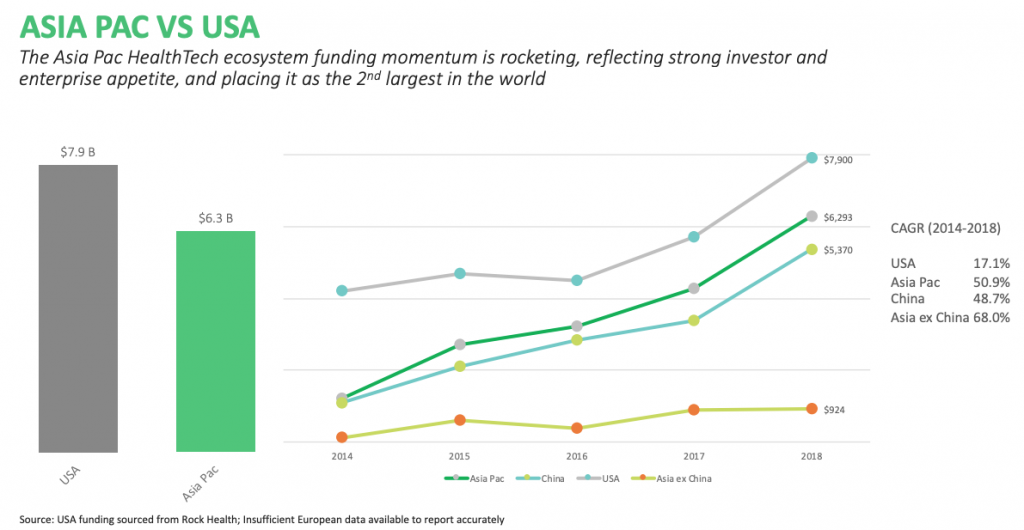 Both Good Doctor and Babytree did not have stellar IPOs, and another major IPO of a Chinese healthtech firm is unlikely this year because general geopolitical headwinds, Julien De Salaberry, CEO and co-founder of Galen Growth Asia told KrASIA.
Excluding China, the rest of APAC, however, did not see much growth in the digital health investments over the past years, so that a significant uptick is yet to happen.
India and Singapore could emerge as key hubs for future healthcare-focused investments, as they hold significant shares in the ecosystem in terms of the number of startups that are based here and attract a decent amount of deals, but at much smaller ticket sizes than China. However, it'll be sometime before we see mega-deals in Southeast Asia in this space, says De Salaberry.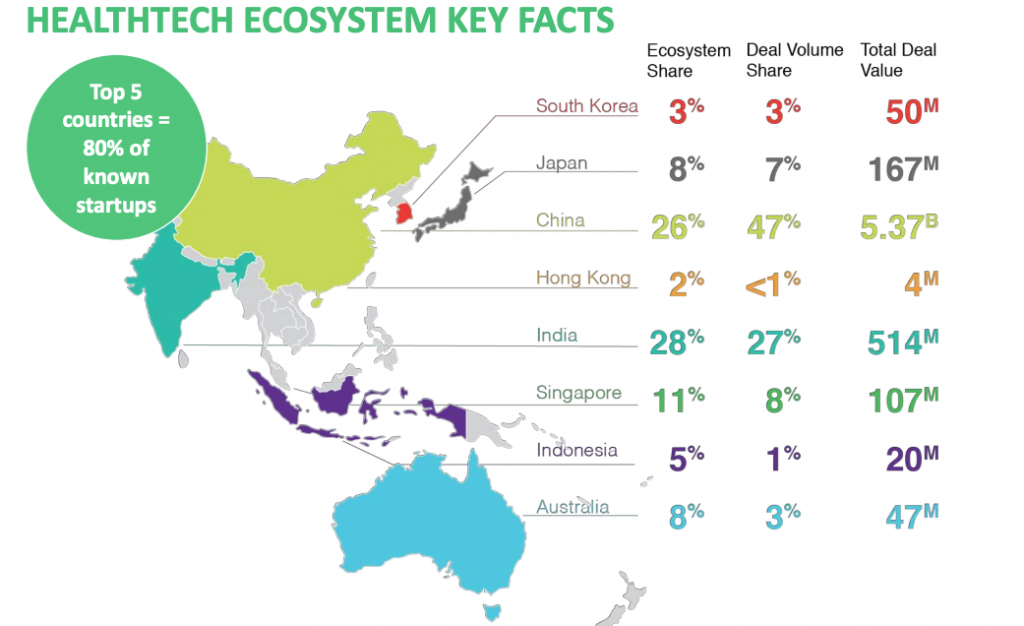 Most popular healthcare verticals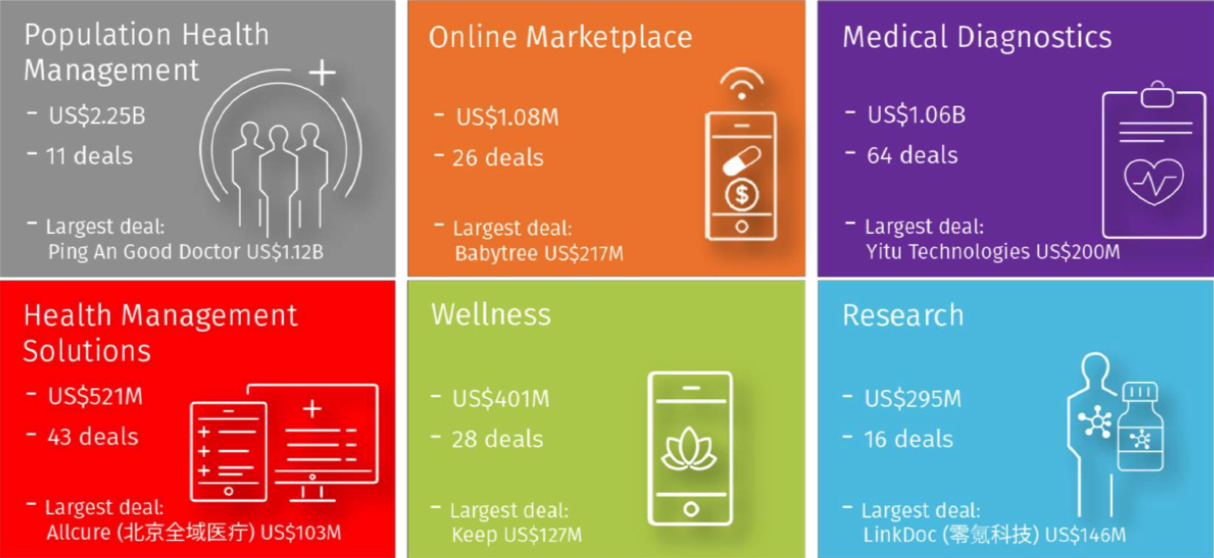 The companies that got funding last year were mostly in the category defined by Galen Growth as "medical diagnostics", which includes medical imaging and other diagnostic tools. "Population health management" was another popular category – this refers to integrated platforms that typically link up with corporates to provide healthcare services online. Ping An Good Doctor falls into this bucket.
A field where digital healthcare is going to play an immense role, according to De Salaberry, is "real world evidence", where researchers look at existing datasets from hospitals, governments, and other reliable sources to draw conclusions about the efficacy of certain drugs for example, which could alter the way trial-based research is done. "It could mean the role of clinical trials becomes less pronounced," he says, "although it's a bit early to say. We see strong investor interest in this space."
The full report is available for download here.
Editor: Ben Jiang