Over 140 attendees participated in the inaugural Let's Chuhai Talks event, held at the Pijar Foundation's office in Jakarta, Indonesia, either in-person or virtually.
Centered on the theme of "Digital Transformation Opportunities in Indonesia," the event provided valuable insights into digital trends in the country.
Drawing on the Mandarin Chinese term, chuhai, which refers to the act of going overseas or expanding abroad, the Let's Chuhai Talks event series has been introduced to support businesses looking to expand their operations beyond borders and enter international markets.
In her opening speech, Robyn Tan, managing director of KrASIA, highlighted the significance of Indonesia as a market in Southeast Asia. "In recent years, Chinese companies have aggressively expanded into the region, and this trend is getting stronger. Indonesia has an important role to play in Southeast Asia and can be an attractive market for business and commerce," she said.
In a subsequent speech delivered by Cynthia Krisanti, director of innovation at Pijar Foundation, Krisanti shed light on the rapid growth of Indonesia's digital economy over the past two years, reaching USD 124 billion, with projections indicating it will surpass USD 200 billion by 2030.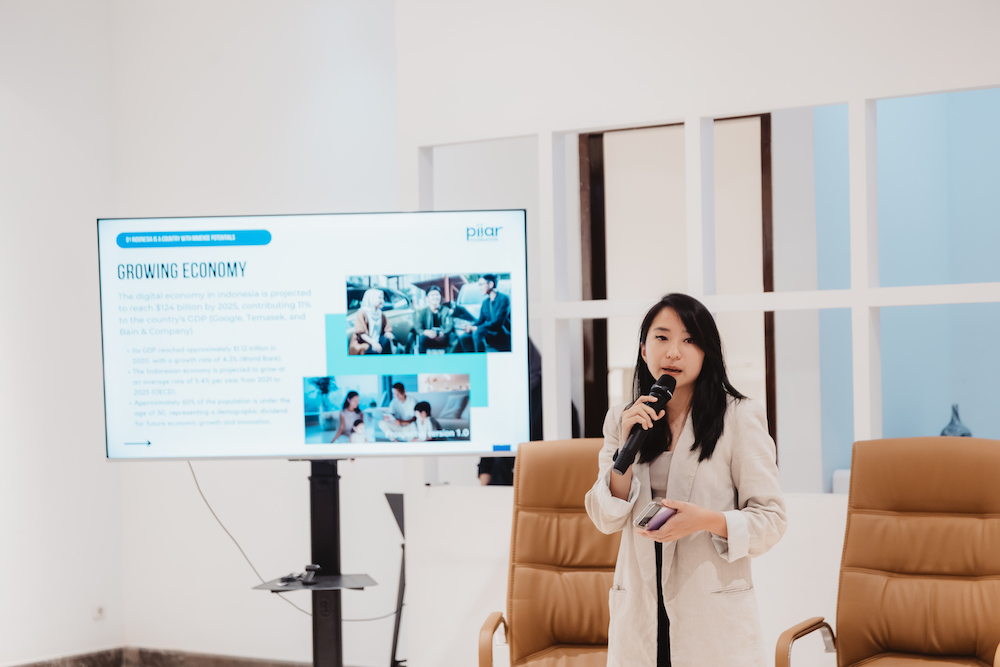 Pijar Foundation has been instrumental in promoting digital initiatives. During the event, the foundation showcased its latest initiative, AtFuture, which is a space dedicated to showcasing innovative technology companies and their solutions. This platform aims to connect decision makers from a variety of sectors, enabling them to explore exciting trends in the digital economy.
A panel of experts was invited to share their insights on the state of Indonesia's digitalization in the B2B and B2C sectors, and how they spur technology adoption.
Eddi Danusaputro, CEO of BNI Ventures, said that while significant opportunities are present in the B2C market, the potential for growth lies greater in the smaller cities and rural areas in the country.
"Rural areas and villages present unique challenges and opportunities, especially in terms of financial inclusion and bottom-of-the-pyramid upgrade technologies like agriculture and fisheries," Danusaputro said. "Indonesia offers immense possibilities due to the scale of problems that require innovative solutions."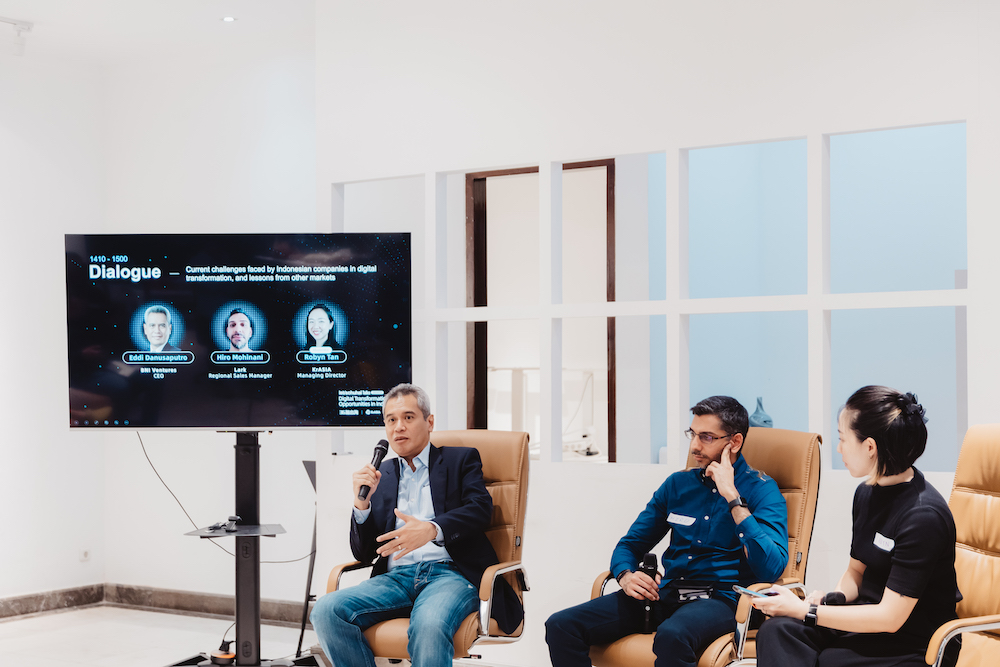 Hiro Mohinani, regional sales manager at Lark, highlighted the challenges faced when convincing traditional businesses to embrace new technology.
"Many businesses, accustomed to traditional operations, require thorough education and guidance to adapt to the digital shift," shared Mohinani. "Finding the right balance between incentivizing and warning is key to driving positive change and growth."
Hary Budiarto, head of the Research and Development Agency, Ministry of Communication and Informatics of the Republic of Indonesia, shed light on the government's initiatives for the digital transformation of Indonesia's economy. The goal of this transformation is to improve efficiency and elevate the country's competitiveness and innovation rankings.
"Digitalization offers significant potential for Indonesia's economic transactions, with a high percentage of digital payment users and a productive age population," Budiarto said. "However, there are challenges, including limited access to digital infrastructure, unreachable internet service, and a lack of digital skills."
To address these challenges, Indonesia's digital transformation program focuses on four key strategic sectors: infrastructure, government, economy, and society.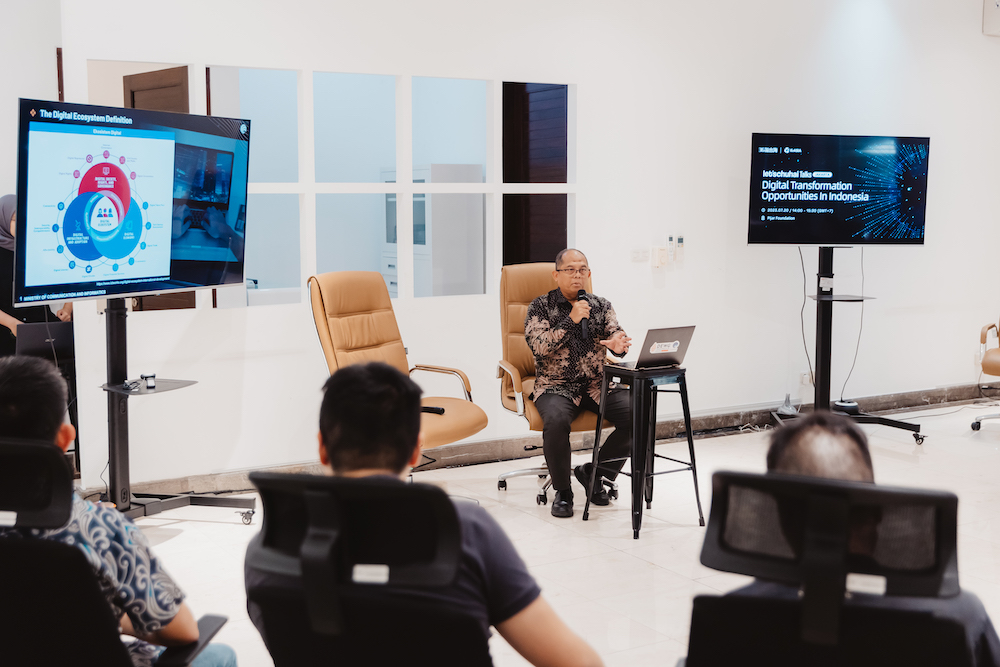 "For our digital infrastructure, we are also focusing on building connectivity and security," Budiarto said. "This effort extends not just to central regions like Java but also reaches out to the outer regions of Indonesia."
The National Fiber Optic Network spans 300,000 kilometers across the country, while the Middle Mile project aims to connect Indonesia's vast archipelago. Additionally, the Last Mile connectivity project aims to establish Base Transcenter Stations (BTS) in villages, improving connectivity nationwide. The government is also set to launch the SATRIA satellite, the largest in Asia, to enhance internet services for public sectors.
Budiarto shared insights from the Indonesian Digital Society Index, which measures the community's competence and skills in using digital technology in daily life and work. The report indicates that most cities in Indonesia are well-equipped for digital society, with room for improvement in certain regions, particularly in the empowerment pillar.
To further enhance productivity through digital technology usage, the Ministry of Communication and Informatics offers several programs to upskill and empower the workforce. This includes the Digital Talent Scholarship, aimed at upskilling young professionals, civil servants, and students to increase the productivity and competitiveness of the nation. Additionally, the Digital Literacy National Movement seeks to equip citizens with essential digital skills and address the challenge of navigating negative content online. The movement aspires to narrow the digital literacy disparity between urban and rural areas in the country.
As the digital landscape continues to evolve, these initiatives are set to play a pivotal role in shaping Indonesia's digital future.