Subscribe to our newsletter to read this first thing on Friday morning. This is the preview of what you will receive in your inbox.
IPOs are the flavor of the season in the Indian startup ecosystem, which is the third-largest in the world. After food delivery unicorn Zomato made a stellar debut that sent its market cap to over USD 13 billion on the local bourses earlier this July, a slew of startups including fintech majors Paytm and MobiKwik, lifestyle retailer Nykaa, and insurance market Policybazaar, among others, are targeting public markets.
The frenzy to get listed amidst an upbeat sentiment is unlikely to die down anytime soon. This is what is bringing more and more late-stage global investors to park their money in promising Indian startups that are exploring the possibility of an IPO in near future. Earlier this week, hospitality giant Oyo joined the list of high-profile startups that are going public. For this week's big read, we looked at the rise of Oyo, the challenges it faced over the last couple of years, and what this IPO means for the company.
The Big Read
Existing investors exhibit confidence as pandemic-hit hospitality giant Oyo files for USD 1.13 billion IPO
What Happened
SoftBank-backed hospitality firm Oyo has filed for a mega USD 1.13 billion (INR 84.3 billion) IPO, becoming the latest Indian startup to target public markets this year.
The offer includes a fresh issue of shares worth USD 942 million (INR 70 billion) and an Offer for Sale (OFS) by existing shareholders amounting to USD 192.4 million (INR 14.3 billion), Oyo said in a draft prospectus, filed on October 1.
SoftBank—the biggest shareholder with a 46.6% stake in Oyo—will sell shares aggregating up to USD 177 million (INR 13.2 billion), while A1 Holdings, China Lodging Holdings, and Global Ivy Ventures will offload Oyo's stakes worth USD 7 million (INR 516.21 million), USD 3.1 million (INR 231.32 million), and USD 3.5 million (INR 267.12 million).
Notably, unlike most startup founders, Oyo's founder and group CEO Ritesh Agarwal, who owns—directly and through his investment firm RA Hospitality Holdings—33.15% of the USD 9 billion company, isn't looking to dilute his stake.
Another interesting thing to note is that the share sale by existing backers or OFS comprises only about 17% of the entire offer. Major startups like Paytm and PolicyBazaar, which are going public, have a significant OFS portion, which implies they are keen on giving their shareholders an exit. Oyo's IPO is similar to Zomato's listing, whose public offer included only 9% of the share sale by existing backers—signifying their deep confidence in the company.
However, the stark difference between Oyo and startups that have recently been listed or have filed papers is that all others eventually benefitted from the pandemic that acted as a catalyst to digitization. Even in the case of the recently listed automobile platform CarTrade, more people opted to buy used cars due to safety concerns. Oyo, on the other hand, is still reeling under the impact of the pandemic.
For context, Oyo's net income nose-dived 69% to USD 558 million (INR 41.5 billion) in the financial year (FY) ended March 31, 2021, from USD 1.8 billion (INR 134.1 billion) in FY 2020—the year just before the pandemic hit.
What Does It Mean
As the world slowly moves back to normal, the company remains bullish on the revival of its market globally, and so do its backers.
In the filing, Oyo said while the global short-stay accommodation market dipped in 2020 due to COVID-19 restrictions, it is projected to revive back and reach USD 1.1 trillion in 2021.
"Going forward, the industry is projected to grow at 6.6% CAGR from 2021 to 2030 to reach USD 1.9 trillion in 2030," it added.
Investors' confidence in Oyo reflects from the fact that they aren't looking to offload their shares in the company during the listing.
"What sticks out in this situation is the fact that, despite Oyo's massive losses caused by the pandemic, its existing investors remain unwilling to sell their shares," Prateek Singh, founder and CEO of trading learning platform LearnApp and a seasoned trader, told KrASIA. "It is a good sign as this shows their confidence in the company; they believe in the company's future and are therefore not seeking an exit route."
The Gurugram-headquartered company plans to use the money from its IPO to repay debts and fuel growth organically and organically. Out of the total net proceeds from the fresh equity issue, Oyo will utilize USD 328.4 million (INR 24.41 billion) in repayment of borrowing by its subsidiaries. And pump up to USD 390 million (INR 29 billion) into growth initiatives.
"We have a substantial amount of indebtedness, which requires significant interest and principal payments," the company noted in the filing, adding that its total outstanding borrowings on a consolidated basis hovered around USD 658 million (INR 48.9 billion).
It remains to be seen whether investors' confidence can offset the concerns regarding the company's poor health since the last one and a half years and make Oyo's IPO a bumper success.
Moreover, the company seems to need an IPO sooner rather than later.
"An IPO seems critical for Oyo as it has incurred significant losses due to Covid-19, and to stay afloat throughout the pandemic, it had to undergo months of layoffs, cost-cutting, and losses," said LearnApp's Singh. He added that the money from the IPO can help the company go back on a growth trajectory.
The Weekly Buzz
1. Ola levels up its new mobility play by acquiring geospatial services startup GeoSpoc's. Ola's founder and CEO Bhavish Aggarwal said the new mobility will require better, newer maps and geospatial services and the company is taking the first step to building these by acquiring GeoSpoc. New mobility is a concept that signifies technology-enabled transportation such as electric mobility or zero-emission vehicles, semi or fully autonomous vehicles, vehicle-to-vehicle communication, shared-use mobility, and e-hailing, among other things.
2. Global investors are rushing to back IPO-bound Indian startups. The USD 16.5 billion edtech giant Byju's is in the process of raising USD 295 million (INR 2.2 billion) from Oxshott Venture Fund, Edelweiss Crossover Opportunities Fund, Verition Multi-Strategy Master Fund, XN Exponent Holdings, and MarketX Ventures. The funding is expected to be part of the rumored larger USD 1.5 billion round that Byju's is planning to raise at a valuation of USD 21 billion before filing for an IPO next year. Similarly, IPO bound e-pharmacy unicorn PharmharmEasy—is in discussions with a slew of new investors, including hedge fund Steadview Capital, IIFL, and a US hedge fund for a pre-IPO funding round.
3. The EV business arm of mobility giant Ola, Ola Electric raised over USD 200 million to drive growth. After the market debut of its two-wheeler EV—Ola Scooter—proved to be a runaway success last month, Ola Electric plans to use the fresh funding from Falcon Edge and SoftBank to accelerate the development of electric scooters and motorbikes as well as electric cars. The deal values the electric vehicle firm at USD 3 billion. The development comes at a time when Ola is planning to go public in early 2022.
4. SoftBank-backed Meesho raised USD 570 million at USD 4.9 billion valuation in a fresh funding round from B Capital and Fidelity Management. Existing backers Prosus Ventures, SoftBank Vision Fund 2, and Facebook also participated in this Series F round, while Footpath Ventures, Trifecta Capital, and Good Capital, among others, joined the social commerce startup's cap table. The latest investment has shot up Meesho's valuation to USD 4.9 billion from USD 2.1 billion in April 2021 when it raised a USD 300 million check—a rise of 133%.
Q&A Of The Week
4 thoughts on climate tech from Albert Wenger of Union Square Venture
Since 2003, New York-headquartered venture capital firm Union Square Ventures (USV) has backed over 100 companies, including Twitter, Stripe, and Coinbase, across North America and Europe. In January 2021, the firm closed its first dedicated climate fund at USD 162 million to invest in climate change mitigation and adaptation.
After writing checks for promising climate-focused companies like US-based Wren, which allows users to offset their carbon footprint via a monthly subscription, and Geneva-headquartered Transmutex, which turns nuclear waste into green energy, USV began exploring Asia and made an investment in Indian EV infrastructure startup REVOS in September.
KrASIA spoke with Albert Wenger, managing partner at USV, about the emerging climate tech ecosystem, the kind of startups and themes the firm is planning to back from its dedicated climate fund, the geographies it is looking to explore, and challenges that lie ahead of these climate solution companies.
Top Deals This Week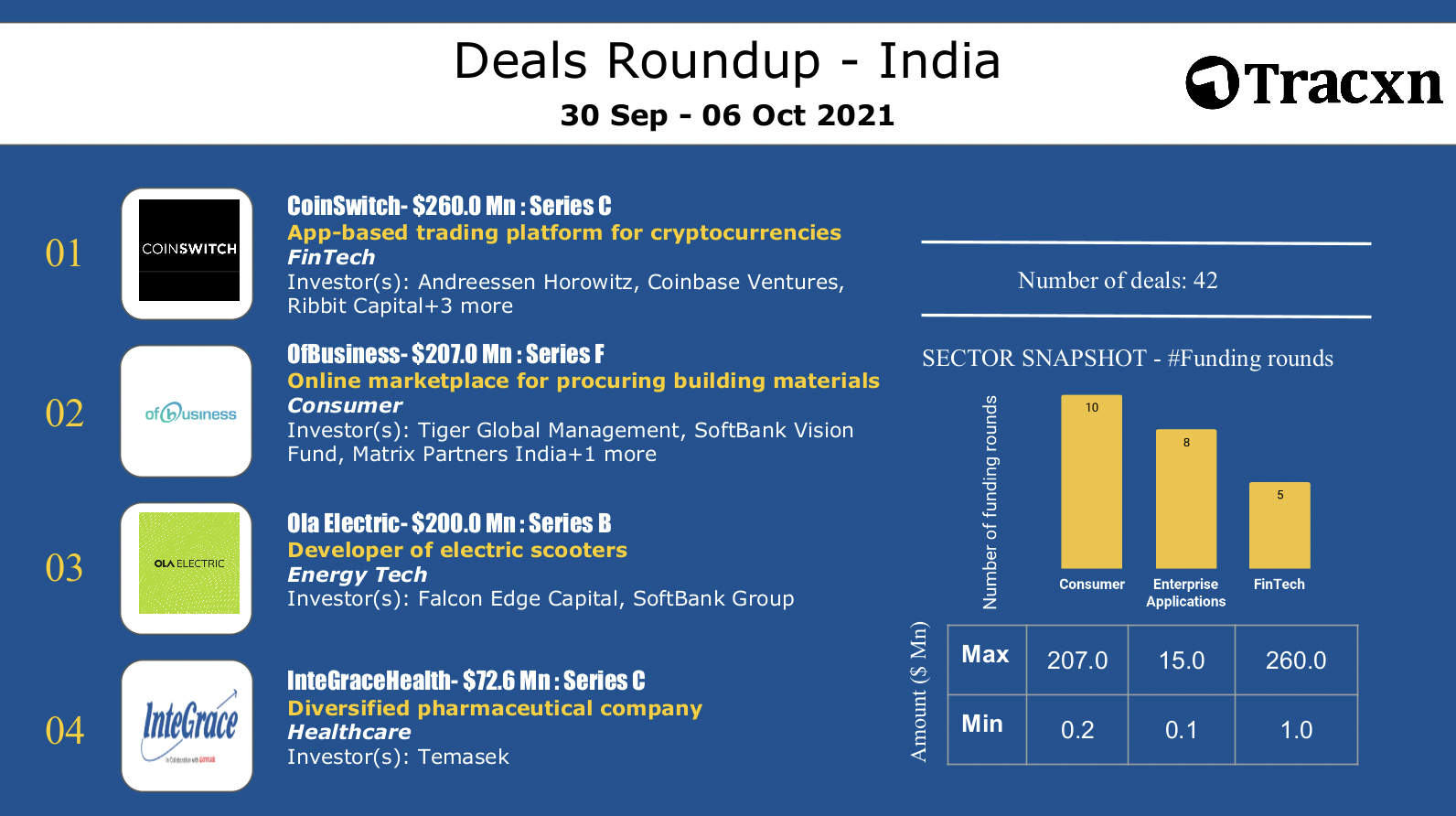 What We Are Reading
Is Luxury consumption the key driver to increase consumer sentiment?
Although the recovery in India's private consumption demand is lagging behind the overall GDP growth, luxury consumption in the country has been growing. Over the past year, companies selling high-end cars, watches, and other luxury goods have seen robust growth. This is driven by the fact that the wealth of those belonging to the top layer of the income stream is growing on an exponential scale in India, similar to what's happening globally, says KP Sethunath in the article. He also explores luxury consumption patterns and its impact on the overall Indian private final consumption expenditure.
The Spoiler
Tune in next week to find out how local stock trading apps are riding the IPO wave in India.