Marketers faced incredible challenges in 2022, from declining event registrations to low engagement at events. Yet, events remain a critical part of every marketer's toolbox for capturing and generating demand for their product. Using events technology as a  part of an integral piece of the marketing tech stack and strategy will help teams produce strong marketing-qualified leads for their companies.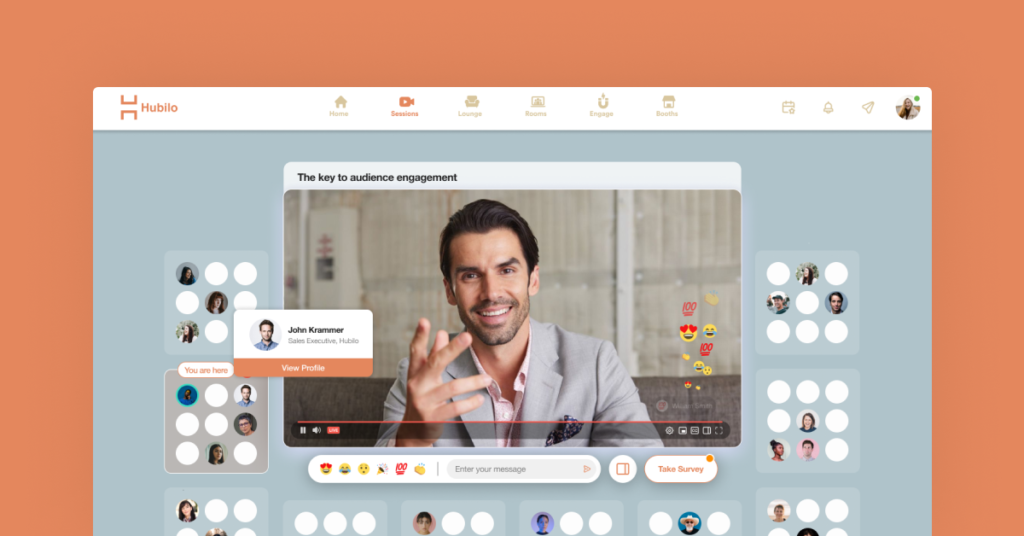 Evaluating the tech available for lead generation
There are many tools that can help marketers create interest in their products. As events return to the in-person or hybrid format, marketers should look for event tech that can bring all their audiences together for an immersive, engaging experience and help foster connections.
Event tech, as part of a marketing stack, should integrate with other tools that marketers use, from a customer management system to data evaluation. Engagement tools like chats, polls, reactions, GIFs, and video reactions are the industry standard, if underwhelming, for audiences who have grown accustomed to online events.
To keep them coming back for subsequent events, Hubilo has worked to come up with better engagement features, such as an enhanced session layout with watch parties, leaderboards, contests, interactive polls/chats, video reactions, and more. These help marketing and sales teams achieve their goal of getting customers to engage with the event's content and creating a pipeline for you.  Hubilo also helps you connect both your in-person and virtual audiences via a simple mobile app, irrespective of the location or the time.
Building an events strategy to capture more leads
Driving demand via events is critical for introducing a product to audiences—events help with customer acquisition across the funnel, such as getting in new leads (top of the funnel), engaging them (middle of the funnel), and helping nurture relationships and closing deals (bottom of the funnel).
For maximum effectiveness, events need to be incorporated into an overall lead-generation marketing strategy. They are especially useful when it comes to capturing data on leads and providing a strategy for personalized marketing campaigns.
This applies to all kinds of events. Smaller, virtual-only events are just as valuable as large, hybrid events with a virtual tie-in. At Hubilo, we work on events across all industries, irrespective of the size of the audience or the format, like a virtual, in-person, hybrid, or even a webinar—regardless of size, we help marketing teams create effective events that can lead to more conversions down the road.
Elevating your brand and leveraging powerful data analytics
From immersive branding to built-in outreach tools, the Hubilo platform offers everything a marketer needs to execute their events strategy and provide a premium experience for their audience.
Every event should be an extension of marketers' brands, from white labeling to custom domains, themes, and colors. Many of us have grown accustomed to the standard appearance of the platform we use, but that doesn't create an immersive, totally branded experience for our customers.
This is where tech can help. The right platform can elevate your brand, facilitate strong engagement, and evaluate consumer behavior using data to personalize the experience. This can be done with Hubilo's powerful data analytics, which informs you what the attendees want to see from your brand and allow you to tailor your outreach based on the data.
Event trends for 2023 and beyond
 All-in-one platforms are here to stay. With greater integration across apps, these platforms can help marketers execute better events and better engage with their audiences in 2023.
Audiences will also continue to expect personalized experiences, which will require mining data from platforms that have powerful data capture and analytics capabilities. These then translate into seamless, timely follow-up actions that have a higher rate of conversion.
Events are the next great marketing frontier, with limitless possibilities for marketers. As audiences settle into the new normal of in-person and hybrid events in 2023, they'll expect better and more premium event experiences than ever before. Marketers will need to be ready with a platform that matches the next era of demand generation.
This article was written by Vaibhav Jain, Founder and CEO of Hubilo, and edited by KrASIA.