Interview conducted by Amel Rigneau, Founder of DigitalMindMedia, to Emilie Philippe, regional managing director at Webdrone.
How did you get involved in the startup world, and particularly, the cybersecurity space?
Emilie Philippe (EP): Between 2003 and 2016, I worked with BNP Paribas within different roles and places. I started in IT security in Paris then moved to Legal in the Caribbean, Risk Credits in Marseille, and then back to Paris in Compliance—anti-money-laundering (AML), countering the financing of terrorism (CFT), head of investigations—. I carried on to work in the Compliance team when I came to Singapore. In June 2016, UBS poached me for the role of regional head of AML, after an inspection by the Monetary Authority of Singapore (MAS) to roll out a remediation plan and I joined them. After 15 years in the comfort of banking, legal, and compliance, I needed a change. I decided to discover a new sector, I dive headfirst into the cyber and security startup ecosystem, and joined Webdrone.
During the French Tech Tour in 2018, a friend of mine met the co-founders of Webdrone and shared with me how their company's philosophy matches with my profile.
Webdrone's philosophy is a human adventure whose mission is to model the human know-how of an expert in cybercrime, in order to promote a decision tool for companies and government. As a proactive and enthusiastic woman, I went to Paris and met them in Dijon and we got along right off the bat (not because I am a Burgundy wine lover, but it helped). After an hour of discussion, it was obvious that I wanted to help them expand to Asia, develop the business, and support them through the innovation of new investigations features. So I embarked on their cybercrime fighting journey as Board member and Managing Director for Asia Pacific.
My take-off from the corporate to the startup world was instantaneous, and Ice71, an Innovation Cyber-security hub, welcomed us in their incubator program. In this past year, I met incredible people and built strong connections through tech communities,  such as French Tech, Ice71, FCCS, AISP, CNCCEF. I enjoy meeting new people, learning and sharing my knowledge so the integration into this ecosystem was quick and natural. Furthermore, I had been based in Singapore for five years already and I managed teams across Asia (eg. 50 people in UBS, 35 internal staff, and 15 consultants) so I was familiar with local business practices and some intercultural secrets. After a few years here, you integrate and familiarize with the work culture.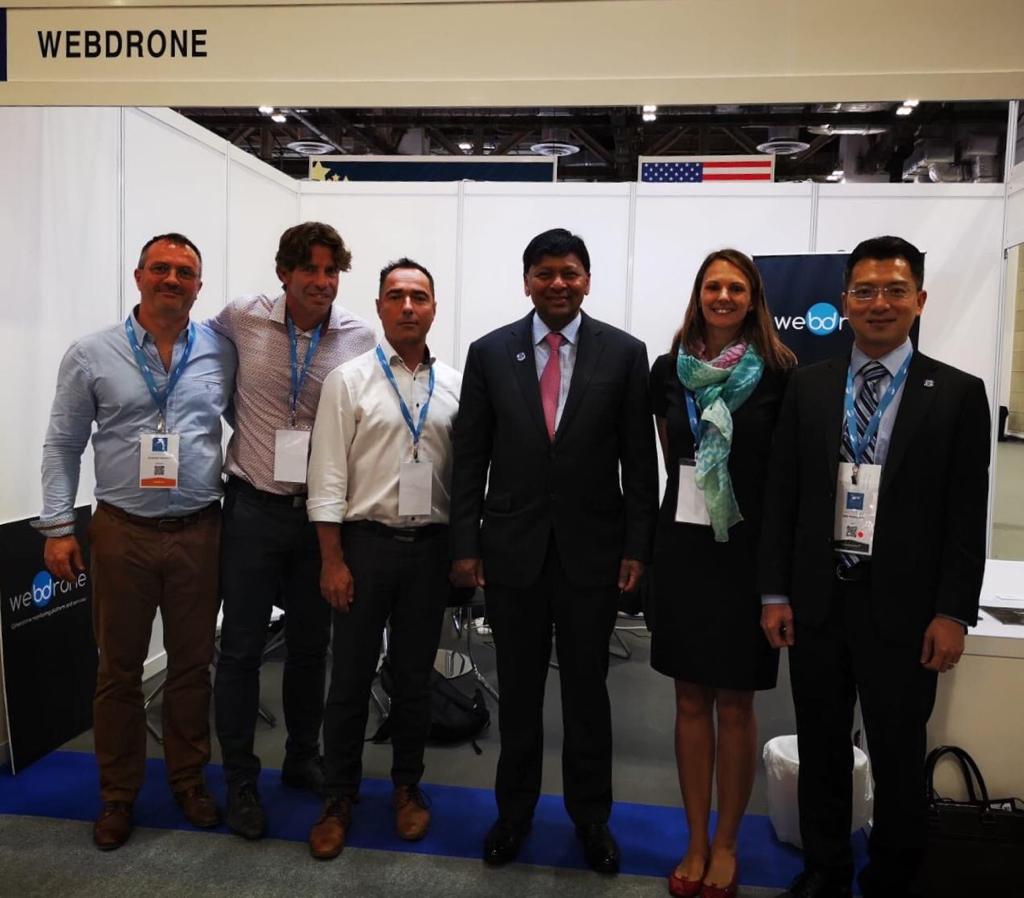 Why do we need to fight cyber criminality in business?
EP: Today, you can find everything and anything on the web: guns, drugs, fake medicines, illegal use of B2B software, untrusted individual or company profiles, environmental crimes, counterfeiting of food, sport accessories or luxury goods. All these products could be counterfeit, negatively impacting the public and security of your environment. Companies should protect their reputation and customers to feel safe in the world (including the Internet world) and we are lucky to promote tech for good. See the stats below:
Medicine trafficking is estimated at USD 200 billion worldwide. It is a minimum of 20% of the whole Pharma market. I'll let you imagine the consequences on health. The OECD report published in January shared some figures about heavy consequences on the people that were killed due to fake medicine: "Estimates show that between 72,000 and 169,000 children may die from pneumonia every year after receiving counterfeit drugs and that fake anti-malarial medication might be responsible for an additional 116,000 deaths."
Even F&B food is now being faked, either labeled as a  certain brand that did not come from that manufacturer, or more insidiously, the content of the food might not be what it is claimed to be. The bottles of Champagne, wines, and spirit could be refueled with counterfeit alcohol and then sold online at a low price.
How are "virtual e-drones" prepped and trained for online crime investigations?
EP: Things move fast on the internet; online criminal activity increased with the circuit breaker and more than ever, the need to automate online investigations is key for teams (IT, Security, IP Brand Protection, Compliance) to work efficiently and faster. To fight against cybercrime, it is not enough to take down online posts, but the entire illicit network should be stopped. It is the heart of Webdrone. Our e-drones detect the counterfeit products and trace the evidence to find the roots of the traffic where people are involved. Our virtual drones solutions, called e-drones, support our clients by automating online investigations to protect their business and reputation. The e-drones collect the data across the whole web (clear, deep, dark) to detect information and in any language.
They act and think as super cyber investigators online, monitoring the web to detect potential weak signals. Within the team, we have several profiles who worked in law enforcement for decades and have trained them to find evidence. The e-drones do it extremely fast and they can crawl through a huge volume of data to provide a customized operational report on the target (e.g. product, individual, etc.). Then, the client's team can focus on his key tasks and not lose time anymore with data collection. Timing is key to the success of an investigation online, because evidence can disappear quickly.
The story began with the Pareto principle, which is also known as the 80/20 rule. In law enforcement, cyber investigators took 80% of their investigation time to collect the data manually; the idea was to swap this percentage to 20% of the time for the collection and devote 80% of the time on human analysis. 
What is the new normal security global environment?
EP: During the COVID-19 period, online activity has particularly increased. Companies understand that they have to move fast in the digital realm and accelerate their own technology to provide high-quality services and to ensure strong protection of their data and reputation. In parallel, COVID-19 has sharpened certain forms of cybercrime, in particular software piracy and online fraud. There is more vulnerability when employees work remotely. The security of the company and its information systems are at the heart of the engine.
Previously, mobility and teleworking were allowed only for certain functions or as part of a degraded mode in a business continuity plan (BCP). Now they have to rethink their methods to improve the security of their information systems; it is a strategic challenge for the future.
The objective is to fight against all forms of illicit exchanges on the Internet and to bring evidence to the company, allowing it to make decisions and actions.
There is no denying that the need for online security is not a new topic. Ever since the creation of the internet, these red flags have been overlooked by some users who thought they were protected, but cybersecurity is everybody's business. There can only be a change if leaders are convinced that strategies need to be deeply reviewed. The impetus must come from both to develop actions and not the other way around. Decision-makers must take responsibility for building a safer future.
Digitalization was already advanced to be fair, but what the pandemic has highlighted is the vital importance of having a good cybersecurity strategy. Some companies have realized they could be impacted. These risks, which were previously acceptable, became critical. Recently, we are increasingly requested to aid in both internal and external frauds. For us, there is an increase of 30% in social profiling (detect the digital footprints of an individual) and a strong increase of 300% in anti-piracy. The web has no borders, so there is a need to check the profile and the reputation of the people with whom we deal digitally.

What is it like to be a woman in cybersecurity?
EP: I am a strong believer in collaborative intelligence and the "Medici Effect." We can do bigger things if we are different people from different cultures with different backgrounds around the table. I love challenges and accept them to enhance my skills. Here's a quote to mull on by Mark Twain: "They didn't know it was impossible, so they did it." For those interested in joining a women's Cybersecurity group, you can join our Whatsapp group.
---
To read similar stories, please hop on to Oasis, the brainchild of KrASIA. 
French Tech Singapore is a non-profit organization gathering French entrepreneurs and locals working in Singapore in the tech industry. La French Tech encompasses all startups that share a global ambition, at every stage in their development, from embryonic firms to growing start-ups with several hundred employees and their sights set on the international market. As is the case all over the world, digital technology is a major catalyst for its development, and French Tech represents both digital pure players and medtech, biotech, cleantech, etc. startups.
Disclaimer: This article was written by a community contributor. All content is written by and reflects the personal perspective of the interviewee herself. If you'd like to contribute, you can apply here.