We all know that there is a gender imbalance in tech startups. Only 30% of entrepreneurs in Singapore are women, says Girls in Tech, a global non-profit firm.
Elaine Kim wants to change that. She co-founded social enterprise CRIB and Trehaus, the latter of which is a co-working space that gives mothers a way to pursue their business ideas without necessarily sacrificing time with their children.
As a doctor, mother, and entrepreneur, Kim wears many hats. She knows what it takes to plunge into the process of building a business while maintaining a balance in her family life.
KrASIA recently spoke with Kim to learn more about her entrepreneurial endeavors, her vision, and what she has in store for her social enterprise.
KrASIA (Kr): What is a typical workday like as you balance parental duties, multiple businesses, as well as your medical practice?
Elaine Kim (EK): My morning duties are as a part-time palliative care doctor, caring for the terminally ill patients and their families at St Luke's hospital. I will then leave for business lunches. Occasionally, when time permits, I will arrange to have lunch with friends to catch up, or go on lunch dates with my husband or my son during holidays.
And then there will be more business meetings in the afternoon, which are usually held at Trehaus. As my youngest child, who is two years old, is in Trehaus' crèche, I will pop in to spend a little quality time with him in between meetings.
While both my husband and I lead incredibly busy lives, we will try to be home for the boys' dinner time after they are back from their sports and enrichment classes. He will then coach the kids on a wide range of topics, from coding to astronomy, while I read to the younger ones.
By 8:00 p.m., the kids will be in bed and we will head out for social dinners or networking events. CRIB itself has about four to five of those events per month. After that, I follow up on emails and conference calls when I am home.
My day ends at around 1:00 or 2:00 a.m. On really trying days, I will reward myself with an episode on Netflix and a cup of hot cocoa.
Overall, I feel really blessed to fulfill my call as a doctor to care for the terminally ill, and also pursue my passion for business at the same time.
Kr: How did Trehaus come about?
EK: My co-founders and I aim to create optimal environments for families to flourish amid the ever-changing times that we live in. Our first Trehaus space on Orchard Road consists of a co-working space, crèche, and nursery. It is a solution to allow working parents to blend work with their family lives; it's no longer work or family, but both. By creating a modern village where families can work, learn, and play, we hope to make the lives of working parents and their families better.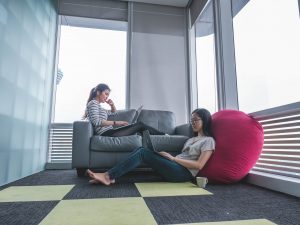 We also started Trehaus School, a Silicon Valley-inspired preschool and childcare provider that is disrupting early education. I strongly believe that education has to change. With more than half of present-day jobs disappearing in the future, it has become more important to inculcate unchanging qualities like empathy, resilience, curiosity, creativity, and develop strong communication and social skills to equip the young with grit to weather the vicissitudes of life.
Trehaus at City Hall is our new flagship space and it will open in August 2019. Trehaus School at City Hall welcomes kids from two months to six years old. Our proprietary Littles Programme Curriculum includes the little chief executive officer (to teach leadership and confidence), little entrepreneur (to develop problem-solving and entrepreneurial skills), little engineer (to teach the basics of coding, design thinking, and logical reasoning), little philanthropist (to raise changemakers who want to make a positive difference in this world ), little creative (to appreciate and create art and music, and nurture creativity), and little chef (to farm, cook, and learn life skills).
Kr: You mentioned before that securing funding has been one of the challenges Trehaus had to deal with. How's that coming along?
EK: I think that raising funds from external investors is always hard for early stage startups. But we have been very fortunate in that we have found investors who could see the potential and promise of our concept from an early stage.
Having been an active angel investor before, I initially found it uncomfortable to be on the other side of the table as the entrepreneur. But my faith and passion in this business and our positive early traction has given me confidence in sharing the vision. We closed a USD 4 million pre-Series A round earlier this year.
Kr: What's Trehaus revenue model?
EK: We began with Trehaus as a co-working space with a crèche, to make work and caring for kids more convenient for working parents. Revenue comes mainly from work (co-working) and play (playschool) memberships.
That said, we are also moving into the early childhood education space, seeing that the next natural step for Trehaus is to offer the support to help raise future changemakers. It will also separate us from the highly saturated co-working space market. Trehaus at City Hall is a great example. School fees are the main pillar of revenue for that space, where we design a holistic curriculum, rope in the best teachers, and provide an unparalleled 1:5 teacher-child ratio.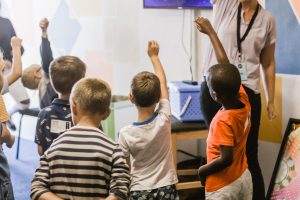 To stay involved with their child's growth, parents can also take up a business club membership and work out of the fully equipped business center. They can get the best of both worlds, being close to their children and work. More than just for entrepreneurs, we also extend these solutions for employees of forward-thinking companies.
And there is also the Trehaus Family Club, a private members club, where families can gain access to an indoor playground cafe, host private events, attend workshops, and enjoy curated enrichment programs like Mandarin, music, and coding. Venue rentals and event bookings have an additional charge.
Kr: What has been most fulfilling for you in running a social enterprise?
EK: For CRIB, it's incredibly fulfilling when members come to me and say that they are so glad CRIB exists and that it made them have the courage and inspiration to take steps to make the business dream a reality.
At Trehaus too, building the business is such hard work and a challenging journey, but it's all worthwhile when our members come to us and say they are so grateful for Trehaus and that they were able to be part of their child's fleeting first years, while still pursuing successful careers. Also, it's rewarding to watch our earliest children at Trehaus grow into articulate, confident, happy and kind children, knowing that the magic of the Trehaus crèche and school played a part in shaping their lives in a positive way.
Kr: What is the most important advice you have for mothers who are interested in running their own business?
EK: While being a business owner is challenging, one should have the courage and take the journey one step at a time. And one day they will look back and see they have built something wonderful.
I would also recommend them to check out CRIB and Trehaus and see how the organizations can support them on their journey.
This article is part of "Women in Tech," a series by KrASIA that highlights the achievements of women who are a driving force behind Southeast Asia's tech startups.