Writer: Chen Shuya
As the competition for online traffic gets fiercer, the hunt is therefore on for offline traffic. Duanzhu (短猪), a short-term rental platform for idle spaces in shopping malls released this September, seems to have found its prey. The shopping mall is a natural magnet for offline traffic, so it's palpable that those brands will want to exploit more of that sweet spot.
Sheng Tao, Founder and CEO of Duanzhu, believes that the shopping mall is essentially a traffic hub. It is a pity that the spaces like atrium and squares in it are not fully tapped into when they can actually increase the brand's presence at lower cost. In this sense, they seem to be more desirable than fixed stores. Plus, renting out idle spaces is also a bonus for shopping malls as a diversified array of offering often translates into more traffic. Duanzhu is set to match up customers looking for spaces with existing shopping mall owners.
Put it simply, Duanzhu is a platform that rounds up available spaces in shopping malls. The customers can pick their favored spots and schedule rental period via the platform. After the request is approved by the shopping mall owners, the renters then get a deal. Duanzhu will also help see through the whole operational process.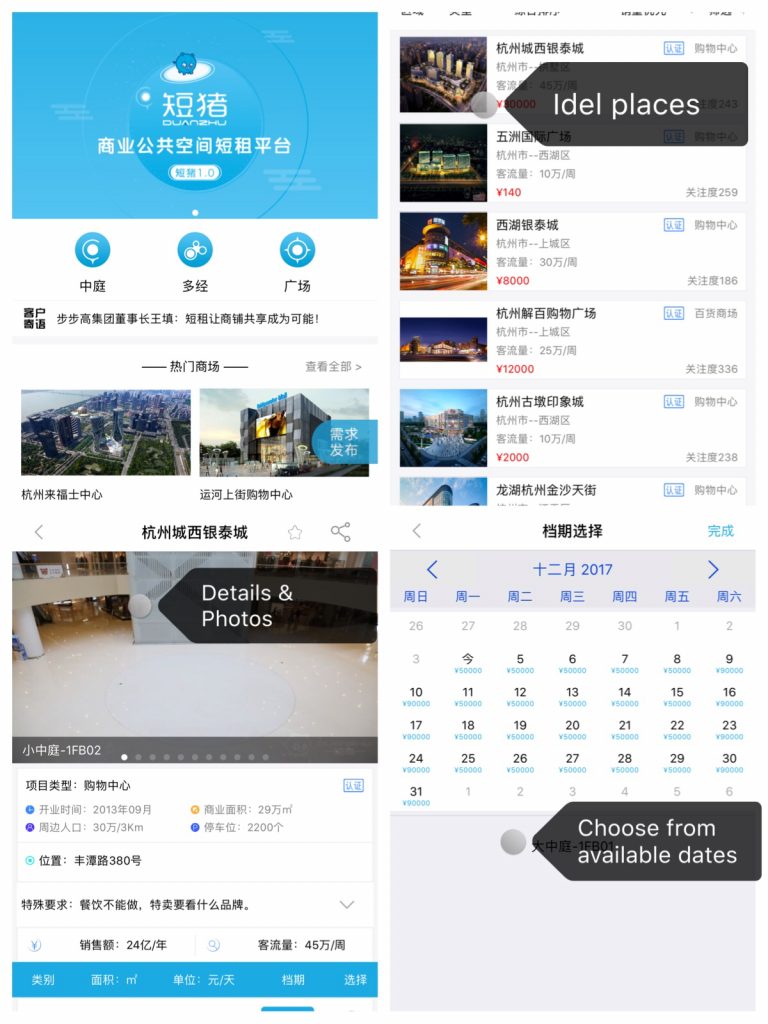 The platform has, by now, signed around 30 major shopping malls in Hangzhou and listed over 1,000 available spaces. Duanzhu makes money by charging renters 15% site service fees. Within only half a month, the platform has registered a cash flow of 3 million yuan.
Well, it sounds simple, isn't it? However, getting the business running is no easy task. According to Sheng, Duanzhu's success rests on the following three factors:
Firstly, it has easy access to a host of commercial real estate resources. Sheng once built a commercial real estate website called Soupu.com which has helped him aggregate over 7,000 shopping malls. He told Kr-Asia that, nearly 3,000 senior managers in commercial real estate industry recommended the app on their WeChat Moments on the launch day.
Secondly, it excels in matching up demand and supply. Duanzhu is not only an app listing available spaces, but also a provider of professional consulting service. The team knows each shopping mall's market positioning as well as the need of different brands. Therefore, it can provide the optimal choice for its customers.
Thirdly, Duanzhu provides operation assist. It doesn't just stop at listing information and matching up requirements. What makes it unique is its actual involvement in assisting operation, such as promotional campaign planning and strategic retailer positioning. A shopping mall's high traffic does not always result in the same for its retailers, but Duanzhu can come up with professional plans to achieve better conversion rate.
Duanzhu is now on its way to launch Duanzhu 2.0., a more refined version with standardized services. On top of that, it also looks to branch out into Suzhou and Nanjing this December.