Indonesian technology powerhouse Go-Jek, backed by Google, Tencent Holdings, and Singapore's state investment fund Temasek Holdings, is likely to make significant investments into its digital payments business as it expands into the Philippines and competes with Grab for market share.
In a sense, mobile payment service Go-Pay is critical for Go-Jek to growing its footprint in the Philippines, due to the depth of its archrival Grab's footprint in the archipelago nation.
Earlier this year, the Philippine Competition Commission highlighted that Grab's buyout of Uber translates to Grab holding a 93% market share in the Philippines in the ride-sharing space.
In an interview with the SCMP in May, Filipino regulators explained: "The accreditation of new [transnational corporations] is a welcome development to allow passengers to have more choices. We note, however, that the incoming [transnational corporations] are left with only 7 per cent share in the market."
The expansion
Since inception in 2011 – Go-Jek is currently valued at $5b – it has established itself as a consumer technology brand in Indonesia, with 2018 being the first time it has ventured beyond the Indonesian market, as well as a player in the financial technology space.
In a July 2017 post, Matt Wong of venture intelligence platform CB Insights observed: "It might be counterintuitive to think of Go-Jek as a fintech company, but its payment service Go-Pay is helping to fuel the digital payments wave in Indonesia, where smartphone penetration approached close to half the population as of last year."
"One clever way Go-Pay has driven adoption is by using drivers as a point of sale (drivers ask riders whether they want to store change in the form of Go-Pay). This month, Go-Pay announced it would soon be able to be used for merchant transactions outside of Go-Jek's own services similar to how Alipay and WeChat Pay can be used in China," he added.

While competing with Grab across a number of verticals, which has established itself as a major player in the ride-hailing space regionwide, its entry into the Philippines comes at a time when its technology ecosystem is positioned to ride a major wave of growth.
With Go-Jek exploring a possible public listing in the next few years – it has not committed to a specific timeframe – this consideration is also likely to impact its regional growth strategy. Reportedly close to profitability in all segments except transport, according to a Reuters interview with its chief executive Nadiem Makarim, direct competition in the transport space could erode its bottom line.
Different approach
At the beginning of August, Go-Jek launched its Vietnamese edition, Go-Viet, and plans to invest up to $500m in scaling its operations to Vietnam, Thailand, Singapore and the Philippines this year.
Unlike Grab, which has positioned itself as a super-app, Go-Jek is adopting an individual approach for establishing itself in each new market, with plans to localise branding and services to each new market, as well as employing teams of local founders to oversee operations. This approach could see it deploy individual apps for each country.
With Grab making inroads into Indonesia with a $250m investment, as well as claiming 65% of Indonesia's ride-sharing market following the merger with Uber – it claims to hold majority market share in 137 cities in Indonesia, while stating Go-Jek's hold the majority in an estimated 50 cities – Go-Pay could emerge as the differentiator for Go-Jek in the Philippines.
Like Indonesia, smartphones are driving the growth of digital payments in the Philippines, which is the fastest-growing smartphone market in Southeast Asia. As of March 2017, 40 million Filipinos possesses smartphones. This is forecast to reach 90 million by 2021. Coupled with this is the promotion of digital payments by Manila.
Information from consumer intelligence firm Statista notes that in the Philippines, the total transaction value is expected to show an annual growth rate (CAGR 2018-2022) of 15.8%, valuing the market at $10b by 2022. This will be dominated by digital commerce, which is forecast to see the total transaction value of $5.5b in 2018.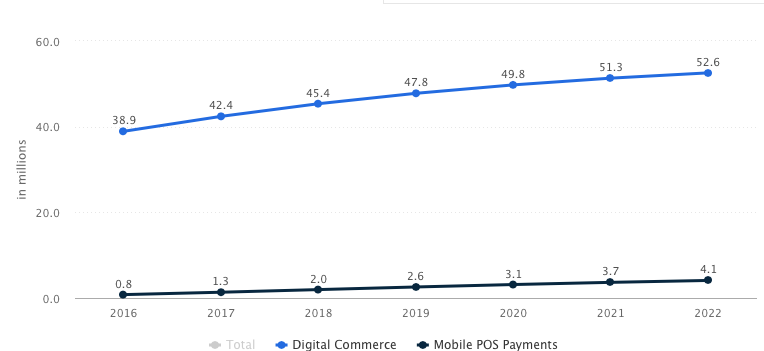 In a PWC survey of the Philippine startup ecosystem, Robertson Chiang, founder of Dragonpay, noted that government support was a key driver of the growth of digital payments and financial technology in the Philippines.
Given the apparent buoyancy of digital payments in the Philippines, as well as the regulatory support for further adoption of digital payments and competition in the ride-sharing space, Go-Jek can be expected to leverage Go-Pay as a key part of its growth strategy in the Philippines.
And, it seems it better does so.
Editor: Ben Jiang