In September this year, Deepthi Ravula traveled more than 1,200 kilometers by road. She has been making stop at villages in the newly formed state of Telangana in South India. Her goal is to speak to rookie women entrepreneurs and explain how they can apply for a fully sponsored incubation program at WeHub, an incubator funded by the state government.
At the helm of the year-old WeHub is Ravula. In 2016, after working for 15 years in Silicon Valley as a hardware engineer, the techie-turned-entrepreneur returned to her home city in Hyderabad, Telangana's capital, to do "something for the state."
After her visit to villages in six districts of Telangana, Ravula received 1,400 business proposals from woman entrepreneurs. She invited 85 applicants to pitch their ideas.
"These are women from rural India. One of the modules we are going to introduce to them is how to use and leverage WhatsApp to promote business, use email, and teach them basic Word software. This is all the technology that they need at this stage," Ravula says. Professional development is just one of the many tasks undertaken at WeHub.
While Ravula concentrates her energies on creating strategies to mentor rural women chasing their dreams of entrepreneurship, her team is engaged in a partnership with global tech giant Microsoft to organize a workshop on quantum computing for women.
What makes WeHub different from other incubators eyeing for influence in the next big tech company is that it is powered by the state alone. This women-only incubation center was formulated by Telangana chief minister K. Chandrashekar Rao in 2017. It took Ravula and her six-member team almost a year to find the "vision, mission, and strategy to kick-start this [incubation center] in a way that it impacts the maximum number of people in the society."
"It's pretty much my own startup, but without me having any stake in it. For me, the return on investment is creating employment and making sure that these entrepreneurs stop calling themselves women entrepreneurs and just focus on being entrepreneurs with a functional product," Ravula says.
Collaboration is key
Today, WeHub provides incubation and mentorship to women from rural and urban areas in India. The process of scouting for entrepreneurs from rural India has just begun. It'll take some time before the program takes off. But the incubation program for women from urban India has already been rolled out, with 26 companies in the first batch. These were selected from a pool of 245 applicants.
A key factor of consideration is that applicants must have a minimum viable product that has been tested by a limited user group. "If we take entrepreneurs who say, 'I have an idea,' we would be doing a big disservice to other entrepreneurs. Then the drop-off rate is going to be really high," Ravula says.
WeHub says it's a sector-agnostic incubation center and accepts applications from technology companies, consumer brands, and finance companies, among others. "We work with each startup to understand their expectations from this incubation program. They say I am at stage B and wish to reach at stage 'N.' Accordingly, we create a customized program for them to make them achieve their focus, whether it's creating a market-ready product, finding a revenue model, streamlining the product, equipping young businesses with market know-how—we train them in everything," Ravula explains.
One of the ways for WeHub to "bear the birthing pains that come with running a startup" is its focus on collaboration and partnership with every type of entity relevant to the startup ecosystem. It's a massive task, but one that Ravula seems to have a hold on owing to a well designed approach. Instead of building labs within WeHub, Ravula has managed to partner with a number of incubators in Hyderabad. She is currently forging similar relationships in other parts of the country.
"Besides corporates such as Microsoft, we have partnered with funds such as the Indian Angel Network. We even have deals in place to collaborate with the Apollo group of hospitals. This is especially beneficial to the women working on health tech solutions in gaining access to knowledge and the best of medical equipment," she says.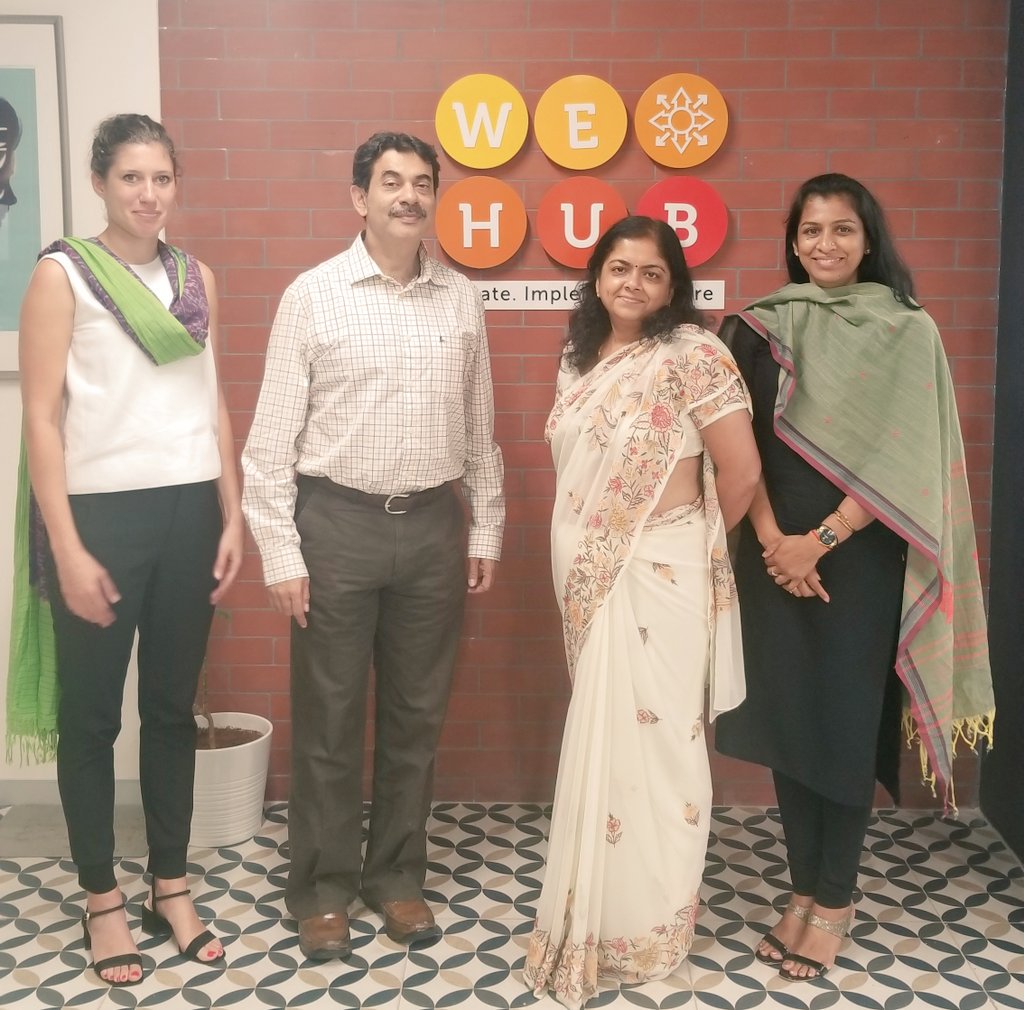 The golden rule of running an incubator, according to Ravula, is to decide what can be handled in-house and what should be outsourced to experts, as "we can't do everything ourselves." Oftentimes, an inexperienced entrepreneur ends up spending a lot of time making a product and then finds that they don't have the inclination to take the product to market, says Ravula.
Taking that into account, WeHub's main role is to help budding entrepreneurs create market linkages, formulate business proposals, and indulge in public relations, among a host of other things. "While we take care of the business side of things, we rely on our partnerships for the technology part of things," she says.
Government grants
Although WeHub doesn't provide any funding or grant money to the women it mentors, it does open doors to a collateral-free loan ranging from INR 200,000 to 17,300,000 (USD 2,800 to 244,000) issued by the state government. "In India, people aren't aware of many of these government-run schemes and grants that many startups are eligible for. So we ensured that access to government and policy operationalization would be a big part of mentoring women entrepreneurs when we were drafting the mission for WeHub," she says.
WeHub is not only working with women who have entrepreneurial goals, it is also taking an active part in encouraging 13-year-old girls who show an inclination toward STEM subjects (science, technology, engineering, and mathematics). The lack of equal opportunities and limited access to the right platforms have for many years kept women from seizing business opportunities in formal settings. Ravula believes that when society talks about problems faced by women entrepreneurs, they are only trying to cater to an extreme minority of the entrepreneurial ecosystem. WeHub is hoping to bridge that gap.
According to Ravula, past initiatives catered to women entrepreneurs who are already a part of the system. "But would you only solve problems when girls become entrepreneurs, or would you actually work with them when they are at a young age to kind of ensure there is no barrier whatsoever?" Ravula asks. For her, the goal is simple: "If you start encouraging girls and boys to get into STEM when they are still young, it will help them make a more informed choice when it is finally the time to choose their career paths."