Ask the average Joe what Shein is, and the response will likely be mute incomprehension. Indeed, Shein is not a household name like Taobao or JD.com, China's two biggest e-commerce giants. But the company is China's latest retail decacorn, keeping a low profile as it cracks a market where fast fashion racks up sales.
Shein completed its Series E financing in 2020 at a valuation exceeding USD 15 billion, according to Chinese media outlet LatePost. The company reportedly hopes to become an online version of Zara, and that dream might become reality. In 2019, Shein sold RMB 30 billion (USD 4.6 billion) worth of clothing to customers outside of China. That's about 14% of Zara's sales.
COVID-19 has not slowed Shein's pace. In June 2020, the company announced in an internal meeting that its sales have exceeded RMB 40 billion (USD 6.1 billion), and were expected to hit RMB 100 billion later in the year. In contrast, its totemic competitor, Zara, said that global revenues between February and April 2020 had nearly halved and that the company would be closing 1,200 stores. At the moment, Shein is rumored to be planning for a stock listing, with Goldman Sachs, Morgan Stanley, and BofA Securities as its underwriters.
Shein's largest market is in the United States of America. According to data from Google Trends, Google searches for Shein peaked in June 2020 at four times that of Zara. Yet despite its mark in the retail landscape, Shein's story remains largely unknown.
A number of first-tier venture capitalists in China had attempted to approach Shein in light of its retail promise. But they made these moves too late; by the time they established contact, the company had closed funding rounds. "This is China's most mysterious billion-dollar company," said one VC to LatePost.
Mysterious origins 
The company was founded in 2008 in Nanjing, Jiangsu. It has grown quietly over 12 years, with its valuation metrics only circulated among a small group of VCs. In 2019, an online pundit wrote an article about Shein, only to take it down shortly after at the company's behest. "The company told me they wanted to keep a low profile. I have almost never encountered such a situation—and the piece was not anything negative," said the writer to LatePost.
Allegedly, a manager at SUMEC Group, a state-owned enterprise that has been a major supplier of Inditex, Zara's parent company, was perplexed enough about Shein that he asked his subordinates to find out more about the company. Even though SUMEC is headquartered in Nanjing, like Shein, most of the staff had never come across its name before 2019.
Shein's previous rounds of financing were completed in 2013, 2015, 2018, and at the end of 2019. It counts among its investors veteran VCs such as JAFCO Asia and IDG Capital, as well as private equity giants Greenwoods Asset Management, Sequoia Capital, Tiger Global, and Shunwei Capital. However, these investors all rejected requests for interviews due to Shein's emphasis on staying out of the limelight. In fact, when LatePost's interview request was sent to Shein's CEO, Xu Yangtian, with a nudge that the company should set up a public relations department, Xu replied that LatePost was free to write whatever it wanted—but would risk being sued if any of the contents were false.
Models, mood boards, and modest prices
"I can't stop buying, lol. I'm addicted to Shein," said customer Shequarian Pleasant, a college student based in Georgia, in a Facebook post. In her post, she listed 16 items that she had bought on Shein for a total of USD 108. This included six shapewear bodysuits, a yoga ball, a set of resistance bands, a yoga pedal stretcher, and seven other small knick knacks.
After orders are placed, clothing items are sent from Shein's warehouse in Foshan, Guangdong province, to a warehouse near Los Angeles, and then mailed out via USPS. Total delivery time can take over ten days. Even though this pales next to Amazon Prime's promise of next-day delivery, its affordability ensures a customer return rate of over 30%.
"I have never seen a store with so many clothes that I like," said full-time housewife Abby Parkhouse to LatePost. Her first order on Shein totaled EUR 120 (USD 146). Parkhouse said she browses through Shein's online catalogue daily,  and has budgeted another EUR 100 (USD 121) for next month's order on the site.
Most of the seven consumers interviewed by LatePost hailed from smaller cities in the United States, with diverse backgrounds ranging from college students, housewives, photographers, to hospital chefs. Some of these interviewees saw Shein as a place to purchase affordable clothing as Zara remains out of reach for them. On the contrary, others were bold enough to match their Gucci and Prada clothing with items from Shein to make a fashion statement. Despite their different customer profiles, the same three keywords are mentioned when they explain their loyalty to the company: affordability, choice, and addictiveness.
In 2019, Shein released items carrying 150,000 new stock-keeping units (SKUs) throughout the year, at an average of over 10,000 SKUs each month. In July 2020 specifically, Shein's women's clothing and accessories category saw an average of 2,000 SKUs added to the site each day.
Zara's products are affordable; a dress might cost around USD 30. Shein, however, might sell a similar dress for half that price or less, resting in a price band that one would expect from listings on Taobao in China.
Shein also boasts a more expansive collection of styles than its rivals. For example, "sexy" is a category unto itself on Shein. The models and mood boards on its website are also trendier, resembling Instagram and Weibo models, in contrast to the haute couture looks that Zara associates itself with.
Shein's product and model shoots are versatile and used across all its social platforms, including Facebook, Instagram, Twitter, and Pinterest. "If your products don't advertise well, 90% of the problem has to do with the photo, especially for Facebook mobile ads," said Pei Yang, former general manager of Shein, during a public event. Each Shein product shoot requires five takes featuring five different matching items. A human resources employee responsible for recruiting Shein's photography team told LatePost that the company has stringent requirements for its team, and only 1 out of every 100 interviewees is hired. All of Shein's images need to be accessible to everyday consumers, and the company takes on photographers who can shoot in a minimalistic European and American style, not just "Taobao style" photos.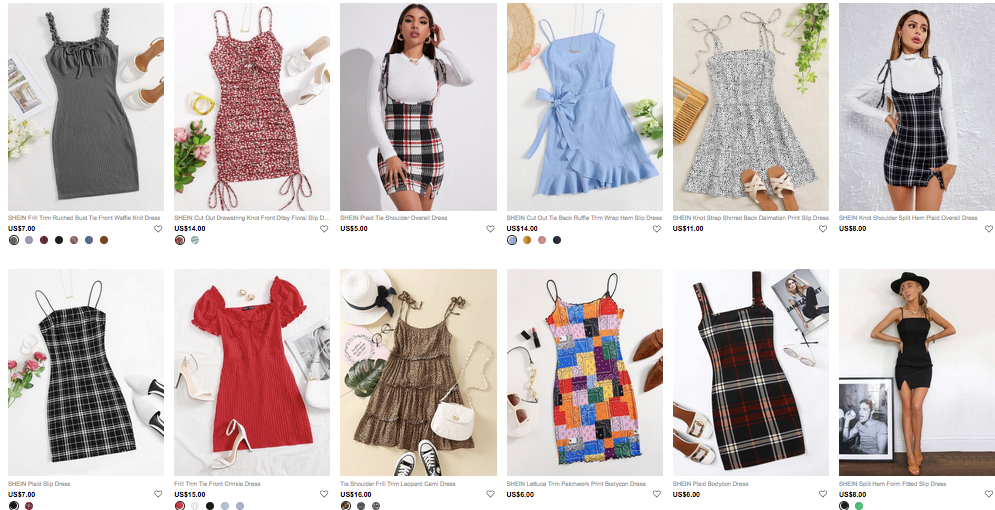 Giving new speed to fast fashion
Zara is a poster child for fast fashion, with its parent company, Inditex, still boasting a market capitalization of USD 82 billion despite taking a hit during the pandemic.
Normally, the fashion industry designs clothing by season. It takes about three months for a design to go from sketch pad to shop rack, with brands having to create trends or make predictions about what will be trendy months in the future. Zara, however, takes a shortcut. It doesn't make its own predictions; rather, it responds to fashion trends in real-time. Zara's team of designers and buyers identify the trendiest new elements of in-season clothing from major runway shows, before blending them into their own designs. (It should be noted that this has earned Zara a reputation for ripping off other designers' work.) To keep abreast of fashion trends, Zara combs sales and customer data from its 7,000 stores worldwide daily.
Zara's factories near Europe can produce clothing and deliver items to stores in as little as 14 days. At most, foreign orders might be delivered in 30 to 60 days, one of Zara's foreign trading partners confirmed for LatePost. Zara first produces items in smaller batches of 500 to 3,000 units before testing sales in Spain. If a product sells well, it will be produced in greater quantities for customers around the world. Currently, 54% of Zara's suppliers are located in Spain.
Given the fickle nature of fashion trends, companies such as H&M that move a little slower invariably fall behind. In all, 70% of H&M's products are basics, with 30% of them sold at a discount. Zara does a significantly better job, with 40% of its products being basics and 85% of products sold at their original prices. But Shein, which has no offline stores, outperforms even Zara in this respect.

At a public event, Yang demonstrated Shein's product tracking system, which mines data from various retail sites to pinpoint popular color schemes, patterns, and price trends. Its designers and buyers then combine these elements to design new clothing. A Shein men's clothing buyer told LatePost that he has to check 1688, a B2B supplier directory owned by Alibaba Group, every day and supplement online research with offline scouting by taking photos at branches of other retail companies, where he sometimes gets told off.
Zara emerged in the 1990s and relied on the fast growth of the PC industry to transform the production process, becoming the frontrunner of the fast fashion industry. But Shein is now going one step further. As one of Google's major customers, it uses Google Trends to identify hot searches and rising trends in different countries to predict the colors, fabrics, and styles that will be popular. For example, it predicted accurately that lace would be popular in the US  for the summer 2018 season.
Compared to Zara's fastest cycle of 14 days, Shein has shortened the process spanning product design to production to just seven days. One of Shein's suppliers told LatePost that it only takes five days to complete production for an order from Shein: one day to produce fabric, three days to cut, sew, and finish the items, and a final day to complete secondary embroidery and printing.
Because Shein isn't bogged down from managing the logistics of brick-and-mortar stores, it can place orders for 100 SKUs at a go, and decide whether it needs to increase production at a later stage based on real-time customer feedback. In contrast, Zara can only test one out of six possible products at a time, a far cry from Shein's 30 products, suggesting that the probability of Shein hitting the nail on the head is higher. One of Shein's business plans obtained by LatePost, dated 2018, suggests that 50% of its products are in high demand, with only 10% of its products being relatively less popular.
Producing clothes in smaller batches of 100 pieces per SKU suggests that the cost of failure when trying different fabrics and colors is smaller too. This is why some customers feel that compared to Zara, Shein's clothes are more dynamic, with brighter colors and a greater assortment of looks that are not limited to basic styles and monochromatic tones.
Shein first tested its appeal in the US, which has a more diverse population than China, before expanding to other regions, according to the company's stakeholders. "Europe and the US still represent mainstream market trends, even in the Middle East and India. Once we test it here, we will look at the global market," said one of Shein's investors to LatePost.
Read about Shein's growing pains and bitter splits in Part 2.
This entry is based on an article originally published by LatePost. It was translated by Lin Lingyi.