Six years ago, when Flipkart held its first-ever Big Billion Day sale—the e-tailer's now iconic annual festive season sales—all hell broke loose.
The one-day event that the company had promoted as India's largest discount sale ever saw its website crashing several times due to a spike in user traffic, products going out of stock too fast, and third-party sellers refusing to take orders right in the middle of the day, among other things.
The experience was so terrible that it faced a severe backlash from customers on social media and had to issue an apology the next day. Nonetheless, then the seven-year-old Flipkart was able to rake in USD 100 million worth of orders in just 10 hours that day.
The Bengaluru-based retailer has come too far since then and turned the Big Billion Day into a week-long celebration wherein it launches flagship products and offers the best discount deals. During this year's Big Billion Days, Flipkart sold over USD 2.5 billion worth of goods, according to data compiled by local research firm RedSeer Consulting.
In comparison, its biggest rival Amazon India, which has been running a similar festive sales event—The Great Indian Festival—since the last few years, clocked about USD 1.2 billion in sales in the first week, less than half of Flipkart's.
"The festive sales is something that Flipkart has created," Satish Meena, senior forecaster at Forrester told KrASIA. "We have Big Billion Day since 2014 and it has never happened that Amazon has done better than Flipkart."

In India, major e-tailers usually run festive season sales in three or four week-long tranches between October and December, a time period when people celebrate a slew of festivals including the festival of lights, Diwali. This year, however, Amazon is hosting its sale for a month.
"Flipkart's growth during the first week of festive season sale has been higher as compared to Amazon's. Overall, the e-commerce market grew by almost 55% as compared to the last year," Saurav Chachan, senior consultant at RedSeer told KrASIA. "This year, the growth was led by an exponential increase in the number of users."
According to Chachan, 52 million online shoppers shopped online in the first leg of festive sales across all the e-tail platforms, an increase of 85% over a year-ago period.
It is not only in the festive sales that Flipkart has left Amazon behind. In 2018,  Flipkart Group claimed to have 60% market share in the then USD 27 billion e-commerce market. A Forrester report, meanwhile, put the market share of Flipkart and its fashion portal Myntra's at around 40% for the same year. Amazon, the report said, held about 31% share.
While both e-tailers lay claims of being the dominant player in the online shopping market, which RedSeer expects to touch USD 38 billion by 2020 end, many industry veterans believe Flipkart Group, which was acquired by American retailer Walmart for USD 21 billion in mid-2018, is leading the race.
Decoding the strategy
According to Meena, Flipkart has a good lead in mobile devices and fashion, which along with consumer electronics make up for the three largest categories in e-commerce sales.
"Since a large chunk of spending is expected to be in smartphones and fashion category during festive season sales, where Flipkart has an edge, they will be able to maintain the lead," he said.
The reason Flipkart has become bigger in these two categories is that the e-tailer has strategically positioned itself as a marketplace for the mass market, focusing on value products–lower-priced and affordable–across categories. This has helped create Flipkart a significant hold in tier 2, tier 3 markets.
An industry veteran KrASIA spoke to, believes Amazon is more targeted towards metro and tier 1 customers, who usually come from high-income households, whereas Flipkart has a wider customer base from cities beyond metro and tier 1. "Flipkart has premium as well as mass-market products, while on Amazon, value products are slightly lesser," the source said.
Moreover, Flipkart usually launches products that have a mass audience appeal to leverage its strong presence in tier 2, 3, and 4 cities.
Last month, during the launch of Samsung's Galaxy F4, a new budget-range smartphone from the Korean major, Kalyan Krishnamurthy, CEO, Flipkart Group, said, the company truly understands the pulse of Indian consumers and is working collaboratively with brands to bring value products.
"Our strategic partnership with Samsung reinforces our commitment to make the latest in technology accessible to over 250 million customers across Bharat," he added. Bharat refers to tier 2, 3, and 4 cities.
Questions sent to Flipkart and Amazon India didn't elicit any response.
Essentially, Flipkart is tying up with brands across categories to specifically launch pocket-friendly products to increase its portfolio of low-value products. The e-tailer has also been focusing on private labels that it develops along with brands to offer products at a low price and higher margin.
To appeal to a wider audience, Flipkart has on-boarded regional celebrities to market its brand. It roped in regional sellers to offer products with local taste, besides offering the platform in multiple local languages.
While the product positioning, aggressive pricing, and market campaigns have worked well for Flipkart, another important factor that actually worked as a hook to bring customers from smaller cities onboard is its hold in the online fashion category.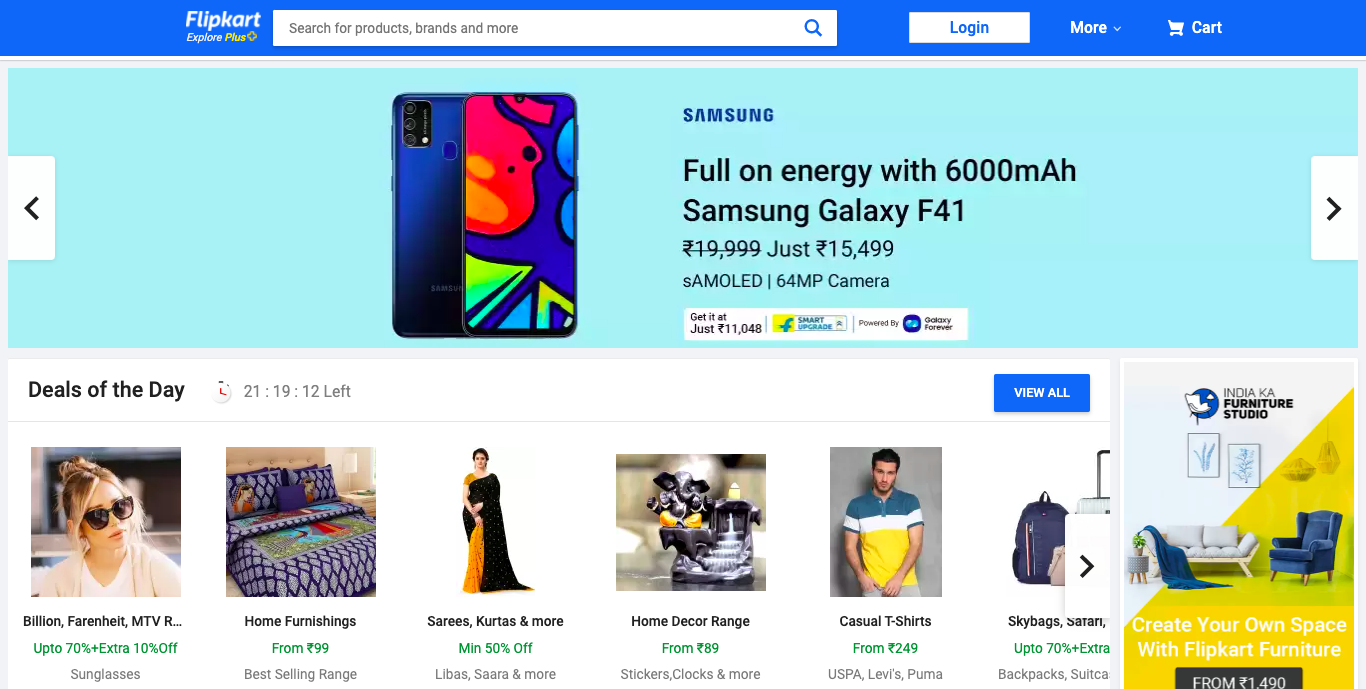 How it all started
In 2007, Flipkart was started as an online portal for selling books. For the first three months, the website received eight to 10 orders a week. By the end of 2008, the orders scaled to almost 100 a day
What helped Flipkart sustain in the market when internet penetration was a mere 4% in the country was its laser-sharp focus on one category, Binny Bansal, co-founder of Flipkart told local media Times of India in 2017.
It was only in early 2010 that Flipkart entered the mobile phone category, which now contributes almost half the sales for the e-commerce platform. The next big bet that the online marketplace took was getting into the fashion category in 2012.
This was the year when Amazon established its first online presence in India with Junglee.com, a portal that allowed customers to compare prices online. A year later, the American e-tailer launched its shopping website in India that offered books, films, and TV shows as well as mobile phones and cameras to begin with and subsequently added more electronic goods.
But Flipkart was already ahead of Amazon in fast-selling categories such as electronics and fashion. With its acquisition of fashion portal Myntra for USD 330 million in May 2014, the duo had seized a 60% market share in the online fashion segment. Amazon, on the other hand, had introduced the fashion category on its platform just a month before that.
"Initially people were not willing to buy fashion products because they did not know if it would fit them, but as e-tailers started giving them options of easy returns, the category took off," explained RedSeer's Chachan.
As more people started buying apparel and fashion accessories online, the competition in the market grew. Meena said Flipkart and Myntra together may have around 50-55% share of the online fashion market, Amazon has about 17-18%.
Flipkart's dominance in online fashion puts it in a better position to claim the e-commerce throne. And it is this entrenched presence in fashion that has helped Flipkart attract a large customer base from smaller towns, believes Meena.
"The funnel for customer acquisition in smaller cities is fashion," he said. "Fashion has become the entry point for a lot of new customers, who want to try shopping online but cannot do so with bigger ticket sized items like smartphones."

A lot of fashion brands like Zara and H&M are not present in many smaller Indian cities, paving a way for online fashion portals in these markets. Flipkart and Myntra were quick to milk this opportunity as they partnered with local third-party sellers to create a bunch of private labels over the last six years.
Earlier this year, Flipkart invested USD 35 million in Arvind Youth Brands, the youth-centric subsidiary of Indian fashion retailer Arvind Fashions. Last month, it beefed up its fashion offerings with a USD 203.8 million investment in another traditional brick-and-mortar fashion company, Aditya Birla Fashion and Retail Ltd (ABFRL).
Krishnamurthy, in a recent interview with local media Mint, said the company is exploring co-creating fashion brands.
"The lines between modern retail (includes large format stores) and e-commerce is blurring only further," he said. For the festive sales this year, the e-tailer has recently partnered with 100 local fashion brands, bringing over 2,000 stores online. On Thursday, the company announced an investment in Universal Sportsbiz, a fashion firm that markets brands endorsed by celebrities, without disclosing the deal size.
Next frontier of growth
Apart from fashion, USD 25-billion Flipkart Group is currently eyeing grocery to bring the next wave of growth. That 80-90% of India's retail economy is made up of grocery and fashion, and both the categories have low online penetration makes them a clear choice to focus on for all the major e-tailers.
"For Indian e-commerce penetration to grow and reach USD 100 billion by 2024, these two categories will play a big role," Krishnamurthy told Mint. "We see ourselves making more investments in these categories but will take a strong 'capability' view and partner or invest in areas where we lack the ability to build."
However, there remain a few challenges for the homegrown e-commerce marketplace.
"Flipkart is strong in mobiles, electronics, and fashion, but not as much in long-tail categories such as toys, baby products, and home decor," said the industry executive quoted above. "Amazon, on the other hand, has a significant presence in long-tail categories owing to its experience of running the platform across multiple countries and having a focus on all the categories."
Meena feels that Flipkart usually depends on new launches and sales events to bring in customers and it still does not have a long term plan like Amazon's Prime to retain customers. Prime is a paid membership program that offers free, fast delivery, exclusive access to deals, video streaming, and ad-free music, among other things.
"There are customers who might start with Flipkart or Myntra, but as they mature and their spending power increases, they start looking for convenience and comfort over discount," Meena said. "They are the ones who upgrade to Amazon at some point in time, and become Prime members."
"Flipkart has not reached the level where customers can purchase just based on trust," he said. "That is something the company is working on with Flipkart Plus, its reward program, and trying to onboard more customers by giving them redeemable coins, going beyond what Amazon is doing."
Moreover, the entry of new players like Indian conglomerates Reliance and Tata in the e-commerce sector, which is expected to spice up the race for Indian consumers' wallet share, is keeping the e-tailers on their toes.