Many people have passions, but few follow them and shape their purpose around them. Ario Tamat understood this when he spent six years working for one of Indonesia's major music labels while trying to break out as an indie musician. Through those years, his salary as an office worker was his main source of income, while his indie music—which was where his passions lied—didn't take off.
"I have firsthand experience in how hard it is to get money as a content creator," he told KrASIA in a recent interview. But maybe building a platform could change that. If creators could link up with fans who pay them directly for new content, maybe that could make passion projects financially viable, he thought.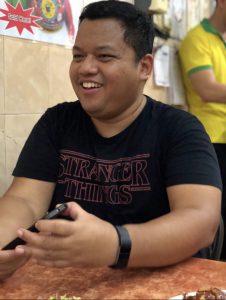 In April 2019, Tamat discussed this idea with a friend, Aria Rajasa, who he regularly played basketball with. Rajasa said the platform shouldn't just be for musicians, but creators from other fields as well, like Patreon. Tamat agreed.
In June 2019, the bare bones of KaryaKarsa went online. Tamat took on the mantle of CEO, while Rajasa became the company's chief technical officer.
Earning the trust of skeptical creators
Tamat admitted that, at first, it was hard to convince creators to join the platform. Before KaryaKarsa, there were other platforms that had similar goals, such as Naver's Line Webtoon, Ciayo Comics, and Trakteer.id. However, they all failed to channel enough income toward their members, so creators had doubts about KaryaKarsa. They still primarily rely on commissions, sponsorship, or monetized ads on YouTube to get money.
"It took time to convince them that this model [direct fan contribution] is sustainable and beneficial for creators," he said.
KaryaKarsa's platform has basic features like a gallery where creators can upload text, images, audio clips, and videos, much like a blog or Instagram. It recently started publishing a weekly leaderboard that shows the ten most productive creators on the site, and its team provides coaching sessions to creators based on their performance within the community. They mostly approach creators who haven't submitted any content or who haven't received any fan contributions even after showcasing their work. Sometimes, the team also coaches creators who "still have room for improvements" in terms of fan engagement.
"We pay attention to their careers, because the creator industry in Indonesia, even in Southeast Asia, is still not as developed as in South Korea, Japan, or America," Tamat said, "If these creators grow, we will also grow accordingly."

To prevent piracy, KaryaKarsa disables the copy function on paid content and limits the file size of downloadable items. This also prevents illegal content like pirated movies from being sold through the platform.
The prices for unlocking content are set by individual creators. Fans can also tip the creators who they support without making any purchases.
A year after its launch, KaryaKarsa funneled more than IDR 3 billion (USD 203,000) worth of support from fans to creators. The company charges 10% commission from each transaction. Tamat explained the key to this success: easy rupiah payments.
"Most platforms only facilitate payments from either credit and debit card or PayPal, and usually in USD. Those methods are not popular in Indonesia, thus hindering the business' growth," he said. KaryaKarsa's users can tip or make purchases using popular e-wallets such as GoPay and Ovo, or they can pay from mini-markets.
Because of how KaryaKarsa meshes well with young Indonesians' spending habits, the platform's roster of 100 creators quickly grew to a 8,100 headcount. And the company recently launched a mobile app to make it even easier for fans to stay up to date on the creators they follow.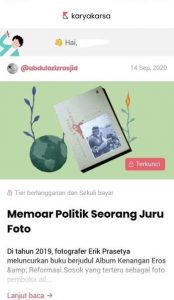 Tapping into creator communities
The startup has joined Accelerating Asia's latest cohort, and is in the midst of raising new funds. "We'll use the investment for growth, like recruiting more engineers," Tamat said.
The company is are also partnering with art institutions to recruit more creators of different stripes. For now, most content contributions come from writers, cartoonists, and wellness educators. Tamat wants to tap into other arts too, like music—his original inspiration.
"KaryaKarsa was born from the idea of helping musicians, but few have joined the platform," he said, "Maybe there's a problem with our value proposition.  This is what we're going to dig into and solve."
This article is part of KrASIA's "Startup Stories" series, where the writers of KrASIA speak with founders of tech companies in South and Southeast Asia.