Foreword by Moo Natavudh, managing partner of 500 TukTuks
In many ways, Thailand is more industrially developed and commercially tied to the West than much of Southeast Asia. There is also a huge amount of inbound tourism creating new opportunities, especially from China and Europe. However, this development has not fully translated into the Thai startup community. Thai entrepreneurs are limited by many of the same challenges as those in other Southeast Asian countries (e.g., lack of formalized investment channels, lack of experienced founders).
Progress has certainly been made recently: through 2018, there have been 102 funded Thai startups (as of 2012 there were less than 5). Thailand remains an intriguing market due to its tech-savvy population and its recent growth in emerging industries such as fintech. Moreover, the past year has seen increased momentum as a group of growth-stage companies (Series B) have raised substantial capital (US$30M+). To date, more than one-third of 500 TukTuks' portfolio companies managed to secure follow-on investment, which signals a trend that Thai startups are becoming more and more investible despite the challenges.
Another recent trend involves local founders pairing up with foreign founders, applying global know-how to the nature of the local market. Strong founding team members with successful products are usually a combination of Thai and foreign founders. This leads to new solutions that break the local status quo but still are suitable for the local consumer behavior.
Going forward, to overcome the funding challenges and attract more foreign investors, Thailand needs to create a unicorn (a startup with at least a US$1 billion valuation) and showcase noteworthy success stories.
Ecosystem Summary
Differentiators
Affordability of living
Low costs for operating businesses
Active online communities
Socially active population
A good mix of expats and locals
Challenges
Restrictive government regulations for some sectors
Lack of foreign investment
Lack of experienced talent
Country Outlook 
There are past success stories, such as Agoda, a hotel and flight booking site acquired by the Priceline Group, as well as more recent successes achieved by companies like Ookbee, Omise, and Pomelo. But Thailand has yet to breed a homegrown unicorn, and the country's tech startup scene lacks the momentum to support growth at a large scale at the moment.
The Thai startup ecosystem, which includes local corporate venture capital arms, Chinese conglomerates, and the Thai government, have started to pledge fresh capital for investments in innovation. But it will take time for this commitment to flow through the ecosystem. There is still a mismatch between corporate or government regulations and startup solutions, making it difficult to implement new programs that promote innovation.
Thailand's government bodies are pushing for new regulations, especially in the fintech space. There are several government grants available for startups in the areas of agritech, smart city development, tourism, foodtech, and others that are considered important to the local economy. To attract foreign talent, the government also initiated a smart visa program. However, transformation on a national scale requires more than a few years. In the meantime, the concern is that regulators do not have a thorough understanding of new technologies and their implications, so they may be unable to assess the technology or create policies that enable real transformation while minimizing risk. Ideally, experienced startup experts would be involved in the policymaking process.
Looking ahead, we expect to see large corporations working more closely with startups through small pilot projects to co-develop new solutions, instead of merely providing funding. And if the Thai government passes new regulations, we expect to see more innovative solutions being implemented at a large scale, which will help Thai startups expand and create new opportunities.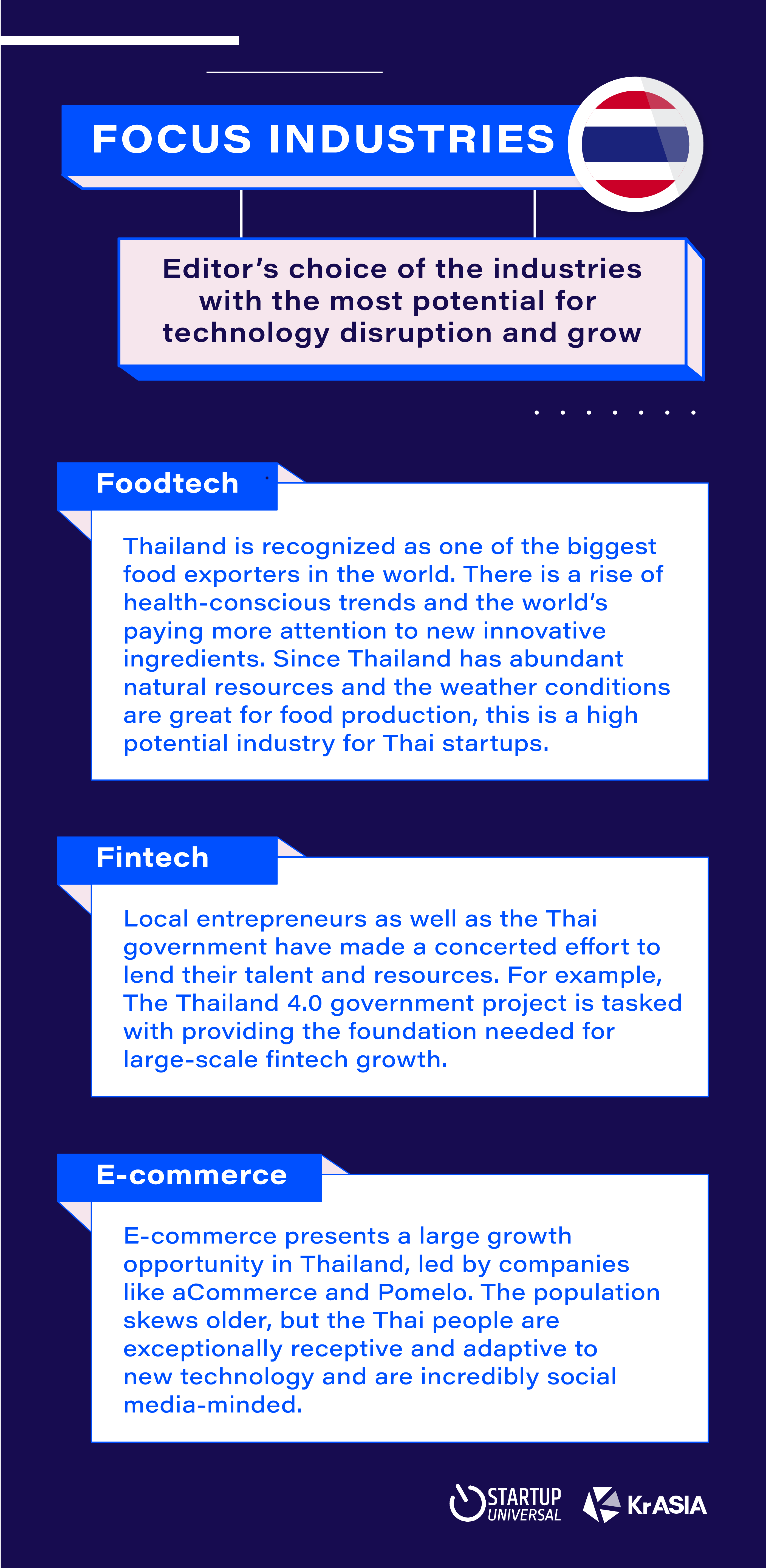 Promising startups to look out for 
E-commerce | Bangkok
Eatigo is recognized as the top restaurant reservations platform in Southeast Asia. Founded in 2013, Eatigo's mission is to connect empty tables with empty stomachs by offering time-based discounts of up to 50% every day at all of its participating restaurants through its website and mobile application. Users can choose to dine anywhere from upscale hotels to popular food chains and enjoy the same discounts with no strings attached, while restaurants get to fill their empty seats during off-peak hours.
Lifestyle, Search Engine | Bangkok
Wongnai is one of the leading lifestyle platforms in Thailand, with over 2.5 million users and 10 million followers on social media. Established in 2010, Wongnai is a Thai word meaning "Insider​."  Our vision is to connect people to the good stuff. The company's businesses currently include Wongnai Food (restaurant search and reviews),  Wongnai x LINE MAN (food delivery), Wongnai POS, Wongnai Cooking, Wongnai Beauty, and Wongnai Travel. Wongnai is headquartered in Bangkok, and also operates in eight other locations around Thailand.
Fashion E-commerce | Bangkok
Pomelo is a leading international online fashion company based in Bangkok. Launched in 2013, it is a modern fashion brand born in Asia with a global mindset: on-trend, online, on-the-go. Products are proudly designed and produced around Asia for today's global consumer. With an indisputable sense of style at an unparalleled price, Pomelo aims to offer women everywhere the best looks to become their best selves.
Are you interested in learning more about this startup ecosystem? Check out the full Startup Universal Country Guide. For additional questions or to become a contributor and showcase your own ecosystem, connect with Startup Universal on Twitter (@supuniversal) or reach out over email ([email protected]).
This piece was produced in collaboration with our content partner Startup Universal, a platform that covers global startups, with over 25 detailed country guides and news from over 100 countries. 
Disclaimer: all content within this startup ecosystem summary is written by and reflects the personal perspective of the foreword writer.