Foreword by Jianggan Li, Founder & CEO of Momentum Works
Singapore is Southeast Asia's startup hub, in large part because of a set of government regulations promoting entrepreneurship and investment. The country's powerful intellectual property protection laws allow companies to commercialize the products they invent, encouraging innovation. There is also a large network of over 50 comprehensive double taxation avoidance agreements, free trade agreements and investment guarantee agreements. This combination of factors creates a highly globalized and favorable industrial environment, enabling Singapore to attract excellent talent and capital from all over the world. Between 2013-2018, Singapore attracted USD 8.4 billion of capital across 888 deals, and the number of Singaporean startups doubled. It is also home to five unicorns (Grab, Sea Group, Lazada, Razer, Trax), which account for almost half of Southeast Asia's unicorns.
Ecosystem Summary
Differentiators
Ranked 2nd in ease of doing business according to the World Bank
An educated workforce
Trading hub due to geographic location (connectivity)
Developed infrastructure
Multicultural population
Challenges
High labor and land cost
Competition for talent from established industries/institutions such as banks and multinational corporations
Lack of natural resources; people are their resource
Smaller population (5.8 million people), but densely populated with high consumption power
Country Outlook 
The focus industry for Singaporean startups may not be AI: Artificial Intelligence startups have grown significantly in Singapore over the last few years. Many startups have received initial rounds of investments, but have been unable to convert it into productive tangible outcomes, and the market outlook cannot support further growth. Access to talent may be limited due to the smaller talent pool. Many companies now start to see data as a strategic asset and are less willing to give it up. In addition, Singapore's Personal Data Protection Act also makes it difficult for businesses to experiment with many datasets so the amount of data operators can collect and derive intelligence from is limited. It is expected that Singapore will find a more suitable niche for local startups, but this may not be AI.
Singapore will lead the charge on Initial Coin Offerings (ICO): Cryptocurrency will continue to grow in Southeast Asia, with Singapore taking the lead on ICOs. The Monetary Authority of Singapore (MAS) issued favorable guidelines for virtual currency in late 2017, and venture capital firms in Singapore are also starting to look at cryptocurrency as a space to focus on.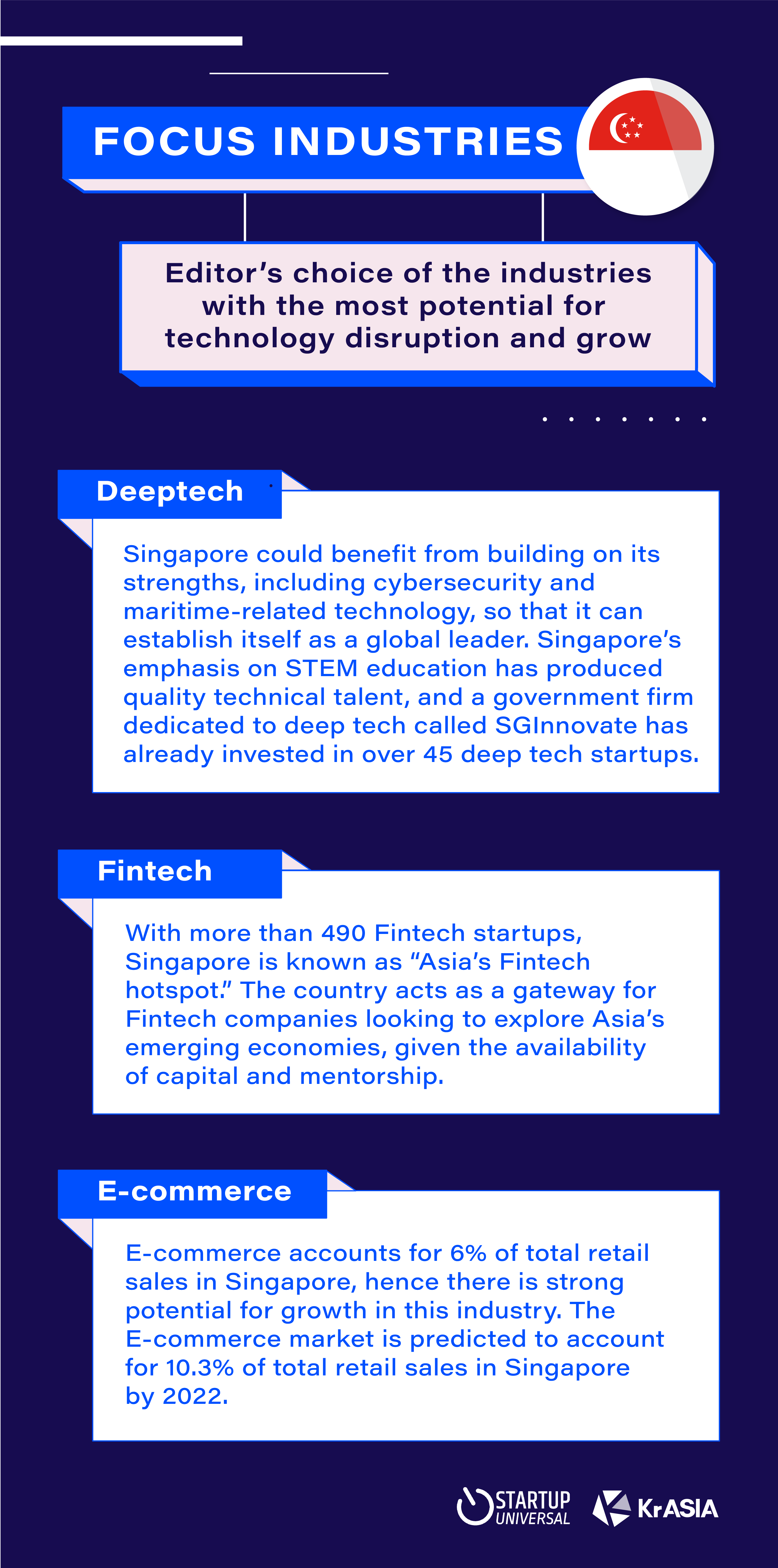 Promising startups to look out for 
Logistics, SaaS | Singapore
The Anchanto eWMS is a proprietary SaaS platform that enables B2B and B2C e-commerce for 3PLs, warehouses, brands, and postal associations. With more than 41 e-commerce marketplace integrations and more than 20 strategic partnerships, the platform readily enables inventory, order, and warehouse operations management. The system has ready integrations with leading regional and local online marketplaces and last mile carriers such as Ninja Van and DHL. It also enables stellar cross-border e-commerce and full shipping label interoperability.
Fintech, Artificial Intelligence | Singapore
SHIELD is a global enterprise cyber protection company that leverages over a decade of domain intelligence and artificial intelligence to help companies prevent fraud in real-time.
Founded in 2008, SHIELD was the first to introduce a 100% fully automated fraud solution and profiles more than 5 billion devices per year and over 500 million user accounts globally. Its SaaS-based autonomous risk intelligence platform provides cyber-protection to enterprises across the globe, covering industries such as e-wallets, super apps, e-commerce, travel, retail, and gaming.
Artificial Intelligence | Singapore
Visenze is an artificial intelligence company built on deep learning and computer vision. It delivers intelligent solutions that simplify the consumer journey on search, discovery, and recommendation of products. Retailers like Rakuten, Uniqlo, and Zalora use Visenze to convert images into immediate product search opportunities, simplifying search experiences and uplifting conversion rates.
Brands and publishers use Visenze to turn any image or video into an engagement opportunity, driving new and incremental dollars. Over 300 million shoppers today experience exciting visual commerce on hundreds of shopping sites powered by Visenze's visual search technology, both online and in-store.
Interested in learning more about this startup ecosystem? Check out the full Startup Universal Country Guide. For additional questions or to become a contributor and help showcase your own ecosystem, connect with Startup Universal on Twitter @supuniversal or reach out over email ([email protected]).
This piece is in collaboration with our content partner Startup Universal, a platform that covers global startups, with over 25 detailed country guides and news for over 100 countries.
Disclaimer: All content within this startup ecosystem overview is written by and reflects the personal perspective of the foreword writer.