Freshly listed on Nasdaq, Chinese group-buy e-commerce marketplace Pinduoduo is now facing a new deluge of negative coverage on social media and various websites in China discussing the high volume of counterfeits on its platform, amidst a new fake goods claim that might take it to court.
The latest accuser is Shenzhen-headquartered electronics firm Skyworth Digital Holdings, which said on July 28 that it is requesting Pinduoduo to remove all listings of counterfeit products impersonating its brand and will otherwise reserve a right to legal claims.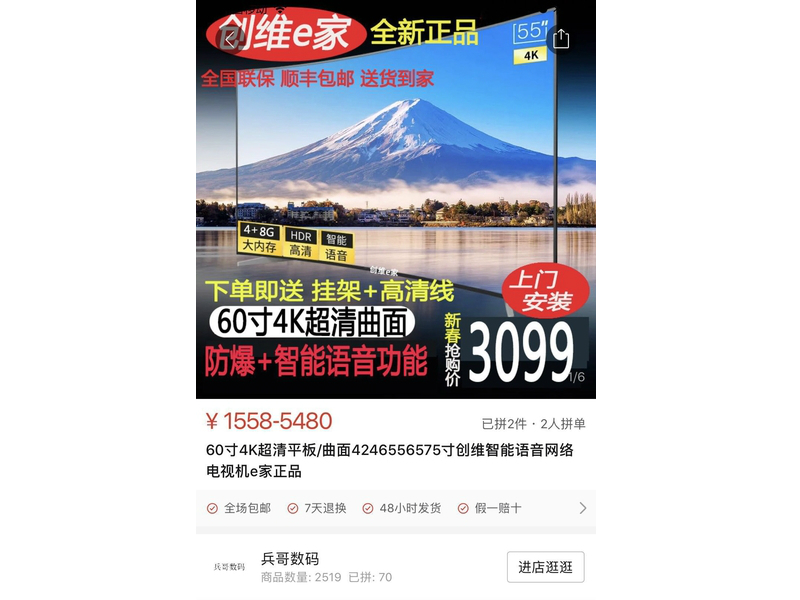 According to Sina Technology, Jing Ran, a spokesperson from Pinduoduo, said that while the company appreciates and will learn from constructive criticism, the fake product problem is being exaggerated by people committed to attacking Pinduoduo's reputation online.
The Sina report says that Jing believes Pinduoduo's competitors have spent money on an 'Internet water army' – a term that in China refers to netizens that companies can hire to write positively about their own firms or negatively about their competitors' products. In China, its main competitors are e-commerce giants JD.com and Taobao.
Pinduoduo has filed these complaints with the China Internet Network Information Centre and says it will release more information in the future.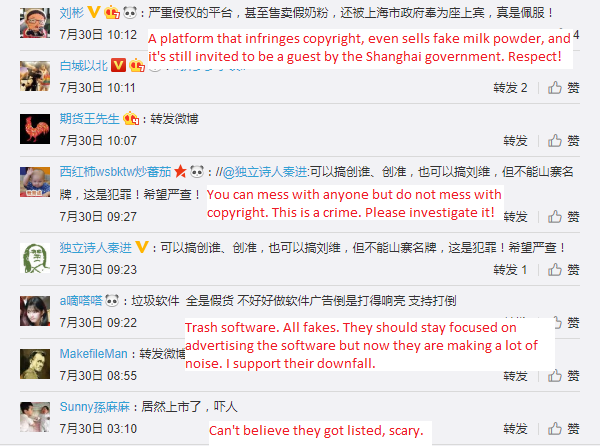 Pinduoduo's battle with counterfeits predates its IPO. On July 20, The New York Times reported that Chinese household goods company Beijing Daddy's Choice Technology Co., Ltd has launched a legal suit against Pinduoduo, on claims that the latter "knowingly allowed" counterfeit diapers carrying the brand name to be sold to consumers.
According to Daddy's Choice, Pinduoduo took down a number of the knockoffs when it was first asked to do so, but the fake goods resurfaced shortly after and were left on the platform even after being reported the second time. Pinduoduo has also been accused of having allowed counterfeit books, laundry detergent and other consumer goods on its platform.
But even with a lawsuit filed against it, Pinduoduo still managed to debut at a valuation of nearly US$30 billion, just a week after the New York Times piece came out. However, the new claim from Skyworth has seen Pinduoduo's share price drop by nearly nine per cent, according to Capital Watch.
For e-commerce marketplaces, fake products are a common problem. Some of the best-known platforms, from eBay to Amazon to Alibaba, have been sued and warned about knockoffs sold on their sites.
Alibaba-owned marketplace Taobao was blacklisted by US trade officials for the second consecutive year for its high number of fake goods.
Big e-commerce players have made changes to fight counterfeits, while their effectiveness is still unproven. Alibaba, for example, set up a watchdog alliance of brand partners such as Adidas and Burberry to curb fake goods.
Alibaba also monitors its marketplace to identify fakes before anyone even reports them. In a July 2018 interview with Stopillegal, a media arm of tobacco company Philip Morris International, Michael Yao, Senior VP at Alibaba, said that in the last year, 27 times more listings were taken down proactively, as compared to those removed reactively. Out of the listings taken down proactively, 97 per cent of them were removed before a sale could even take place, he said.
Pinduoduo has quite openly addressed the counterfeits threat. In its prospectus, it wrote that it "may incur liability for counterfeit, unauthorized, illegal, or infringing products sold or misleading information available on our platforms".
It advised potential investors, "Counterfeit products sold on our platform may damage our reputation and cause buyers to refrain from making future purchases from us, which would materially and adversely affect our business operations and financial results. We have in the past received claims alleging the sales of defective, counterfeit or unauthorized items on our platform."
Editor: Nadine Freischlad