Hi there! In the new age of AI technology, we are initiating this bold AI-powered pilot project.

KrASIA's parent company, 36Kr, is the leading tech and business media company in China. Every day, 36Kr delivers an enormous amount of news on Chinese startups. KrASIA wants to share these articles first-hand, but it was impossible to translate huge amount of information manually in the past.

Now, with AI, we have a solution: AI-powered translation with minimal human effort. Therefore, please understand that the translation may affect your reading experience. Nonetheless, feel free to contact us ([email protected]) should you have any feedback.

To Chinese readers, if you'd like to read the original article in Chinese: click here.

Enjoy!
Chinese freshly brewed coffee vending machine vendor Yee Coffee recently acquired its German counterpart, Mattburg Coffee and took over its operations in university campuses.
Key points:
The coffee industry is growing and worth tens of billions of dollars, yet coffee vending machines are still relatively new to the market
Emphasis on user experience, information technology, and infrastructure has been increasingly evident.
Industry leaders will emerge by the end of early 2019.
Not long ago,  Yee Coffee completed Series A funding. Their two rounds of financing in 2018 alone has exceeded 100 million yuan. Mattburg Coffee is one of the first-movers in coffee vending machines and has raised their Pre-Series A.
Wang Jing, founder, and chairman of Yee Coffee pointed out that Mattburg Coffee and Yee Coffee stand out among their competitors due to their in-house design and production of coffee vending machines. Moreover, Mattburg and Yee target university students. Yee Coffee is found in more than 100 schools across the country and is most popular in many cities. Mattburg stations in about 40 campuses in 31 universities in Shanghai.
With the acquisition, Yee Coffee will take over Mattburg's operations in universities and colleges. Yee will also take over their staff, finance, administration, market expansion, location, equipment and company management. The parties have not disclosed details of the acquisition and transaction amount.  Mattburg's vending machines outside of universities will still be operated independently, and the two parties will form strategic partnerships and share distribution channels.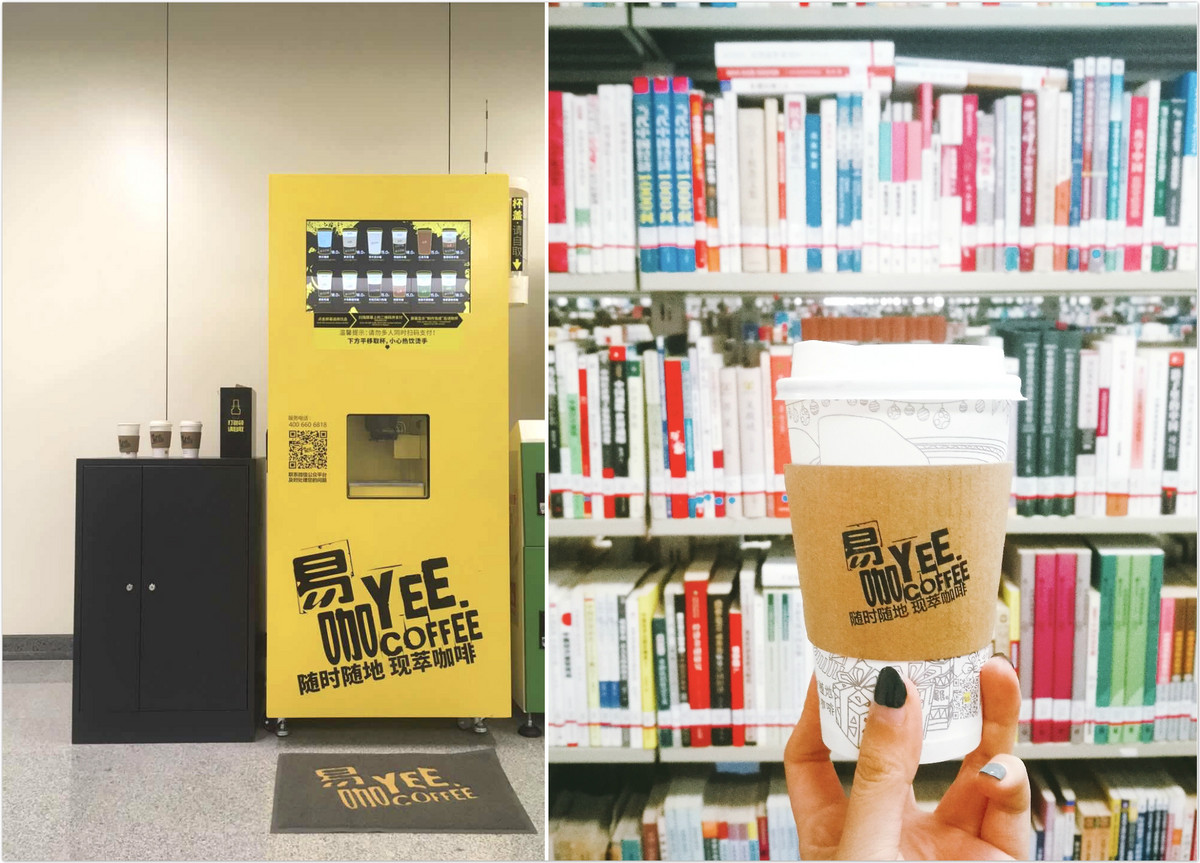 This is the first encounter of a coffee vending machine company acquisition. Wang Jing also told KrASIA's parent company, 36Kr, that with the gradual popularization of the coffee shops, vending machines, and coffee delivery, the coffee industry as a whole is booming, and coffee vendors with niche services are emerging. Among coffee vending machines operators, many of their business models are not sustainable and they exit. We want to be the leader in this niche with the merger.
36Kr had an interview with founder and CEO of coffee0.8, Wang ShunLi. He said: "The coffee industry will see new players emerge and old players being affected. Coffee vending machines may have new opportunities but companies will have to find its competitive advantages.
We are curious about whether this industry is able to afford new players and if this industry is sustainable.
The coffee industry is growing and worth tens of billions of dollars
China's 'new Starbucks' Luckin has been growing in popularity among the Chinese. At the same time, Alibaba wants to cooperate with Starbucks in China to provide coffee delivery. In July, 36Kr released a report on the Chinese coffee market of about 100 billion RMB, with a compound annual growth rate of 15% in the past 10 years. Compared with the coffee market in Japan, we are still 40 cups per annual capita away, indicating that this market is still unsaturated and with high potential.
With the increase in coffee consumers, there are higher demands for quality coffee. Many demand freshly brewed coffee. This demand has been fulfilled by vending machines. Vending machines can be located almost anywhere and hence is more accessible than buying from a coffee shop. This new trend may disrupt the current coffee market and affect market share distribution.
Benchmarking foreign markets, Europe's vending machine operator manages about 140,000 machines. In 2015, there were 170,000 self-service coffee machines in Japan. However, domestic operators have less than 10,000 units, and most are still in their early funding stage. The market is still at its early stage and it will take time for people to cultivate this habit.
Wang believes that the vending machine has more potential than generating revenue from just coffee.  The industry has already begun to compete in operations. Many companies exit the market because they are inefficient and were not able to make profits. Yee Coffee targeted university students because of the team's strength in their human and operational resources. It has entered more than 100 colleges and universities and has laid more than 1,500 machines.
What are the barriers to entry?
Yee Coffee's main advantages are that their vending machine is built at lower costs and has a stable supply chain. They focus a lot on user experience to stay competitive.
Infrastructure. Yee Coffee's vending machine has an internal image recognition technology to improve the accuracy of the coffee proportion. Furthermore, Yee Coffee's R&D team are developing facial recognition and verbal communication technologies to enhance user experience. Wang emphasized that Yee Coffee will focus on attracting new customers with novel ideas. There will be a real-time interaction between users and the machines, allowing consumers to have social interaction even when buying coffee. In the future, Yee Coffee will develop a facial recognition payment system.
Supply chain and maintenance: At present, Yee Coffee has a 5,000-acre exclusive coffee plantation in Yunnan, which guarantees a stable supply of coffee beans. Xu Zhi, one of the managers, said that it is actually a baking process that affects the taste of coffee. Hence, Yee Coffee is cooperating with an established baking vendor. In Tsinghua Park, where the operation of Yee Coffee is relatively matured with more than 100 machines, an average worker can complete the maintenance of 40 machines a day, greatly reducing the cost.
Location and BD: Yee Coffee first started in Tsinghua University. 36Kr is informed that the university market has about 40 million people and allows the company to collect accurate data and user profiles of their customers. The machine is light (130 kg) and the cost of delivery is low. Yee Coffee will be tested for a week or so to analyze its demands. If the demand does not reach a certain threshold, Yee Coffee will stop operation and search for other locations.
Companies are beginning to focus on brand development. Yee Coffee's wants to create a brand image of freshly brewed coffee anywhere and anytime.
Wang told 36Kr that the overall growth of the coffee market is evident. Everyone is cultivating the habit of coffee drinking. It is gradually transitioning to a daily necessity. However, Wang Jing believes that there will soon be a day where the industry becomes saturated. Hence being the first-mover and ensure continuous development is crucial. The acquisition of Mattburg will ensure their competitiveness and further widen their gap among competitors.