Singapore-based startup Hmlet was born out of a desire for accommodation that was flexible and convenient. In an interview with Vulcan Post, CEO and founder Yoan Kamalski said that in its initial years, the startup focused on a centralized model of leasing buildings. The co-living operator used to directly rent, renovate, and operate properties.
In just five years of operations, the company expanded to more than 100 locations across Singapore, Hong Kong, Australia, Japan, Malaysia and Thailand. Hmlet offers customers short-term stays in the Hmlet Boutique properties starting from six nights, or longer-term living, usually with a minimum three-month stay, in Hmlet Listed or original properties.
According its website, prices range from SGD 1,000 (USD 730) a month for a 'Pocket Room'—Hmlet's most economical—at Upper Circular Road, to SGD 5,990 (USD 4,372) a month for a full two-bedroom apartment at One North.

The draw of these co-living spaces are their communities as Hmlet original residences are "custom-built to enhance conversation and connection." Residents are also treated to community exclusive events, from yoga lessons to cooking classes. However, the ongoing COVID-19 pandemic has led to the rise of lockdowns and safe distancing measures. Thus, co-living becomes a safety concern.
Though this has proven to be a challenge for Hmlet, Kamalski is more inclined to focus on the opportunities brought about by the pandemic. The 30-year-old shared that it has accelerated digitization, and the startup's pivot to a property and lifestyle platform "couldn't have come at a better time."
Hmlet has recently introduced an all-purpose platform that provides features like online transactions, virtual viewings, and YouTube walkthroughs. Earlier in June, the startup invested in property-listing tech amid a pivot towards becoming more asset-light. Instead of renting and renovating properties, landlords are now able to list their properties on Hmlet Listed—automating many routine tasks, and adding features like 3D photography virtual reality tours.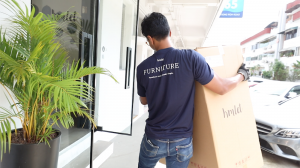 The startup has also launched Hmlet Furniture, a furniture subscription service that offers over 100 items for rent, with the option to return, swap, or buy out the furniture. Another new feature, Hmlet Interiors, is an online interior design service offering various packages ranging from pocket-friendly to full service brief-to-build. The launch of Hmlet Listed also helps developers to reach out to end users directly and provides an avenue for a whole range of services including a digitized and seamless property viewing experience.
These developments come at a time when there are now greater expectations for properties to accommodate working needs, while maintaining a balance between leisure and work. Kamalski added that Hmlet is designing its new properties with this in mind, while giving consumers greater customization abilities through its new platforms. By utilising digitalization, data, and analytics, they seek to better understand what members want and enhance their offerings accordingly.
Hmlet has recently been named by LinkedIn as one of the top 10 startups in Singapore that have remained resilient during this pandemic, as it continues to attract investment, employees and attention. In July, Hmlet raised USD 40 million (SGD 54.8 million) in a Series B round. In a media statement, the startup said it would use the funds to grow across gateway cities in Asia. As part of its new direction this year, Hmlet is expanding its services to Malaysia and Thailand.
According to Kamalski, the startup has seen an influx of property developers, operators, and owners in Thailand and Malaysia who are interested in partnering with Hmlet. "The goal of Hmlet's new product lines is to change the way people live for the better—and so we're continuously looking for ways to innovate and reimagine our offerings to add value to our members, landlords and partners," said Kamalski.
This article was originally published by Vulcan Post.