Subscribe to our newsletter to read this first thing on Friday morning. This is the preview of what you will receive in your inbox.
India's monsoon was particularly severe this year. Earlier in July, the western state of Maharashtra was hit by the heaviest rains in four decades. It caused landslides and flooded low-lying areas, claiming at least 180 lives. Two months prior to this, the country witnessed the fiercest tropical storm in two decades hitting the west coast—cyclone Tauktae. The damage it incurred included more than 170 lives and losses amounting to over USD 2 billion. And these were not standalone instances. Such events are becoming far more common than a decade ago, not just in India, but across the world.
In 2021, deadly floods disrupted Germany, Belgium, and China, scorching wildfires erupted in the US, Turkey, Greece, and Russia, and hurricanes devastated parts of the US. All these disasters point toward a worsening climate crisis—which essentially implies an increase in average global temperatures.
"The world has ten years to halve global greenhouse gas emissions before we reach 1.5°C of global warming," noted PricewaterhouseCoopers (PwC) in its State of Climate Tech 2020 report. Otherwise, scientists warned, dangerous impacts will kick in.
For this week's big read, we looked at how investors are betting again on climate tech startups—in India and globally—almost a decade after the cleantech boom and bust happened.
The Big Read
Climate tech investments gain pace in India
What Happened
Global climate tech investments have risen sharply since the COVID-19 pandemic underlined the fragility of humankind. At USD 17 billion, 2020 witnessed the highest ever funding in the segment. And it took only six months in 2021 for climate tech startups across the world to raise USD 14.2 billion, or 88% of what they received last year.
"The climate crisis isn't some distant future event; it is happening here, now, as we are seeing all around the world with storms, forest fires, and heatwaves," Albert Wenger, managing partner at USV, told KrASIA in an interview. "It will emerge as one of the biggest threats and challenges, but conversely also as one of the biggest opportunities for humanity over the next coming decades."
The nearly two-decade-old VC firm—backer of over 100 startups across North American and Europe, including Twitter, Etsy, and Stripe—closed a USD 162 million dedicated climate fund in early January 2021."For our climate fund, there are two parts to the thesis. One is mitigation—(carbon) emission reduction—and the other is adaption (to climate change)," said Wenger.
USV isn't the only one to wake up to the climate challenge. As global liquidity returned at the end of 2020, many heavyweight investors began pooling money to take on the monumental challenge. TPG attracted USD 5.4 billion for its Rise Climate Fund that was set up in early 2021, Lowercarbon Capital, a climate-tech focused fund founded by longtime investor Chris Sacca and his wife, Crystal Sacca, raised USD 800 million, Blackrock raised over USD 250 million for its climate finance fund to invest in emerging markets, and General Atlantic kicked off fundraising for a USD 4 billion climate tech fund.
India—the third-largest emitter of greenhouse gasses that ranks seventh in the global climate risk index of 2021—is also seeing its share of capital—albeit small—flowing into the nascent space.
According to a September 2021 report by Impact Investors Council (IIC), Climate Collective, and Arete Advisors, 120 climate tech startups in India raised nearly USD 1.2 billion from 2016 through 2020. This year, there were more than two dozen deals in the agritech and energy sectors, including several that have a climate focus, it noted.
Earlier in June, entrepreneur Harsha Moily, who hails from a political family, set up a USD 200 million climate-tech-focused VC fund, Nature Fix Climate Ventures. Recently, UK-based development finance institution and impact investor CDC Group said it would invest USD 1 billion in Indian climate mitigation projects and businesses over the next five years.
What Does It Mean
Priya Shah, who set up an early-stage climate-focused fund, Theia Ventures, in April 2021 to back climate tech, sustainability, and circular economy startups, believes the Indian climate tech ecosystem is starting to take off, with electric mobility acting as a driver.
In India, 80% of the climate funding during the previous five years went into sustainable mobility and energy, the IIC report noted. Globally as well, climate tech investments last year were skewed toward the new mobility segment in the US and China.
Wenger said the mobility sector makes up for a big chunk of carbon dioxide emissions. And since India, Southeast Asia, and China are adding more vehicles than any other part of the world because of their rapid economic growth, he explained, these countries need to make a quick transition to electric mobility. This is to ensure that the new vehicles being added ideally would be EVs and not internal combustion engine vehicles.
Shah said, hundreds of Indian startups are providing battery as a service through swapping stations, mobility as a service, ride-sharing, electric charging infrastructure, battery chemistry, so a lot of innovation is happening in the electric mobility sector, supported by the venture ecosystem.
"Cleantech has gone through a transformation as a sector where solutions are no longer solely focused on high capex, infrastructure projects with a long gestation period," she said. "With climate solution companies now incorporating technological innovations, there is a wake-up call within the startup ecosystem that you can reach profitability faster and save the planet at the same time."
The Weekly Buzz
1. India gets fifth edtech unicorn in Vedantu after it raised USD 100 million round led by Temasek-backed impact investment firm ABC World Asia. Existing investors including Coatue Management, Tiger Global, GGV Capital, and WestBridge Capital also participated in the funding. Vedantu was valued at around USD 600 million mid last year when it received USD 100 million from Coatue. The recent capital infusion has made the Bengaluru-based startup the 28th billion-dollar company in India this year. The world's second-most populous country got its first edtech unicorn in Byju's in 2018. After the COVID-19 pandemic made education technology companies indispensable last year, India saw Unacademy, Eruditus, and upGrad join the coveted unicorn club.
2. SoftBank-backed Oyo's mega IPO plans may derail due to a legal battle. The Gurgaon-based, seven-year-old unicorn has reportedly been gearing up to file documents for a mega IPO of USD 1–1.2 billion by next week, targeting a valuation of USD 12-15 billion. Oyo is currently valued at USD 9 billion, as per a report by CB Insight. Its former rival Zostel Hospitality, which operated budget hotel chain Zo Rooms, approached the Delhi High Court last month to prevent Oyo from "modifying its shareholding structure or cap table, including by way of an IPO," according to local media reports. The matter pertains to a November 2015 deal that Oyo had signed to acquire Zo Rooms, only to terminate it ten months later.
3. Retail tech funding in India has more than tripled in 2021. Over 200 small and mid-sized retail technology companies have raised a total of USD 843 million between January and September 2021. In comparison, companies of this type raised USD 235 million last year. This means investors have pumped an additional 260% of capital into local firms offering tech solutions for online and offline retailers compared to the entire 2020. Retail tech companies comprise those which provide services like digital ledgers, inventory management, payments solutions, and tools for logistics and fulfillment. These features are developed primarily for mom-and-pop stores, neighborhood grocery shops, and online brands.
4. Bengaluru-based consultancy firm Redseer expects Indian festive season sales to cross USD 9 billion in GMV in 2021. In a run-up to Diwali—the Indian festival of lights—e-commerce firms including Amazon and Flipkart will kick off their mega annual sale events in the first week of October for about a month. The growth comes on the back of the COVID-19 pandemic, which accelerated online adoption among millions of Indian consumers. Nearly 70 million people are expected to shop online during the first week of festive sales.
Top Deals This Week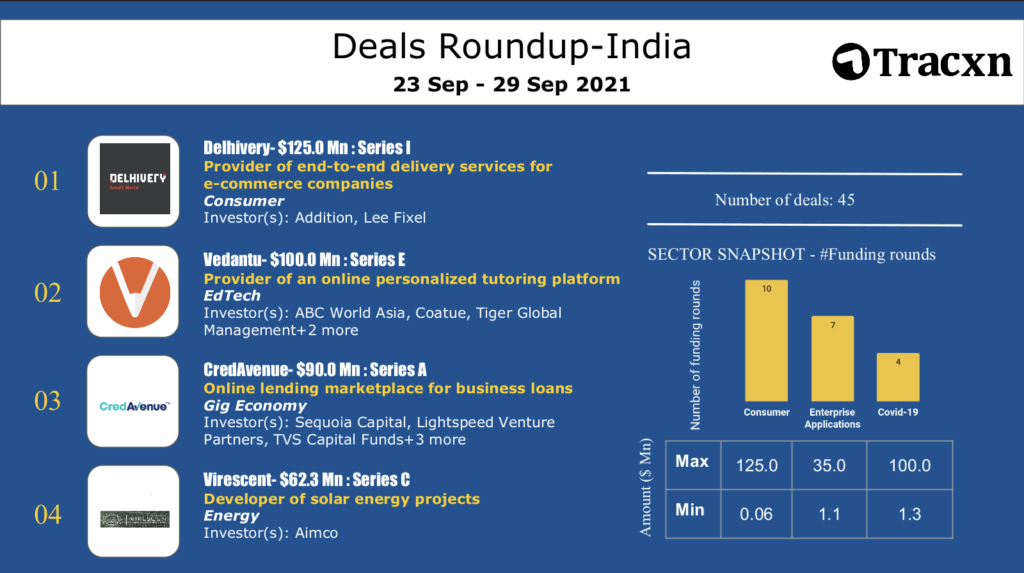 What We Are Reading
The Unknown Path to a Decentralized Future
Albert Wenger, managing partner at American VC firm Union Square Ventures—one of the earliest backers of crypto and blockchain—explored a few years back the foundational breakthrough that blockchains and cryptocurrencies brought. In this article, he talks about this technology's ability to build decentralized networks that have consistent data without being controlled by a corporate or government entity. He argues that this is a technology that is potentially disruptive to large players like Google, Facebook, and Amazon because it goes against the core of their existing businesses, which is the control and rent extraction from networks
The Spoiler
Tune in next week to find out New York-headquartered VC Union Square Ventures's climate investment thesis and the kind of climate tech solutions it is looking to back.