In a makeshift classroom with a red banner reading "University for Seniors" hanging from the ceiling, Ban Ruping tapped on her iPhone and carefully followed the teacher's instructions. "Now, choose the express service and put Tiananmen in the destination slot," a woman's soft voice filled the classroom. "But don't press the 'request a ride' button yet," the teacher added. The class was learning how to use Didi, China's most popular ride-hailing app.
Using her right index finger, the 71-year-old Beijing pensioner slowly typed in the name of the capital's famous landmark. Occasionally, when the teacher spoke, she put down her smartphone and jotted down a few lines in a notebook. She was taking notes of how to access and use various functions of the apps on her phone—ride-hailing, food delivery, instant messaging, and mobile payments, among others.
People in Ban's generation are sometimes referred to as "digital refugees," a term that describes elderly people who find it hard to adapt to rapid technological changes that may seem like afterthoughts for younger people. But as many pensioners are adopting smartphones, tech companies are increasingly targeting them as a new source for revenue.
Ban is a student of a free smartphone training class provided by Kuaile Bama (Happy Mom and Dad), a Beijing-based NGO dedicated to promoting smartphone usage among senior citizens. She and roughly three dozen retired colleagues from her work unit meet up every Wednesday morning for a two-hour session that she described as "fun" and "practical."
She knows firsthand how difficult life can be without basic digital skills nowadays. In this case, being left out is not merely an inconvenience; there can be serious consequences. Last year, she had trouble getting a taxi to drive her ill mother-in-law to the hospital. "It's frustrating sometimes, when you are in a rush, and you see vacant taxis driving by without stopping. It's not because they refuse to take you—it's because they are all booked by others on their ride-hailing apps," she said.
"We can't live without them [smartphones] in the future . . . many places selling breakfast now post QR codes and they prefer mobile payments like WeChat Pay, so we have to learn about it," Ban said.
Another pensioner, Wang Youhua, also acknowledges the importance of smartphones and why he needs to know how to use his. He regularly chats with his family and friends, and checks on updates about his grandchildren with Tencent's ubiquitous instant messaging app WeChat. Beyond the practical aspects, his smartphone also gives him a sense of empowerment and independence: "After learning how to use smartphones, booking taxis became much easier for us old people, and we don't need to ask others for help anymore," said the 70-year-old retired scientist.
But for most retirees, they aren't equipped to enjoy the convenience that can be available at their fingertips. Only 6.9% of China's 854 million internet users—less than 60 million—are over 60 years old, according to a report released by the China Internet Network Information Center. That means more than three-quarters of people in China who are over 60 years old are not online. By comparison, a recent Pew survey found that 73% of the US's pensioners are internet users.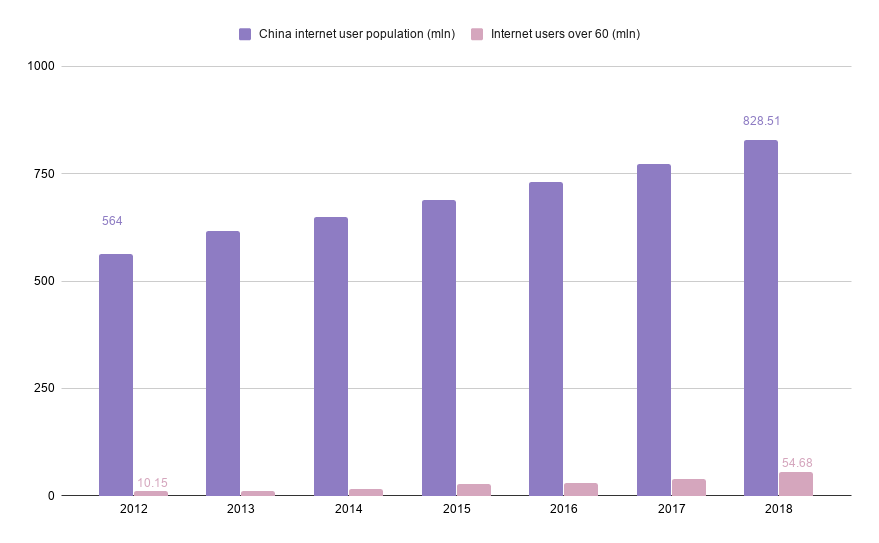 All-inclusive tech
Technical barriers, high price tags for gadgets and internet access, and poor eyesight are often cited to explain why Chinese pensioners are reluctant to go online. But the lack of learning opportunities and social support also makes connecting to the internet a distant goal, according to Gao Wenjun, a researcher at the Chinese Academy of Social Sciences in Beijing. That was one of the findings from a nationwide survey she conducted with her colleagues in 2017.
"Many old people are willing to learn about how to use the internet, but there's no one around to teach them. Their children are busy and usually don't have the time or patience," she said.
Scary tales of internet scams or security risks further deter elderly individuals from adopting smartphones, Kuaile Bama founder Li Xuehua told KrASIA. "All they see are risks, and hence they don't dare to try it," he said.
But insufficient tech skills prevent seniors from enjoying retired life, Li said. "If you take a bus and go all the way to a different district to buy notebooks for your grandchildren, or spend a lot of time waiting in the bank just to check the balance, of course, you would feel busy and exhausted all day," he added.
Determined to help the older generation adapt to the changes in consumer technology, Li began to offer free classes to his elderly neighbors in 2015, teaching them how to use various functions on their smartphones to save time when running simple errands. His classes were warmly received. A few months later, he established an NGO dedicated to helping pensioners with using the internet and smartphones.
Li's classes are free, but he sees them as more than just charity work—he is building the basis for a new market. "Somebody has to do something to educate the silver-haired market," he said. Once elders learn how to use smartphones and mobile payments, it is easier to introduce them to e-commerce and other online services. Li sees smartphone literacy as important abstract infrastructure for an emerging silver economy against the backdrop of a rapidly aging population.
A demographic time bomb is ticking in the world's second-largest economy. The relaxation of the rigid one-child policy four years ago has failed to buoy birth rates yet, and the population is aging quickly. China now has 249 million senior citizens aged 60 or above, and this age group represents 17.9% of the country's total population. By 2050, China is expected to have 587 million people over 60 years of age—or about one-third of the people living in the country.
Growing along with the aging population is the country's silver economy, which covers services for those over 60 years old. The transaction volume in China's silver economy exceeded RMB 3.7 trillion last year—that's roughly RMB 15,000 per head—and will reach RMB 5.7 trillion by 2021, according to iiMedia Research.
"For many big companies, this is a market that they cannot afford to lose," said Duan Mingjie, founder of the Beijing-based consultancy AgeClub.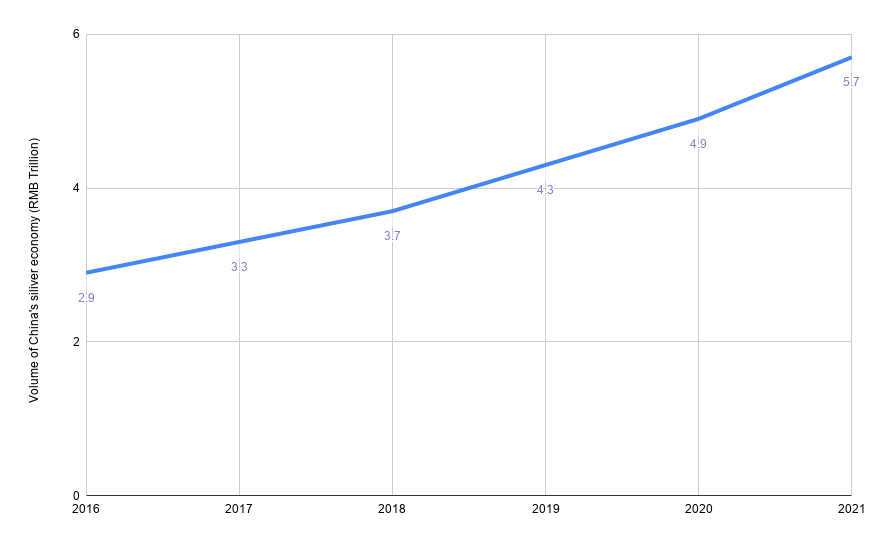 Old Money, New Revenues
In the past few years, there has been a sharp increase in the number of internet users who are over the age of 60. Penguin Intelligence, a think tank affiliated with Tencent, listed the growth of senior internet users as one of the most notable trends in the next few years in a report published last December. Senior internet users, according to the think tank, could be "the biggest source of dividends" in the future.
Consequently, big tech and startups are waking up to the trend and starting to provide services that are tailored to the demands of this age group, Duan said. AgeClub does consultancy work for businesses that wish to break into the silver market, and since the beginning of this year, he has seen a surge of interest in their services from prospective entrepreneurs.
Tencent, whose instant messaging app WeChat is indispensable in China, has quietly been building its portfolio to meet the needs of elderly users. In April, Tencent participated in the Series C funding round of Tangdou, a square dance community app that hosts dance tutorial videos hugely popular among dancing grannies, becoming one of the firm's new investors. It is also understood that the tech behemoth has also invested in Xiaoniangao, a popular app that many elderly users use to transform their photos into photo books and videos.
Other companies are also making moves to tap the silver market.
Take e-commerce as an example. Statistics from QuestMobile show that the time older users spend on online shopping has increased by 27.4% from 314 minutes in December 2017 to 400 minutes in December 2018. And while the majority, 63.6% of these older users, are still spending less than RMB 200 on online purchases each year, more than 10% of elderly online shoppers are spending more than RMB 1,000 annually. JD.com, one of China's largest e-commerce platforms, found that in the first three quarters of 2017, individual older users were spending more than twice as much as an average user on their platform.
Alibaba's Taobao, the top dog of China's consumer e-commerce industry, found that roughly 50 million phone numbers listed as delivery recipients appeared on their transaction records in January 2018 had not yet registered on their platform. In order to pursue these potential new users, many of whom are over 60 years old, Alibaba launched a special version of its Taobao with a simpler interface design and bigger fonts last February.
Perhaps most unexpectedly of all, Douyin, the domestic version of ByteDance's short-video app TikTok that is mega-popular with millennials and Generation Z, is also experiencing explosive growth among older users. Its number of elderly daily active users has grown nearly sevenfold from around 3 million last September to more than 21 million this year, AgeClub's Duan told KrASIA. Responding to the influx of older users, Douyin and its rival Kuaishou are both enticing older online celebrities to set up channels on their platforms.
"It's the choice of the market," Duan said, explaining why big tech is now eager to woo pensioners, a demographic group they have long overlooked. "It's a big cake."