Amid the COVID-19 pandemic, several Chinese companies have powered their healthcare platforms with bilingual services to launch global online consulting assistance, attracting users from overseas markets.
The coronavirus outbreak has swept across more than 200 countries and regions around the world, with more than 697,000 infections and over 33,000 deaths as of March 30. Many patients across the globe—especially Chinese people living overseas—are turning to these internet-based options for medical diagnosis and treatment, especially at a time when millions are forced to stay at home due to mandatory quarantines and travel restrictions.
JD Health, the healthcare subsidiary of e-commerce giant JD.com, kicked off its free bilingual Chinese-English global online consultation service on March 21, according to a statement from the company. The service features medical experts with frontline experience battling the coronavirus outbreak providing text-based consultation in English.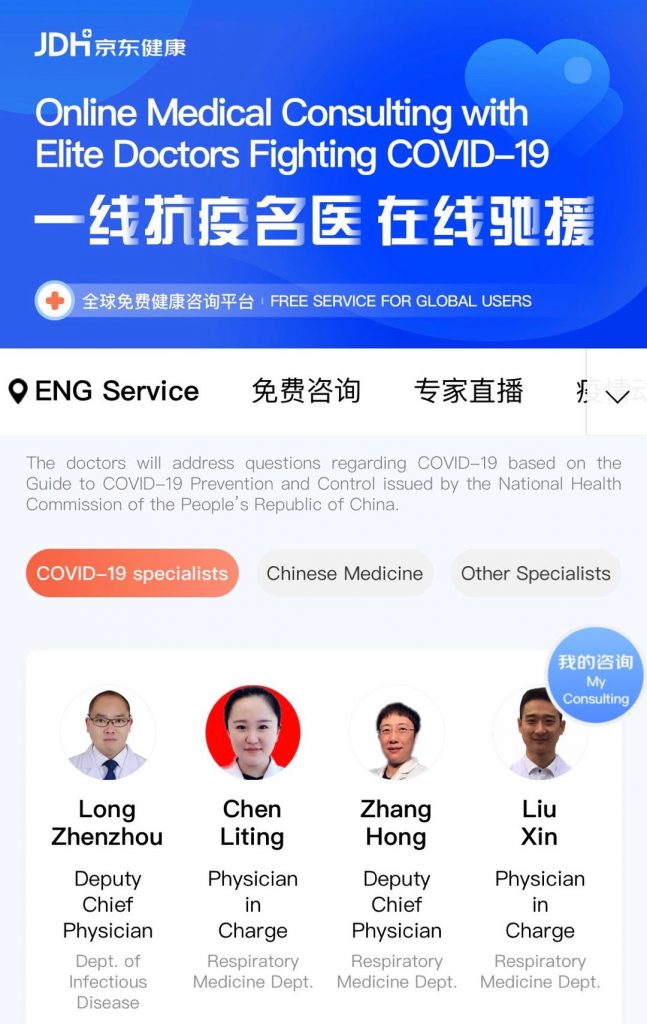 The platform, which is an upgrade of JD Health's Chinese-only overseas medical consultation, has already received over 5 million visitors and nearly 100,000 requests as of March 26, including more than 5,200 in English, according to the company's data.
JD Health's doctors are also developing a coronavirus diagnosis and treatment manual in English, built on the experience gained since the outbreak first started in China nearly two months ago.
The company launched its free online consultation program for coronavirus related inquiries to domestic users in January, and then expanded the free service to all diseases on February 6. However, users may still need to pay if they prefer a designated doctor to deal with their inquiries. 
Tencent-backed WeDoctor, an online diagnosis and appointment booking platform founded in 2010, has also jointly launched a free bilingual healthcare platform on March 14 with China International Exchange and Promotion Association for Medical and Healthcare, providing both English and Chinese medical service to its global users.
Named WeDoctor Global Consultation and Prevention Center (GCPC), the platform brings together medical professionals from China's top-level hospitals in various departments including respiratory medicine, infectious diseases, and general medicine, to offer real-time online medical services to users around the world.
As of March 31, over 7,700 doctors across China have volunteered to join the platform and helped over 55,000 users, with more than 12 million people visiting the website, according to data from the platform. The service has reached over 149 countries and regions as of March 25 including Italy, Japan, and the US, according to local finance media outlet Securities Daily.
Other companies, including Baidu, Alibaba, and Chunyu Doctor, have also joined the efforts by offering international medical support, although without bilingual services and focusing mostly on Chinese nationals overseas.
Chinese search engine giant Baidu has expanded its online consultation platform Wenyisheng, which was opened for free during the coronavirus outbreak, to global users since March 18, enabling netizens to access free medical consultation services via its search engine.

As of March 23, over 250,000 medical consultations for overseas Chinese users were completed on the platform, while total domestic queries had reached over 32 million since the outbreak, said Baidu. In addition to online diagnosis services, Baidu also offers psychological aid and live-streaming sessions offered by experts with tips about how to prevent coronavirus infections.
Alibaba's health unit Alihealth and fintech affiliate Ant Financial have also launched an online consultation channel on Alipay for overseas Chinese on March 8, allowing its users to consult with a China-based doctor for advice about COVID-19 or other diseases if they cannot seek immediate medical advice locally. Chinese embassies in Italy and Japan have recommended the feature to Chinese citizens located in their host countries, KrASIA reported.
The platform has received hundreds of thousands of inquiries from overseas Chinese as of March 23, state-owned media Xinhuanet reported.
Beijing-based telemedicine platform Chunyu Yisheng also launched a similar platform on March 16. It has provided free medical consultations to over 20,000 users across more than 30 countries as of March 23. Most of the inquiries are from countries Italy, Spain, and the US, which are among the most affected by the coronavirus, said the company.