Many tech trends have emerged in the past year as consequences of the coronavirus. There were verticals that attempted to align lockdown life with pre-pandemic routines, like online education, telemedicine, and e-groceries. And there were fields where memes displaced boredom to form bubbles, like cryptocurrencies and NFT art sales.
Amid all of this, the podcast boom in China has been refreshing, largely because it evoked a shared memory of a time when the radio was always buzzing and the airwaves were not heavily mediated by platforms. Creators of every stripe are finding their footing on newly launched apps and platforms, and listeners are tuning in.
Despite its relatively small size, China's podcasting community remains a force to be reckoned with for its unparalleled originality and content quality. However, there is a mismatch—high-quality work is often unrecognized as a separate category by dominant audio platforms like Ximalaya, Lizhi, and Dragonfly.
"Podcasting before 2019 felt much like running a pirate radio station," said Tang Ling, a podcaster and producer. "We use the format only as a way to directly connect with our audience and put out content that otherwise would not be published."
This departed from the norms followed by China's content creators, who typically worked within the bounds of platforms' formats and rules. Look no further than Toutiao, Weibo, and WeChat—there are established patterns of how to produce content that gets shared widely. Following them gives a post a slightly longer half-life, and maybe even a tinge of virality.
"Until 2020, podcasting has consistently been a sphere where creators, instead of platforms, have always had an upper hand," wrote Yang Yi, founder of JustPod, a website that follows podcast-related developments. Compared to mainstream video and text platforms, where content is hosted and consumed in the same place, a large number of podcasting platforms remain the sheer medium where audience and creators connect, thanks to the RSS-based design Apple Podcasts have popularized.
Pods of podcasters find their own sound
Xiaoyuzhou FM, a podcasting app launched in March 2020 that is largely responsible for China's podcast boom, propagates a non-platform listening experience by enabling manual subscriptions through RSS feeds. The app, welcomed by old and new Chinese podcast listeners, began as an invitation-only affair with a minimalistic interface.
The team's deep involvement in the community and indie spirit are reflected in Xiaoyuzhou's features. On the homepage, editors feature three episodes each day, handpicked from a tight pool of arete podcasts. The timeline, on the other hand, provides a Soundcloud-like visualization of where listeners feel compelled to react to what they hear: tap the "like" button or leave a comment as a podcast plays, and the timestamps will be mapped in the peaks and valleys of an audio progress bar that projects feedback from the audience.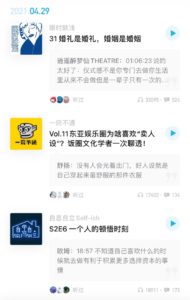 "Xiaoyuzhou FM is the app I will recommend to my friends as a gateway platform if they are not podcast-savvy," said Oscar Wang, a 26-year-old newcomer to podcasts. For people who are not already familiar with the audio literary form, Xiaoyuzhou's neat curation makes it easy to discover the next series they may want to follow.
If recommendations made by Xiaoyuzhou's editors (all human) define what is worth listening to, then the social functions that were added later are meant to build a tight-knit community around podcasts. Each featured episode is presented alongside the profile pictures of listeners who liked it, every person paired with a highlighted comment. User profiles show the three most recent episodes they tuned in to and how much time they have spent listening to podcasts in total. If someone's activity aligns with what you might enjoy, just click "follow."
In the latest iteration of Xiaoyuzhou's app, the human touch hasn't been displaced, but algorithm-generated recommendations are present too. According to independent researcher Guan Kui Podcast, about 2,500 Chinese podcasts are now putting out content on a weekly basis. The expanding scope of content posed challenges to Xiaoyuzhou's purely manual recommendation process.
Xiaoyuzhou FM is not alone in marrying audio content with social functions. Lizhi Podcast, a new spinoff app launched by Nasdaq-listed, audio-based social network Lizhi, took this to another level by venturing into livestreamed podcasting. Audio livestreams are hardly a new idea in China tech. Joyy Inc. and Lizhi have sculpted the soundscape of social- and entertainment-oriented live audio webcasts, while Clubhouse had a moment on air in China before its well-moderated, topic-oriented sessions were blocked for good.
"Clubhouse's huge popularity definitely injected energy into the audio content industry," said investor Zi Wei. "It reminded us that speaking with a smartphone is the content creation form with the lowest effort, and closest to our real life." After Elon Musk steered thousands of Chinese users to Clubhouse, the app lasted a week before logins with Chinese phone numbers were banned. Hosts of popular Chinese podcasts were among the most active and popular users in the Mandarin-speaking corners of Clubhouse, moderating highbrow panel discussions on a collection of niche topics.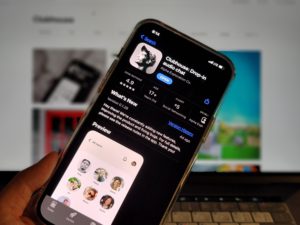 Other newly launched podcasting apps also make a conscious effort to integrate social functions into podcasting. Piting, the podcasting app backed by short video behemoth Kuaishou, incorporates a user-generated newsfeed and features content that appeals to a mass-market audience. Soda, an ambitious upstart still in closed beta, goes so far as to feature one episode at the top of the homepage with comments popping up, much like the bullet comments popularized by video streaming service Bilibili.
China's podcast scene is populated by a spattering of apps, each doing its part to make podcasts more appealing to people in the country. According to Moon FM, 6,569 new podcasts went online in China last year, outnumbering the running total from the previous five years combined. This wealth of creation is paralleled by a surge in listeners. A survey conducted by PodFest China, a podcast-themed conference, shows that 56.7% of active podcast listeners only began tuning in after 2018, and 23.9% picked up the habit in 2020.
The success of podcasting apps also helped define a genre of audio content that previously didn't have a label. Crystal Wang, a long-time radio host on NetEase Cloud Music, did not realize what she made could be called a podcast until 2019. With a radio broadcasting background, Wang started her own show in 2015 to share audio diaries of her own travels. She joined the podcasting network Marcast in 2019 and just received her first business sponsorship this year. More broadly, it was not until 2020 that major music and audio platforms like Ximalaya, Lizhi, and NetEase Cloud Music defined podcasts as a standalone category within their platforms.
PodFest China's report shows that podcast listeners tend to be educated, inquisitive, middle-class youth. This implies podcasting is still niche. According to a report by Ximalaya, the permeation rate of audio content in China is at a 91.2% high, while podcasting reaches just 0.2–0.4% of Chinese people.
"Podcast creators seem to have this tendency of setting ourselves aside from the larger audio content market, which I do not think is necessary or correct. Eventually, podcasts reach the audience through audio all the same as audio classes, social audio, and audiobooks. We are competing for users' attention against video and text, and users will not discriminate when they choose based on their preferences," said Marc Lee, founder of Marcast.


Big tech goes long
As podcast lovers hold on to their indie spirit, big tech is cornering a far larger market—audiobooks.
However, podcasts' more lucrative cousins are not exempt from the curse of insufficient monetization. Lizhi, the first Chinese audio company to go public in the US in 2020, had its latest share price at USD 5.17, well below its initial public offering price of USD 11.
Lizhi's net revenue comes primarily from sales of virtual gifts purchased by listeners for anchors: for all of 2018 and the nine months ended September 30, 2019, it accounted for 98.3% and 99.1% of total revenue, while advertising revenue accounts for less than 1%.
Lizhi's downfall hasn't stopped more Chinese audio companies from going public in the US. Ximalaya, which announced its IPO on May 1 this year, has a more diverse profit model. According to its prospectus, the company's monetization spreads over paid subscriptions, advertising, livestreaming, educational services, and other services. Among them, paid subscriptions contributed a leading 43.4% of total revenue in 2020, amounting to more than RMB 1.7 billion (USD 265 million). The educational content, which comes with commentary and coursework-like structure, is the key to Ximalaya's profitability.
For both Tencent and ByteDance, the audiobook strategy is an important section in their entertainment metaverse. Through acquisitions and investments, Tencent has built a comprehensive content production pipeline from online literature, publishing, and licensing, to video adaptation. In January 2021, Tencent Music Entertainment (TME) purchased Lazy Audio, a long-form audio content app featuring audiobooks.
Long before the acquisition, Kuwo Chanting, another audiobook app, was launched under TME's Kuwo Music. Tencent also utilized its e-book platform WeChat Reading to experiment with the possibilities of audiobooks, launching the logically named WeChat Audiobook app alongside an in-app audiobook selection.
Integrating audio into a larger content ecosystem is also part of ByteDance's playbook. ByteDance purchased China's second-biggest e-book platform, Zhangyue, exercising a tactic that was identical to Tencent's acquisitive approach with China Literature. Online literature is now an important source for multimedia content adaptation in China. By starting with the written (or typed) word, both Tencent and ByteDance aim to capture attention through audiobooks, audio dramas, and other sound-only formats for entertainment.
"Most big tech companies appear hesitant to invest in podcasting because not enough good business practices are there yet," said Marc Lee. "Commercialization of Chinese podcasts is difficult. A large part of the reason is that audio as a medium itself is supplementary, and thus is often consumed without fully capturing the user's attention, unlike text and video. Individual podcast creators are still in desperate need of more support to connect with and leverage potential advertisers."
Podcast networks like Lee's Marcast, which are organizations that produce, distribute, and monetize podcasts at small scales, are stepping in to fill the void. In the last year, organizations like JustPod, Podcast Commune, Sheng FM, and Marcast have emerged with a shared vision to empower indie podcast creators. Beijing-based Podcast Commune launched Wavpub, an online tool for podcast content distribution and data collection.
China's online audio market was worth RMB 17.58 billion (USD 2.74 billion) in 2019 but is expected to triple from that mark to RMB 54.31 billion (USD 8.46 billion) by 2022, according to iResearch, a firm that specializes in research related to online consumer behavior. There is little doubt that podcasts, audiobooks, and other forms of sound-based entertainment will become part of the rotation for more and more people in the country.