Disney's classic film Mulan features a scene where the titular character wipes off a frighteningly thick layer of white makeup from half of her face. For some, this brings back the question of whether ladies in sixth century China used arsenic, a popular whitening additive in ancient times, to powder their nose. Even now, these enduring questions of safety and quality still dog Chinese beauty brands taking on the USD 532 billion global beauty industry.
Despite 41% of the global cosmetics market being concentrated in the Asia Pacific, Chinese brands remain sidelined as consumers maintain concerns about products with the "Made in China" label. For instance, when KrASIA asked 26-year-old Singaporean Lim Shuching if she would consider using Chinese beauty brands, she immediately asked, "Will it give me skin cancer?"
Chinese beauty brands are hitting back to overcome troubling image issues. In particular, social commerce platform Xiaohongshu, or Little Red Book in English, is becoming a crucial tool to drive perceptual change.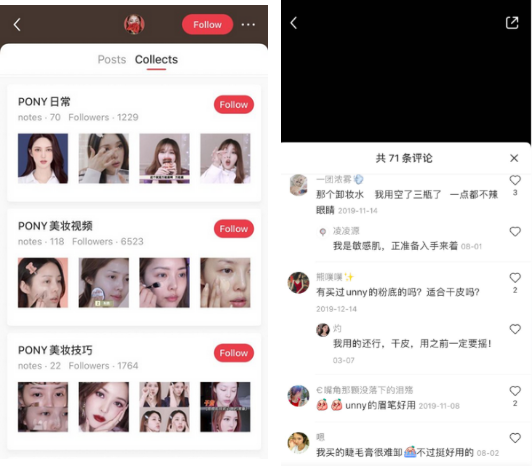 Authentic notes are a baptism of fire
Xiaohongshu originated as a cross-border e-commerce site, but inadvertently became a massive repository for user-generated content (UGC) owing to its reputation for authentic reviews. Its mobile social media platform combines elements of YouTube, TikTok, and Medium, allowing users to post videos that run for one to five minutes, accompanied by longer posts. Like Pinterest, it also encourages users to save videos as part of curated personal collections.
These functions are nothing new, and Xiaohongshu's user base, at 85 million monthly active users, pales in comparison to similar short-video apps such as Douyin (550 million) and Kuaishou (490 million). But if Douyin and Kuaishou attract users with their exaggerated video filters, Xiaohongshu carves out its own niche by attempting to peddle true-to-form content. It is the beauty vertical's go-to platform for information, a more viral version of the western world's influencer.com or makeupalley.com websites.
Unlike other short-video apps, which leverage high-entertainment contributions to satisfy short attention spans, Xiaohongshu thrives on quality product notes which accompany posts—not just bells and whistles. This ostensibly cuts through the whirling dervish of marketing, with cross-checked information helping consumers make decisive leaps of faith when investing in unknown brands. Authentic reviews, which are short in supply on other platforms such as Taobao, are just the baptism of fire that Chinese cosmetics brands need to gain trust.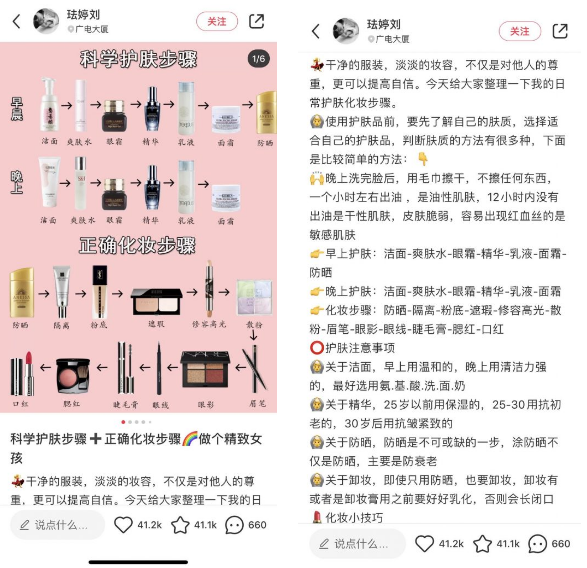 This focus on richer, more educational posts is especially important for skincare products. Unlike makeup, skincare products do not generate instantaneous transformations and are less suited for dramatic video makeovers without sacrificing credibility.

"I look at Xiaohongshu every night before I go to sleep," said 21-year-old Zhu Xiaoran to KrASIA. "If I'm going to waste time watching videos anyway, at least this is maybe considered research."
On Xiaohongshu, brands can apply for an official account. They may commission influencers to review products, but partnerships are tightly regulated and need to be labeled—in part spurred by occasional slaps on the wrist from the government. That platform was previously plagued by fraudulent reviews, and Xiaohongshu was even pulled from Chinese app stores in August 2019 so it could "rectify" its content. According to China's National Enterprise Credit Information Publicity System, Xiaohongshu also received at least six fines for publishing false advertisements in 2019. Since then, it has frantically tightened its review of posts and users in an attempt to hold on to its coveted image of authenticity.

A new breed of marketing for young brands
Of course, celebrity key opinion leaders (KOLs) are paid for product reviews and their objectivity is questionable. But Xiaohongshu's ability to accelerate the growth of younger Chinese brands originates more from its new breed of key opinion consumers, or KOCs: normal people with only a few thousand followers who test products and offer their opinions, seeding further reviews from other users.
For newer, cash-strapped Chinese brands, a deft B2K2C (business to KOC to consumer) marketing strategy via multiple KOCs who write original notes is more cost-effective than hiring a single KOL. Xiaohongshu's algorithm mainly recommends original product notes, regardless of the number of followers that an influencer has. Since Xiaohongshu's currency is information and not celebrity, microbloggers can outperform expensive KOLs with the right content. Further, consumers trust KOCs more than KOLs because they are less beholden to sponsorship deals and hail from relatable backgrounds.

Hedone, a new makeup brand, uses Xiaohongshu to carry out campaigns on alternating months, enlisting a select group of low to mid level KOCs to write reviews for its top-performing products. Despite only commissioning 657 notes in 2019, periodic marketing with cheaper KOCs gave the brand strong exposure. Hedone is now called the new "Glossier" of China.
Intense user engagement on the platform assists the penetration rate of KOCs. Compared to other apps, where comments sections are supplemental, commentary on Xiaohongshu is obsessive, focusing on the product and not the person. Instead of only low-hanging comments expressing adoration for KOLs, comments challenge, suggest, and follow-up with further questions on the product itself.
In a virtuous cycle, brands further leverage Xiaohongshu to gather feedback, learn about emerging trends, and scout product testing profiles for their pipeline. An ear to the ground helps domestic brands stand out with exceptional responsiveness—like the growing trend of herbal ingredients-based skincare products and rising interest in base makeup products in China.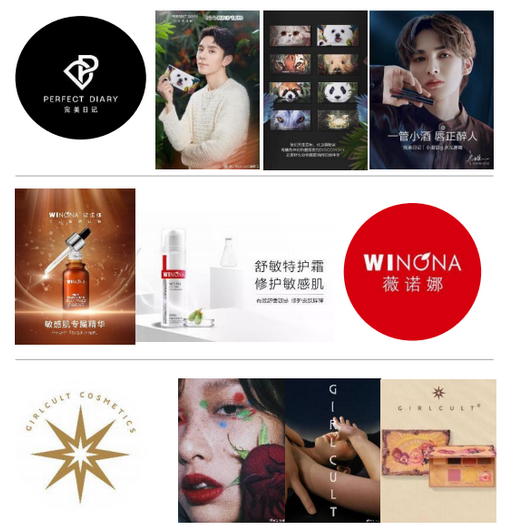 What catalyzed this grassroots engagement? Xiaohongshu's demographic coincides with the main user base for beauty products. According to Xiaohongshu and Ipsos' 2020 Beauty Industry Report, nearly 90% of its users are female, with 74% of them aged between 19 to 32. The majority of its users—42%—live in tier-1 and tier-2 cities, and tend to spend more on beauty products.
According to Luo, a marketer for an up-and-coming Chinese male skincare brand that did not want this report to include her full name, the growth of KOCs coincides with the popularity of trends for "ingredients-based" purchasing. Rather than watching a vaguely entertaining video of a photogenic actress washing her face, users now want in on the details behind a product.
"Consumers nowadays are smart and do not just purchase based on brand power. Now, they buy based on the specific ingredient they are looking for, like niacinamide or hyaluronic acid. KOCs break down the ingredients in big brands and identify new brands providing similar key ingredients. This is the growth of consumer science," she explained to KrASIA.
A success story with room for more
Some of China's most successful domestic skincare brands grew up on Xiaohongshu, such as five-year old Perfect Diary, which is now valued at USD 2 billion. The firm first launched aggressive campaigns on Xiaohongshu in 2017, working with an army of KOLs and KOCs to sweep through the platform with at least 78,000 notes. As of August 2020, Perfect Diary has 1.96 million followers on Xiaohongshu, outstripping foreign blockbusters such as L'Oréal (280,000) and MAC (30,000). Older brands like Pechoin, founded in 1931, also gained a new lease of life by utilizing Xiaohongshu to rehabilitate its image.
Certainly, Xiaohongshu is not the only platform that deserves credit. Users often only use it to carry out research, before completing a purchase on other e-commerce platforms with better sales promotions. Nonetheless, China's biggest e-commerce giants clearly see potential synergies in Xiaohongshu's traffic generation. In 2016, Tencent (0700.HK) led its USD 100 million Series C funding round. Not one to be outdone, Alibaba (NYSE:BABA) led Xiaohongshu's USD 300 million Series D funding round two years later, a rare instance of a company simultaneously backed by both Alibaba and Tencent. With strong capital support, Xiaohongshu now hints at refocusing on its UGC capabilities rather than competing in the e-commerce sector.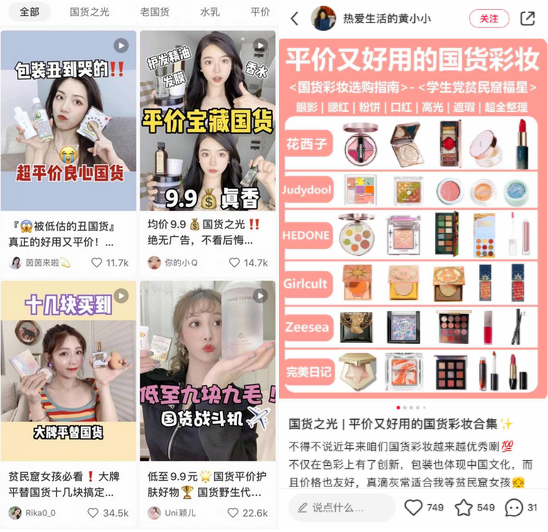 Now, Xiaohongshu has hopped on the bandwagon of patriotism, introducing hashtags like "glory of national products" to encourage content that covers domestic brands. But so far, foreign brands still take up the bulk of Chinese consumers' beauty purchases, and 90% of the top-performing beauty products on Xiaohongshu originate from overseas. Habits and perceptions take a long time to change.
Still, according to Xiaohongshu and Ipsos' 2020 Beauty Industry Report, as of the first half of 2020, the amount of content related to Chinese beauty brands viewed by users on Xiaohongshu grew by 65.9%, although it remains unclear whether this is in pace with the overall bump in the platform's volume of UGC of this streak. Competition from foreign brands is not necessarily bad for domestic contenders that still use brand association to elevate their images.
Luo testified to this. "We group influencers together based on their lifestyles. If they are selling imported products, we may want to be associated with them, because they can still give off the image of valuing quality."