Read China Venture Roundup for key weekly takeaways about China's tech venture and investment landscape. KrASIA keeps you updated on China's most active investors, promising startups and the hottest verticals of the moment—bringing you closer to one of Asia's most developed tech ecosystems. 
This new series will be published every Tuesday—sign up here to get this directly sent to your inbox each week!
Editors Note:
The enthusiasm of venture capital increased significantly compared with last week. Funding rounds are still focused on strategic investment and early financing while enterprise services, healthcare, industrial tech and e-commerce (tied for the third place) are the week's leading industries.
Several highlight events in the VC circle have captured the attention of investors. This includes WM Motor's Series D, closed at RMB 10 billion (USD 1.47 billion), and Perfect Diary's pre-IPO investment, setting the company on track to doubling its valuation in the next 6 months.
This week's VC trends to note
The week of 21 September to 27 September saw a significant increase in investments made, with a total of 102 compared with last week's 60. The top 3 industries are: Enterprise services (20 deals, accounting for 19.61%), healthcare (19, 18.63%), and industrial tech and e-commerce tied for third (both 11, 10.78%).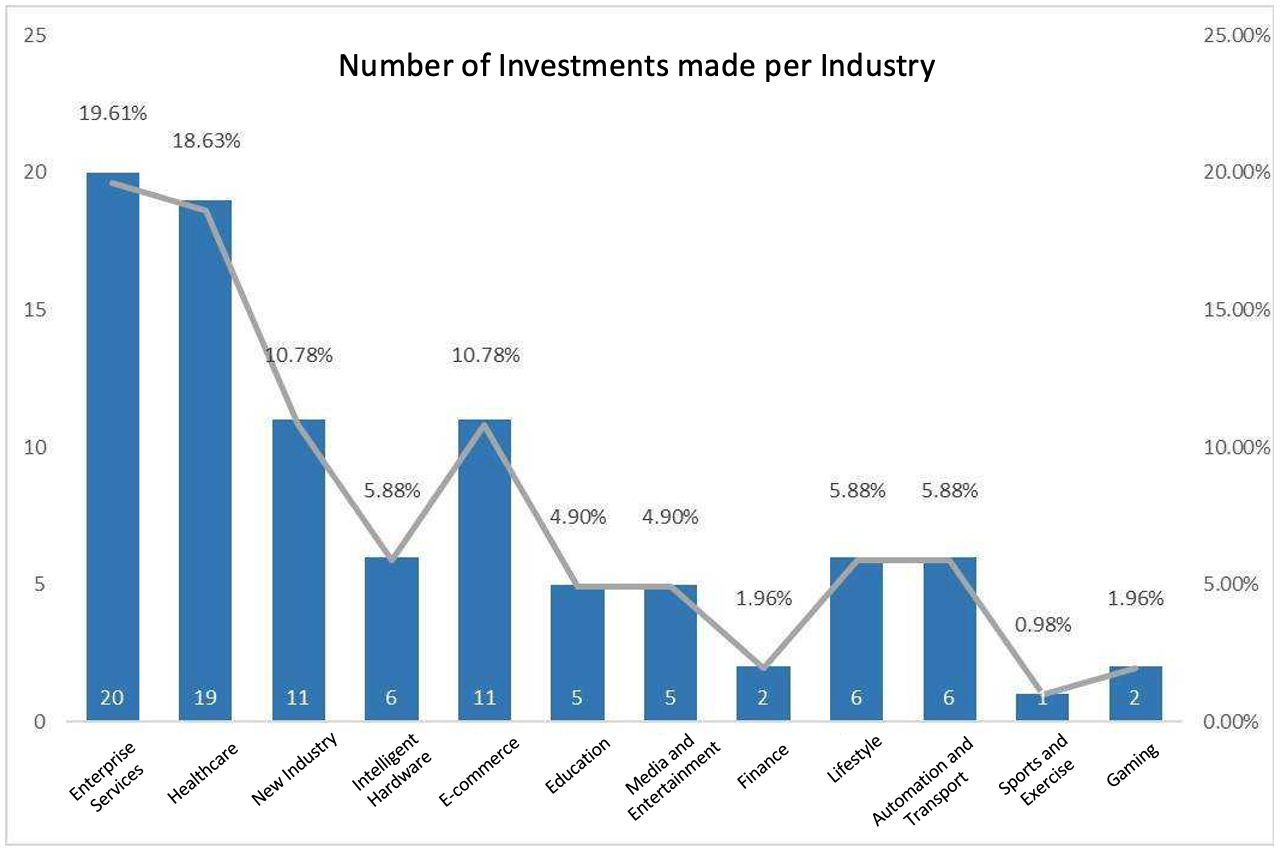 In terms of funding rounds, early stage and strategic investments remain at the front. Strategic investments closed with 23 deals closed (22.55%) while Series A led with 25 deals (24.51%). Series B funding also saw an increase this week, rising to 13 deals closed (12.75%).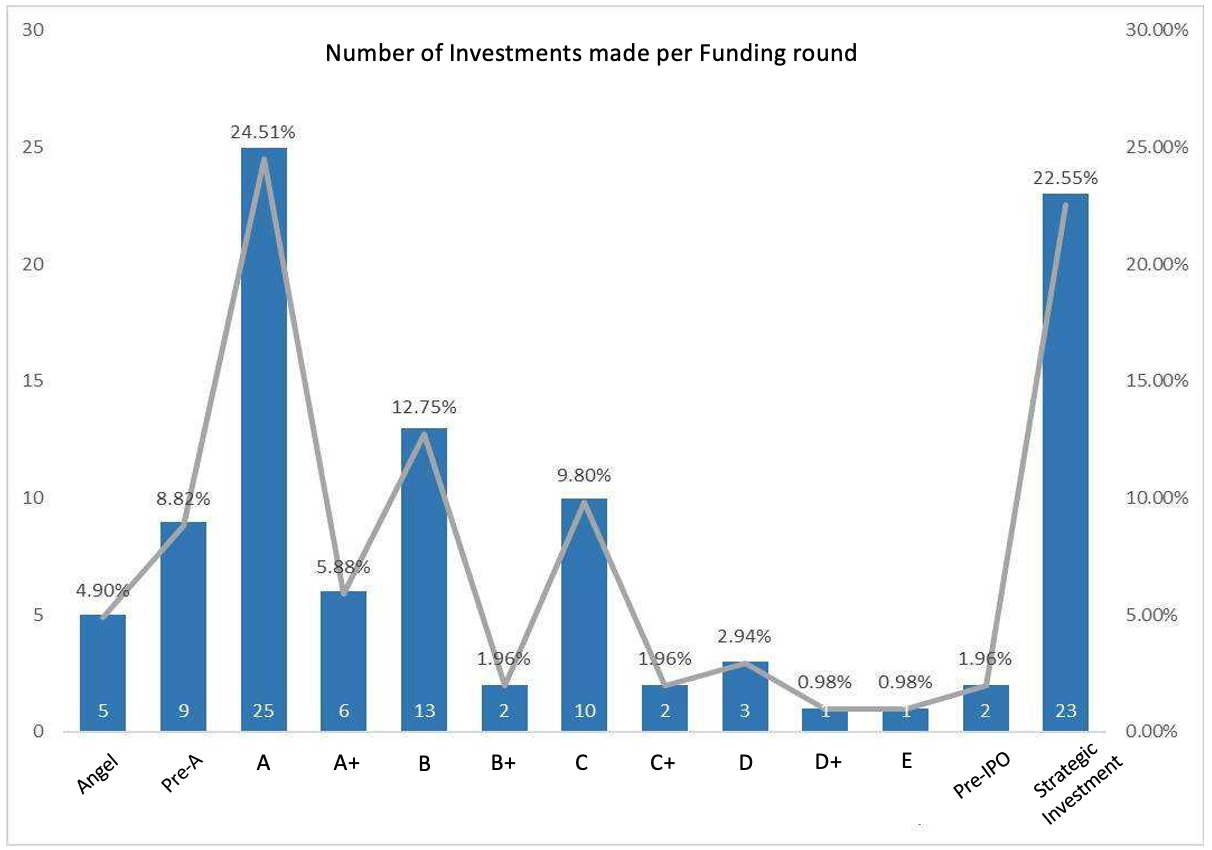 This week's investment news
The number of big-ticket investments for the week more than doubled that of last week (17), totaling 43 investments that exceeded RMB 100 million. The top 3 high-value industries are healthcare (12), industrial tech and enterprise services (7 each). Additionally, quite a number of companies have closed pre-IPO rounds and are preparing to list publicly.
WM Motor's Series D funding of RMB 10 billion (USD 1.47 billion) was the week's largest deal closed. The round was jointly led by Shanghai's state-owned investment platform and SAIC Motors. Returning investors included Baidu and SIG China, while a number of state-owned industrial investors such as Hubei Yangtze River Industrial Fund, State Development Industrial Fund (SDIC), Chongqing Xinxi (中青芯鑫), and Tsinghua Unigroup (紫光集团) followed.
Moreover, WM Motor has begun restructuring of its shareholders in preparation to list on Shanghai's Star market.
Beauty and cosmetics company Perfect Diary (part of Yatsen Global) closed their pre-IPO round at USD 140 million and is expected to double its current valuation within half a year, to hit USD 4 billion. They plan to list in the United States at the end of the 2020.
Minisol submitted its IPO prospectus to the US Securities and Exchange Commission this week, with a plan to raise USD 100 million. It is also reported that Ant Financial is looking to raise USD 17.5 billion for its HKSE IPO and will not include the participation of cornerstone investors. Jingdong Health will also gun for its IPO in Hong Kong, with the plan to raise USD 2 billion.
This week's fund news
A total of 8 funds started or completed raising funds during the week of 21–27 September 2020, with the total scale reaching RMB 38.1 billion.
Among them, the largest fund is Hubei Hongtai Development Fund, with a target of RMB 30 billion (USD 4.42 billion) and an initial size of RMB 10 billion. RMB 4 billion of that were raised by Wuhan City and Wuhan Economic Development Zone, and the remaining RMB 6 billion funds were raised by other state-level funds, national enterprises, and social institutions, with Hongtai Capital Holdings as the fund manager. It is expected to be completed by the end of this year.
It is reported that Hongtai Capital Holdings plans to deploy the fund across 4 main verticals—equipment manufacturing, new-generation IoT, natural resources, new energy, and electrical equipment. The goal is to upgrade traditional industries, while cultivating and expanding emerging industries, thus tapping on high-tech enterprises with rapid growth and listing potential, and actively explore emerging industrial projects in advanced manufacturing, artificial intelligence, and other related fields.
BA Capital's RMB Fund II and Inspiration Capital's RMB Fund I were also raised during the week.
BA Capital has consistently focused its investments on B2C companies, having previously invested in Pop Mart (泡泡玛特), HeyTea (喜茶), Harmay (话梅), and more. Their RMB Fund II will follow suit.
Inspiration Capital RMB Fund I, on the other hand, will focus on intelligent manufacturing, environmental technology, smart energy, and automotive technology, covering companies from early growth to growing stage.
This week's startup news
Consumer and Entertainment
Heyshop; founded in 2016, raised pre-Series A
Heyshop is a new retail platform, transforming itself into an online mall for household products in 2020. Starting with the five main categories of beauty and personal care, fashion, snacks and drinks, home furniture, and pets, Heyshop has more than 600 new domestic brands and 10,000 hot-selling products on its platform.
By focusing on direct-to-consumer (DTC) brands and more specialized categories, Heyshop's target customers are young female millennials. The higher receptiveness to a new lifestyle and domestic brands of young customers allows new brands more space for growth. In terms of pricing, most of Heyshop's products are within the price range of affordable luxury and above fast fashion, with an average price of about RMB 400.

Enterprise Services
INTPLOG (普罗格); founded in 2012, raised Series A
INTPLOG is a technology supply chain and logistics service provider that provides customers with integrated consulting services for warehousing and distribution. The company mainly serves customers from three major industries: Healthcare, new retail, and intelligent manufacturing. Current clients include: BESTORE, Sinopharm Group, Zhejiang International Medicine, Valeo, and other leading enterprises.
INTPLOG's "smart warehouse" network covers five domestic regions, including East China, Central China, South China, Southwest China, and North China, and has existing partnerships with Cainiao Logistics, Suning.com, and Vipshop e-commerce, providing intelligent warehousing operation services for the above three companies.
Recurrent (循环智能); founded in 2016, raised Series A
Recurrent is an AI driven company that utilizes machine learning to analyze original voice and the sales process, as well as sales conversion results, helping clients improve their sales conversion rate.
Their main product is a new generation SaaS intelligent sales system, including three core modules: The lead recommendation system helps enterprises to cover the most valuable clues at the right time with minimal salesforce while improving sales conversion rate. Customer voice analysis is the analysis and monitoring of the transformation funnel and customer profile in the sales communication process. Service quality inspection is helping enterprises efficiently identify problems and risks in the interaction with customers.
DianYiHuo (店易火); founded in 2018, raised Series A+
DianYiHuo entered the market as a food delivery operator. It has more than 10 F&B brands under its flag and provides solutions for small and medium sized caterers. Its one-stop services include supply chain management, offline training, marketing, AI technology, as well as providing technical support and guidance to catering practitioners customized to the operating conditions of different stores.
Healthcare
Bota Biosciences (恩和生物); founded in 2019, raised Series A
Bota Biosciences is a biotechnology company focused on synthetic biology, with bases in Boston, California, and Hangzhou. By building a standardized and automated high-throughput experimental operation biofoundry, the company combines machine learning and artificial intelligence to systematically engineer organisms, and to develop efficient, green, low-cost industrial biological manufacturing technology suitable for large-scale production.
CEO Cheryl Cui holds a PhD in biomedical engineering jointly received from Harvard-Massachusetts Institute of technology. She was listed in Forbes' 2018 list of "30 under 30" in healthcare. Co-Founder Lu Guanda is an associate professor of electronic engineering and bioengineering at the Massachusetts Institute of technology. He previously co-founded NASDAQ-listed Synlogic.
ImmVira (亦诺微); founded in 2015, raised Series B+
ImmVira is a biotechnology company that uses oncolytic virus oHSV (Oncolytic Herpes Simplex Virus) to develop innovative drugs for tumor immunotherapy. Professor Zhou Guoying, chairman and CEO of ImmVira, is a former associate professor and honorary chairman of the University of Chicago. Professor Bernard Roizman is the inventor of T-VEC (Imlygic), an immunotherapy treatment that is already available on the market.
ImmVira is currently in the clinical trial stage for its independently developed oncolytic virus, with trials in Australia, China, and the United States. They are also exploring the treatment of multiple solid tumors. Concurrently, ImmVira is also developing oncolytic virus products to meet the needs of different tumor treatment, including the development of specific viruses for tumor therapy.
Fiture; founded in 2019, raised Series A
Fiture creates high-end home fitness experience, combining equipment, AI-driven technology, content, and customer service. After buying its device, users can enjoy a large volume of fitness content.
Fiture has independently developed its own "Fiture motion engine." The motion tracking engine can provide users with real-time fitness guidance, evaluate the user's physical and sports ability. It can customize a private fitness plan, dynamically adjusting according to the actual fitness situation, enabling users to reach their fitness goals faster.
Foodtech
Mr.Hi; founded in 2015, angel investment
Through linking more than 110 micro foodblogs, Mr.Hi successfully launched its first seafood product in 2015 and gained the reputation of healthy seafood snacks the following year. It has subsequently launched several internet-lauded, well-loved seafood snacks, such as roasted seaweed, baby squid, roasted cod fillets, and more.
To date, Mr.Hi has launched 28 seafood snack products, including snack series, fast food series and nourishing series. It's two-star products are its roasted cod fillets and crispy seaweed sandwich. Both products accounted for about 80% of its sales in 2019.
MissZero (超级零); founded in 2017, raised Series A
In 2019, MissZero launched carbohydrate-burning products to help the dieting consumers achieve calorie control and fat reduction by providing carbohydrate burning meals sets. At present, their star product ranks first in its category on Tmall, with monthly sales of RMB 10 million (USD 1.47 million), and the repurchase rate is 2-3 times that of similar products. MissZero recently launched its latest product—gourmet low calorie cookies, with calories less than 300 kcal per serving.

Education
Qingwa Xiezuo (蜻蜓写作); founded in 2019, raised seed round
Qingwa Xiezuo aims at online quality education for children aged 5-15. It provides writing courses with strong language as the core. It hopes to cultivate young people's writing ability and improve their literary interest and knowledge.
Its products are mainly online courses in the form of text and audio, which can be divided into two categories and are taught in small classes: The first collaborates with well-known writers to develop systematic courses suitable for online writing guidance based on their published books; the second is to work with Chinese teachers in primary and secondary schools, and the content focuses more on the specific problems encountered by young people in writing, such as "how to write a good beginning?"
This week's policy news
China Automotive Chip Industry Innovation Strategic Alliance was established in Beijing on September 19
Jointly supported by the Ministry of Science and Technology and the Ministry of Industry and Information Technology, the National New Energy Vehicle Technology Innovation Centre officially established the "China Automotive Chip Industry Innovation Strategic Alliance" in Beijing.
Tsinghua Unigroup is a founding member and the vice president of the alliance, its subsidiaries Guoxin Micro and Unisoc are part of the alliance council.
More than 500,000 5G base stations have been built in China, with the total number of telnet connections exceeding 100 million.
According to the Ministry of Industry and Information Technology, they will continue to promote the construction of the domestic 5G network. They will encourage telecom enterprises to accelerate the construction of independent networking, increase co-construction and collaboration efforts, thus striving to build a high-quality, economic, and efficient 5G network.
Ministry of Commerce: 17 new pilot projects of the market procurement trade mechanism
According to the WeChat announcement made by the Ministry of Commerce, they have jointly issued a document to launch the fifth batch of the 'market procurement trade' mechanism with the Development and Reform Commission, and the Ministry of Finance. 17 pilot projects will be launched across Inner Mongolia, Liaoning, Zhejiang, Anhui, Fujian, Shandong, Henan, Hubei, Guangdong, Guangxi, and Yunnan.
With the launch of the fifth batch, the total number of pilot projects will be 31, spanning 15 provinces, autonomous regions and cities in the East, Central, and Western regions. In the first eight months of this year, China's market procurement trade exports reached RMB 434.95 billion, up 31.5% against the trend, thus becoming a bright spot in foreign trade growth.
Ministry of Industry and Information Technology announced the 337th batch of road motor vehicle manufacturers and products announcement
On September 25, the Ministry of Industry and Information Technology of the People's Republic of China formally announced the 337th batch of road motor vehicle manufacturers and products, and the catalogue of energy-saving new energy vehicles eligible for vehicle and vessel tax reduction and exemption (the 20th batch).
There are a total of 325 product iterations from 113 enterprises applying for new energy vehicle products, among which 99 enterprises have 272 models of pure electric products, 15 enterprises have 25 models of plug-in hybrid power products, and 17 enterprises have 28 models of fuel cell products.
China Securities Regulatory Commission conducts classified examination on refinancing of listed companies
On September 25, China Securities Regulatory Commission spokesman (CSRC) Chang Depeng stated that the CSRC carried out classified reviews on the refinancing of listed companies, focused on whether the issuance conforms to laws and regulations. In the audit process, if there are no problems or major problems affecting the conditions of issuance, they will go directly to the preliminary review committee for examination.
The other aspect is to focus on whether the application meets the issuance conditions. It is reported that the plan has been formulated and has been released on September 28.
This week's top stories
The market for food condiments experienced a decade of rapid development from 2004 to 2014. Despite the slowdown in 2015, the market segmentation was continuously refined, the quality of single condiments—such as salt, sugar, vinegar, and soy sauce—improved, and the compound condiment market—products that pre-pack a variety of condiments for a single dish, pre-made sauces etc.—continued to expand. In 2020, there are 4 main aspects to note:
The market for single condiment products demonstrates two main trends: First, there is a growing preference for condiments that are both functional and 'healthy.' For example, there are many varieties of soy sauce available: Iron-rich, low sodium, etc. Second, average product prices have been rising.
The compound condiment market sees segmentation between traditional household names such as chili brand Laoganma and a surge of startups that tackle the fast food business sector. Product variation seems endless and venture capital investors remain interested.
Catering is a 'king' distribution channel for FMCG enterprises, with catering businesses leading the demand for condiments—approximately 50% of market demand. Although the pandemic has driven down sales for households, it has opened up a new customer segment for takeout meals and food delivery.
Condiments specifically marketed for children is another growing segment, with children condiments making up 3.8% of the children's food market in 2019. It should be worth noting that there has yet to be an official safety standard for children-marketed condiments. 95% of children's soy sauces sold on major e-commerce platforms are still held to the standards of regular soy sauce.
In 2017, Yimada (易马达) launched its green smart energy network platform which consists of smart batteries, smart battery exchange stations, energy management systems, its app, and big data platform.
The smart battery exchange system is a tool of high frequency and efficiency for businesses that rely on Yimada's vehicles. The traditional two wheeled vehicle needs several hours to charge, and needs to park in a fixed place for charging, which is time-consuming and unsafe. Through the power exchange system, the flexibility allows a rider to receive more than ten orders a day and earn more than RMB 100.
For regular vehicle owners, the most important advantage of power exchange system is convenience and safety. For safety reasons, many communities and neighbourhoods do not allow electric vehicles to be kept indoors, along the corridors, or to be charged in these settings. Changing batteries becomes an effective solution for such scenarios.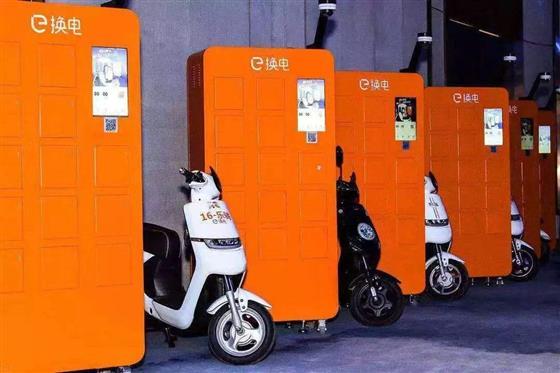 As a VC that doesn't shy away from the spotlight, A16Z has consistently invested in its brand image as a thought leader. Regularly uploading industry relevant content on its website, some people have likened them to being a tech media channel. Their efforts in building brand recognition is similar to that of other domestic VCs, who too spare little expense for effective PR.
Moreover, post-investment portfolio management is another aspect that A16Z and Chinese VCs have in common. Establishing a dedicated team to assist startups in issues such as recruiting, PR, and more has added to a VC's value proposition. Amidst stiff competition, these tactics can help VCs with attracting deal flow.
With capital winter and a lacking sense of community between consumers and merchants, the maternity e-commerce market has seen better days. There are two possible approaches to revitalizing this slump:
First, for the market to position themselves as the traffic gateway to larger e-commerce platforms, emulating the social e-commerce models of Little Red Book (xiaohongshu) and microblogs. Second, to collaborate with community driven platforms like Mogujie to drive more traffic into their own relevant e-commerce platforms.
Sign up here to receive China's Venture Roundup in your inbox every Tuesday!
Note: KrASIA's 'China's Venture Roundup Volume.4' was adapted from 36Kr's Venture Weekly series