Editor's note:
According to China's General Administration of Customs, exports in August performed better than expected with a 11.6% increase; narrowing the gap between imports and exports. China's big 3 telecommunications companies (China Mobile, China Telecom, China Unicom) also announced that they had built more than 600,000 5G base stations thus far.
Outside of China, the week saw the collapse of LVMH's acquisition of Tiffany & Co, NVIDIA's USD 40 billion acquisition of British chipmaker ARM from Softbank and Trump announcing that he would not extend the deadline for Tiktok restructuring, leaving speculation for Tiktok's next move.
The Venture Capital market warms up this week, with most action in strategic investments and M&A. Healthcare and Enterprise Services continue to be the leading industries for investment.
This is the second volume in our China's Venture Roundup series, read vol.1 here. 
This week's VC trends to note
From 6 September to 13 September, there were 104 deals closed.
With regard to industries, Healthcare, Enterprise Services and Photoelectronics* lead the pack. Healthcare and Enterprise services each saw 17 deals (17.5%) closed, maintaining its popularity amongst investors. In addition, ZTE Microelectronics topped the Photoelectronics industry, rounding the total of deals to 10 (10.3%).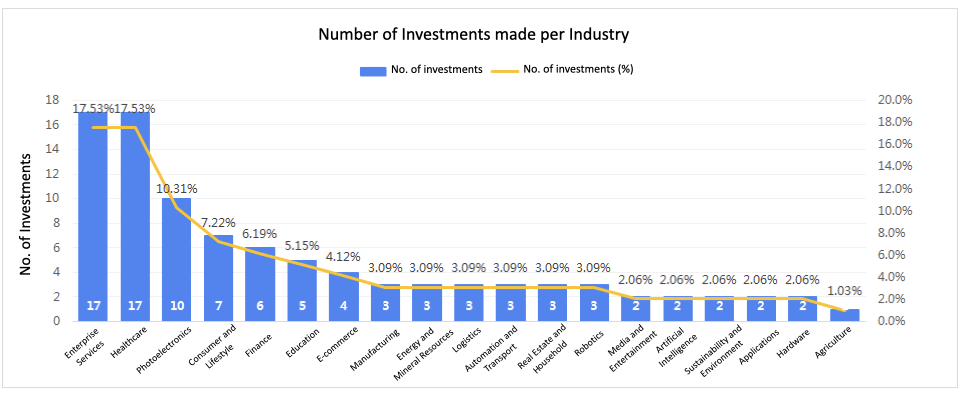 Looking at funding stages, strategic investments and acquisitions were on an incline in the week, with 29 (30%) and 13 deals (13.4%) closed, respectively. Followed by series A investments at 12 deals (12.4%), signalling a decrease in early-stage (angel, series A) investments.

Investment headline of the week
Amongst the 30 big ticket investment deals (exceeding RMB 100 million) of the week, Healthcare led with 8 deals, far surpassing the performance of other verticals. Fintech came in second with 4 out of its 6 deals exceeding RMB 100 million, and consumer tech and Photoelectronics came in third with 3 deals each.
In terms of outstanding individual deals, notable startup ZKI's (Zijin Asset Insurance) RMB 5.6 billion round was second to none. ZTE Corporation's investment into Sanechips trailed behind with RMB 2.4 billion.
Venture fund-raising headline of the week
Global Logistics Properties (GLP) has set up a new equity investment fund, combining the industrial expertise and strategic development of China Construction and Development Group and GLP, as well as the opportunistic location of Xiamen. The fund will focus on investing in innovative technology and solutions in the verticals of logistics, supply chain, consumer tech.
With a full category asset investment management strategy spanning sub-fund investment, direct investment and co-investing the fund aims to build a GP alliance inclusive of the top PE funds in China. The industry-wide, multi-faceted approach gives room to explore the investment opportunities amongst leading enterprises and promising high-growth startups; ultimately, built to drive a strong industrial ecosystem.
Chobe Capital and Quectel Wireless established a co-fund (Heze Qiaobei Jingrui venture fund, 菏泽乔贝京瑞创投基金) aimed at raising RMB 160.5 million. The fund focuses on equity investment of industrial IoT, specifically in frontier technologies that can replace current domestic systems and be widely adopted.
Managed by China Everbright Securities Asset Management, the Everbright Strategic Fund aims to raise HKD 156 million.
Note-worthy startups
Industrial Technology
MYMRO China, founded in 2005, raised series A
According to MYMRO, they have spent 4 years building the most in-depth and comprehensive database, creating comprehensive business capability around the consumer demand for industrial goods and equipment in China's domestic market. This 6-layered product marketplace is built and classified according to the industries and product functions relevant to its visiting customers, providing customers an easy experience.
MYMRO's digital supplier management platform also allows them to facilitate real-time communication with all of its suppliers, providing accurate data on products, inventory, delivery period, quality, technical support, business accounts and settlement, and so on.
Pending a management buy-out from its parent company, MYMRO is planning to establish regional warehouses such as in Guangzhou and Tianjin and build client-facing warehouses to form a national supply chain distribution network. Concurrently they are setting up industry-specific customer teams, that specialise in managing the clients from steel, energy, power, petrochemical and other verticals.
To date, MYMRO has served more than 100,000 clients across the manufacturing, energy, logistics, metallurgy and more and claims a 70% client retention rate. Clients include both domestic and international, state-owned and private enterprises, including but not limited to, CHN Energy, PetroChina, China Railway Group, ShunFeng Express, Broad-Ocean Motors, Siemens, A.O. Smith and SABIC.
Moying Robotics, founded 2019, raised Pre-A round
Moying Robotics focuses on the R&D, production and application integration of advanced mobile cooperative robots, providing comprehensive multimodal robot solutions for advanced intelligent manufacturing and flexible production. Their product is specifically oriented to flexible manufacturing and application scenarios non-suited for human operation. At present, their robots has been used in the fields of metal parts machining, semiconductors and in biochemical laboratories, completing tasks like loading and unloading, precision assembly, biochemical experiments, sample detection and more.
Moying's cooperative mobile robots do not require a separate AGV control board or central control box. Instead, all actuators of the robot are controlled by a central control system through fieldbus communication. In comparison to the traditional compound robot, Moying's robots have a complete underlying general framework that only requires light-handed customisation specific to the application scenario, before it is ready for use.
Moying Robotics is currently focused on the high-end market. Compared to the leading 4 robotics companies (FANUC, ABB, Yaskawa Electric, KUKA) only in early stage R&D of cooperative mobile robots, and only KUKA presenting a similar product, Moying Robotics boasts obvious price advantages. Moreover, clients who invest and adopt Moying Robotics's technology can gain the return on their investment within 1.5 years.
RVBUST, founded 2018, raised series A
As a core component supplier for robots, RVBUST focuses on the field of motion planning and 3D vision, providing customers with high-quality scanning and identification functions as well as professional and rapid technical services.
At the end of 2019, RVBUST introduced its Motion Planning Controller (MPC) to the motion planning technology market. The MPC interface is universally friendly, can realise precise control and automatic planning, hence greatly improving the efficiency of deployment. In the field of machine vision, RVBUST has launched two products: Industrial RVC X Series 3D camera with z-axis accuracy up to 0.005 mm and high-precision non-contact VDA (visual displacement analyzer) displacement analyzer.
RVBUST's technology has been applied in automobile, 3C (computer, communications and consumer-electronics), medical, logistics, engineering inspection and more, and its clients include FANUC, ABB, Dongfeng Nissan, ARCplus, TEDA, and other leading enterprises.

Enterprise Services
Linktime Cloud, founded in 2016, raised series A
Linktime Cloud focuses on the use of cloud native technology to categorise and service various components of the enterprise big data system, integrating data from different departments thus providing enterprises with a comprehensive, standardised data infrastructure. Ultimately, helping enterprises quickly implement, develop, apply and manage their data applications and assets, and achieving efficient digital operation.
Linktime Cloud aim is to help enterprises efficiently organise its data sharing, reuse and multiplexing, optimizing the ROI of the adopted data system thus working to commercialize and popularize the data capability platform as necessary for each enterprise.
Linktime Cloud has served dozens of users directly and through collaborating with software developers. Unit price for their standard product is RMB 500,000 with product delivery and implementation complete in 3 months, and repurchase rate is an impressive 100%.
Xinfengwei (鑫蜂维), founded in 2018, raised series A
Xinfengwei is a one-stop enterprise management solution provider, providing digital organization building services based on Dingding, Alibaba's all-in-one digital workplace, for local and domestic, large to medium-sized enterprises and organizations. The company is jointly established by Alibaba and Fengwei. Fengwei is a strategic partner of Dingding, its founder was previously a core member in the creation of Dingding's enterprise service system.
Xinfengwei mainly serves government offices, education institutions and catering enterprises, such as launching of new digital infrastructure solutions for the government.
At present, Xinfengwei has become the largest enterprise digital operations service provider in China, serving more than one million organizations, with the ability to serve organizations of different sizes. In 2019, the company focused on R&D and onboarding customers, drawing a total revenue of nearly RMB 100 million. Xinfengwei is expecting to breakeven in 2020.
Haohuo Technology, founded in 2015, round not disclosed
Haohuo Technology serves the local gig economy demand by sourcing and matching both freelance workers and relevant projects and job openings. By collaborating with the commercial departments of local governments, Haohuo helps freelancers apply for e-business licenses for individual industrial and commercial household needed to legitimise their freelance work. Enterprises outsource their work demands to the Haohuo platform, which then assigns the work to freelancers through big data matching, and assists customers in managing compliance settlement, tax registration, tax declaration and billing, etc.
This model of matching freelancers with companies helps regulate the the local gig economy. Freelancers can obtain more social security and can benefit from preferential tax policies and inclusive financial services for small and micro enterprises.
There are currently more than 400,000 individual users and 3000 enterprises on the Haohuo platform, mainly marketplace companies, that involve real-time distribution, e-commerce (fresh produce), online education, new retail, manufacturing and other industries.
Insurtech
Jiniu Technology (集牛科技), founded in 2019, raised pre A+
Housed in Wechat for enterprises, Jiniu technology enables insurance agents to close their deals in stages in Wechat groups by using task-based and gamification methods. At the same time, it tags customer to mine customer profiles and characteristics, supporting marketing decisions by predicts potential customers, thus preventing customer loss.
Additionally, Jiniu technology's 'Intelligent Expert System' imports data from daily customer consultations and advice on insurance products into a matrix created from the sales logic and speech patterns of top insurance agents. The system automatically carries out semantic recognition, simulating the way real agents communicate with customers, complete with the skills and professional knowledge to close deals and reduce the difficulty of intermediary sales.
It is reported that after implementing Jiniu's technology, the operating investment ROI of the insurance company's agent team has increased by 4 times, the overall account activation rate has increased by 3 times, the number of customers served by individual agents has increased by 5 times, and the ability to reach sales leads has increased by 4 times. At present, Jiniu has become the leading service provider in the field of Wechat for enterprise insurance, holding more than half of the market share.
Consumer Tech
Nowwa Coffee, founded in 2019, round not disclosed
Nowwa aims to become the 'UNIQLO' of the coffee industry, meeting the functional needs of users. Nowwa selects high quality coffee beans, but keeps prices competitive with local convenience stores at between RMB 15 – 25. It aims to serve 80% of the mainstream white-collar worker population.
Nowwa has adopted a clever approach in branching out its retail space – opting for existing coffee shops, providing casual dining, and hosting the coffee operation of stores through asset light transformation. This is a new model between the franchise and its franchisees: the franchisee only needs to bear the cost of rent, while Nowwa is responsible for everything from supply chain, product line and store operation.
Within a year, Nowwa has opened more than 400 stores in Shanghai, Hangzhou, Nanjing, Suzhou and other first and second tier cities.Nowwa has become one of the few top accounts on meituan review and top 3 on 'Ali local life'. Its monthly revenue is in the millions (RMB), of which the online delivery channel accounts for 75%.
Sharkfit (鲨⻥菲特), founded in 2017, raised series A
Targeting the new generation of consumers, Sharkfit ranks as the No.1 fresh chicken breast shop on Tmall amongst several million other suppliers, and has maintained rank for 17 consecutive months. Sharkfit continues to expand its product assortment to include other fresh eat products, dried goods and grains, beverages and more – covering meal accompaniments, substitutes and snacks.
Sharkfit's revenue in 2019 is recorded at RMB 80 million and is expected to exceed RMB 250 million in 2020.
Sharkfit's star product is its chicken breast. In 2019 alone, the sales volume of chicken breast products exceeded RMB 54 million, and the monthly sales volume exceeded 8 million on average. After the successful incubation of other popular products, Sharkfit has added more product categories around this group of healthy life users, and is expected to see further exponential growth. According to the data provided by the company, their top 10 products account for more than 70% of sales.
Education
Moxueyuan, founded 2009, round not disclosed
Moxueyuan is a cloud platform providing mobile learning, online examination, training management and training resources for enterprises. With enterprise training pushed online by the pandemic, Moxueyuan's revenue has tripled in comparison to 2019. Moxueyuan stands out with its cost performance and the standardization of its product marketing system and low-cost customer acquisition.
In 2017, the team operated on a RMB 9/ person/ year basis. In 2019, the team increased the basic annual fee, adding 1999 yuan for each enterprise on top of the existing fee structure. Moxueyuan spent 2 years to refine a line of standardized products and services, including employee smart mobile learning functions and an enterprise training intelligent SaaS system.
Additionally, through WeChat for enterprises, Moxueyuan created an open platform system by connecting dozens of third-party SaaS and software manufacturers to become one of the modules or applications. This open platform brings a large volume of low-cost incoming traffic for Moxueyuan, reducing the cost of marketing and customer service, while improving engagement with and renewal rate of enterprise customers.
Do you enjoy this reading? Sign up here to receive our weekly KrASIA Venture Roundup in your inbox!
Note: KrASIA's 'China's Venture Roundup Volume.2' was adapted from 36Kr's Venture Weekly vol. 81