How can China replicate the broad success of last year's The Wandering Earth, the country's first major science fiction film that became a breakout hit? That's the question that Chinese film authorities are grappling with as they push the domestic film industry to produce more sci-fi blockbusters.
The China Film Administration and the China Association for Science and Technology recently published a list of 10 guidelines specifically targeting the development of Chinese sci-fi films. It covers a wide range of areas that include cultivating industry talent and original screenplays.
But the area where it could have the most impact is visual effects, also known as VFX. The document says China's existing policies for encouraging the development of the software and integrated circuit industries should be applied to developing VFX technologies.
"For me, it is amazing to see an official post pointing at the need for us to improve the China sci-fi movie market," said John Dietz, founder of BangBang Pictures, a Beijing-based VFX company providing services to domestic films. "If the China film market can get national support, that gets me incredibly excited for the next five to 10 years of filmmaking here in China."

Outside the VFX industry, reactions to the directive are mixed. Sci-fi fans don't seem to think "positive energy" is what the genre needs in China. Posts on social media jokingly referred to the Chinese phrase that's now an all-encompassing term for behaviour considered in line with Communist Party policies.
"Sci-fi films' most famous stories are often based on evil corporations and failing governments," said an industry insider who asked not to be named. "If all stories coming from China have to have 'positive energy', this will be really hard for local talent to develop interesting scripts."
But others in the industry have expressed excitement about the news. They say government support could speed up coordination among different sectors in the film production industry.
The scope of the order is broad. In addition to trying to build up the industry from within, the order encourages financial institutions to explore more funding solutions for sci-fi films. It even recommends using such films to help teach science to children in primary and secondary education.
And like so many government initiatives in China these days, the top of the list includes a nod to Xi Jinping Thought, the name of the Chinese president's political philosophy that is now incorporated into the country's constitution. The industry is asked to thoroughly study the philosophy and stick to "correct directions" that will help turn sci-fi films into a driving force of high-quality productions.
It's only been in the last few years that Chinese science fiction has started to reach broad appeal around the world. This is thanks in large part to Liu Cixin, author of the widely acclaimed The Three-Body Problem, and translator Ken Liu.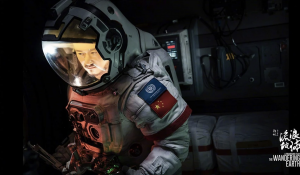 It wasn't always like this, though. The genre has a fraught history in China, having been banned in the early 1980s for "polluting people's minds". A turning point came when The Three-Body Problem won the prestigious Hugo Award in 2015. Then the success of last year's The Wandering Earth, also based on a short story by Liu Cixin, pushed the genre's popularity in China to new heights.
It also proved that with the right story, sci-fi can be very lucrative. The Wandering Earth, costing just USD 50 million to make, pulled in nearly USD 700 million at the box office before getting an international distribution deal with Netflix. It's the third highest-grossing Chinese film and the country's first sci-fi blockbuster. This prompted some to call 2019 "the first year of Chinese sci-fi".But there were also many viewers both in and outside China who didn't find the film impressive. Some people, including the film's director Frant Gwo, pointed out that this box office success doesn't mean the age of Chinese sci-fi films has officially arrived.
Gwo reportedly said at an event in New York last year that Chinese sci-fi films lag behind the US by 25 to 30 years. In another speech at last year's Shanghai International Film Festival, Gwo also said that China has an under-industrialized film sector.
"We lack standards, procedures, and highly professional talents," Gwo said at the event. He added that The Wandering Earth was well-received because viewers were tolerant.
Another domestic sci-fi movie that came out later last year proved the point. Shanghai Fortress, another big-budget production by local industry standards, bombed at the box office. Reviews were almost universally negative.
One adaptation for The Three-Body Problem never found an audience at all. Production started in 2015, but the film was never released. Other adaptations are still in the works.
Visual effects have been a particular weak point in the industry, which is why the new guidelines could make a notable difference in this area, experts say.
The latest Chinese blockbuster The Eight Hundred is evidence of the industry's ongoing VFX struggles, according to Aladin Farré, a Beijing-based content producer and host of SupChina's Middle Earth podcast about China's cultural industries. The film's special effects credits on IMDB only lists foreign companies, although Farré suggested some Chinese companies could also be involved.
Sci-fi films are even more reliant on technological innovations, says Neil Xie, vice president at Base FX, one of the visual effects companies that worked on The Wandering Earth ."For now, the pen of special effects in China is shipped with foreign-made refills, and you can't achieve real breakthroughs and innovation with other people's refills," Xie said, likening VFX technologies to the writing instrument that China long struggled to produce on its own. "Without breakthrough and innovation, we'll only be able to follow Hollywood and copy their effects forever."
The document's support for developing digital technologies also goes beyond VFX. It includes a call for authorities to "support the R&D and industrialisation of key technologies in the fields of film digital content processing and digital copyright protection."
Protecting intellectual property has increasingly become a point of concern in China as domestic companies have accumulated more of it.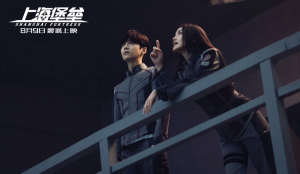 Fritz Demopoulos, an investor who founded the Hong Kong science fiction conference Melon, said China would benefit from better IP protection and commercial laws in general. It might increase the likelihood of financial success, making it easier for creators to take creative risks, he said. The problem now, according to Demopoulos, is that getting paid remains extremely difficult for creators, who have little recourse.
The willingness to take risks could be an essential part of helping Chinese sci-fi films capture what makes the country's sci-fi literature so unique. Dietz said Chinese sci-fi authors have done incredibly well interpreting a concept in clear, entertaining, and sometimes profound ways.
But films are not the expression of a single person's vision, especially big-budget fare like Harry Potter and the Deathly Hallows: Part 1 and X-Men Origins: Wolverine, which Dietz worked on before starting BangBang Pictures in China in 2015.
Film production is a collaborative, complicated and expensive endeavour, he said. To alleviate risks, there's a tendency for many projects to look at what's worked in the past and imitate filmmaking styles.
"In the case of sci-fi movies, when you put a good Chinese story into an imitation of a Western filmmaking style, you are most likely to get something that feels derivative, uninspiring and is less likely to succeed both domestically and overseas," Dietz said. He added that China's film market is so competitive that nobody is willing to share their experiences, leading to creators having to waste resources to reinvent the wheel for every production.

While new policies will take time to implement, there are some immediate benefits that the industry could see from the guidelines. Cecilia Yau, PwC's mainland China and Hong Kong media leader, said sci-fi movie producers might quickly see more scientific support from institutions like the Chinese Academy of Sciences. She likened it to Hollywood studios cooperating with Nasa. But Yau noted that it will be important to see more detailed instructions on how the government plans to implement these policies.
"It's still just a framework. To really stimulate the industry, there needs to be more details," Yau said.
However the policies are implemented, sci-fi filmmaking could be in for changes that go beyond special effects. Some state media outlets have already made sure to double down on the need for Chinese sci-fi movies to follow "correct directions", meaning adhering to what's considered politically correct in the country.
State-run outlet People's Daily said Chinese sci-fi films should blend in Chinese people's values and China's cultural gene. A newspaper run by China's Ministry of Science and Technology said foreign sci-fi movies have been going in the wrong direction for years, and one main reason is that they tend to have "pessimistic" and "negative views about the future".Many foreign productions either never make it to the big screen in China or make changes to films for the chance of a release in the country. China's strict censorship and import quotas on foreign films limit the types of films that get a broad audience in the country.
This is why netizens and experts alike have some reservations about new "positive energy" sci-fi. Demopoulos said he thinks science fiction is best left to evolve naturally, without top-down interference that could hamper innovative filmmaking.
"I'm not sure it is very efficient to direct the creative process via the state," he said. "The market-driven forces that mostly guide Hollywood only yield a few quality, interesting works amongst an ocean of horrible movies. I can't imagine that mandates and guidelines from the state could do a better job."
This article was originally published by Abacus News.