In the last couple of months, several of China's digital giants have jumped into ride-sharing. And this was a surprise, because with the exit of Uber it was believed that Didi Chuxing had that market pretty much locked up. And I think Didi thought this too – as they began focusing on international expansion. Generally that comes after winning in China.
But we have recently seen some interesting moves in Chinese ride-sharing. For example:
Meituan-Dianping has launched its own ride sharing service, starting first in Shanghai and with plans for expansion. I recently visited Meituan HQ and will be writing more about this shortly.
Ctrip.com has announced it has a ride hailing license from Tianjin Municipal Transportation Commission.
AutoNavi (Alibaba's mapping service) is rolling out carpooling in Chengdu and Wuhan.
I think this raises two pretty cool questions:
1.     Why are these companies all entering ride-sharing right now?
2.     Can they win? Can they break into Didi's ride-sharing business?
I've been thinking about this a lot (digital strategy / competition is my area). Here are my answers, thus far:
For question 1: Why are these companies entering right now?
My answer (thus far) is:
They are entering because mobility – and maybe consumer services more broadly – are combining into super-platforms.
They sense an opportunity.
We are starting to see the emergence of several super-platforms in China that combine related activities or services for consumers. For example, in e-commerce, previously separate areas such as entertainment, food and general merchandise, are combining into larger B2C marketplaces.
Combining related services and functions is nothing new in online business. Software and platform businesses can do this fairly easily. You can watch videos, read news and send emails all on one website. And software-based businesses frequently move horizontally into new businesses (Amazon does this all the time). What is different is this phenomenon is now extending to the physical world.
China's super-platforms are rapidly combining online and physical assets (for example new retail combines online retail, offline retail, delivery, logistics). The result is an ecosystem with both physical and online assets that provides one seamless, data-driven consumer experience. These super-platforms are enabling lots of new services, use cases and other services.
Alibaba is charging ahead in this in new retail right now. They are continuing to move horizontally into other product categories (currently groceries and luxury / fashion). And they are also adding physical retail assets, such as supermarkets, departments stores, convenience stores, delivery, automated warehouses and so on to their platforms. However, they are mostly a marketplace and a company that does data technology.
JD and Tencent are doing much the same but in a different way. JD is a combination of a marketplace platform and a online retailer. So their combination of assets is more complicated. And they like to have the assets (warehouses, delivery staff, drone manufacturing, etc.) in-house. So they are more like a data technology company plus an operator.
Industry Barriers Are Moving and Falling
As the online and the physical worlds continue to combine, we are starting to see industry barriers move and fall.
In the physical world, we are long accustomed to certain industry barriers. There is retail, healthcare, pharmacy, grocery, etc. And these barriers are mostly created by the tangible net assets required to deliver products and services in the physical world. In the online world, you can go to one retailer (JD, Alibaba) and you can buy everything. But in the real world, you walk from the shopping mall down the street to the hospital. There isn't one mammoth building that offers everything.
One area where this is happening pretty quickly in China is mobility / transportation. In the real world, you may go one place to buy or rent a car. You may go to another store to buy a bicycle or rent a bicycle. You may take a taxi or take the metro. But on a smartphone, why do you need one app for a bicycle and another for a taxi? Why can't you just go to one app that has everything I need to get from here to there? One app that gets me a taxi, a metro ticket, a bicycle and so on?
And as the physical assets of mobility are fairly small (bicycles and cars, not department stores and hospitals), this convergence is happening pretty quickly. A super platform for mobility is taking shape in China.
Everyone into mobility and ride-sharing
So if you are Ctrip and you are arranging flights, trains and hotels (note: most of the competitive power is in hotel bookings, not bookings for trains and planes), you start to wonder if you need to offer taxi-hailing? Or maybe car pick-ups at the airport? Note: Ctrip has been doing since about 2015. What about bicycles and metro tickets? Can you survive long-term as only half a mobility service?
Similarly, AutoNavi, which is a widely used mapping program (think 700M users), starts to see itself as part of a service that gets people from here to there. Can they survive long-term with only the map and some partnerships? What mobility services do they need to offer? And maybe this isn't just about moving people. Maybe it's also about moving things (such as consumer products)?
For Meituan, the question is much more interesting. You can see their delivery people (in their bright yellow outfits) everywhere in China. Their core business has always been food delivery. And that is a kind of mobility service, sort of. Although technically they are a platform connecting consumers, delivery people and small service businesses, mostly restaurants.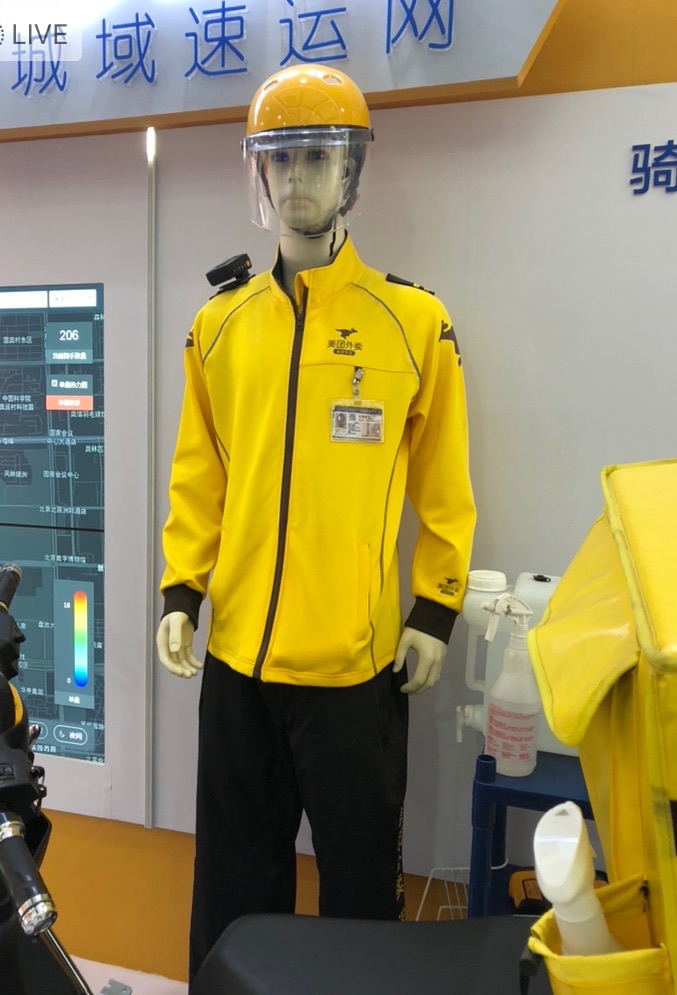 But Meituan is evolving into the "Alibaba of services". They create digital tools that enable small service businesses (like restaurants) to expand and compete with larger service businesses (note: of their 27M daily orders, about 20M are delivery and 7M are other services). If Alibaba is mostly about giving SMEs digital tools that enable them to sell products and compete with larger merchants and brands, Meituan is doing the same for service SMEs. They offer a long and growing list of services that consumers may want and are building out their tools and services for local service businesses.
So if you are the "Alibaba of services", mobility is in your strike zone. And Meituan just bought Mobike. And now they have launched a ride-sharing trial in Shanghai – with a very rapid uptake by drivers (at least in the short-term). So their services focus is starting to look at lot more like mobility services. Photo below is from Meituan lobby.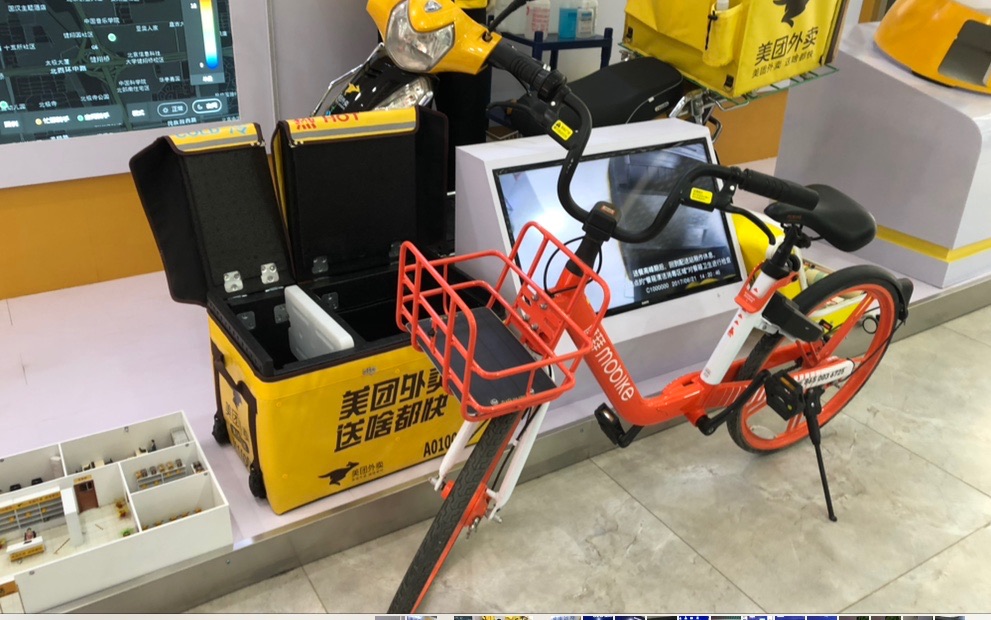 This is all super cool. And it raises some other interesting questions:
What services do you need to remain competitive against a mobility super-platform? Car leasing? Metro? Hotels? Where exactly are the new industry barriers going to be?
What are assets and resources do you need to offer these services? Tangible? Intangible? Data? Customers? And which of these assets need to be in-house versus via partnership?
How do you get these assets? Acquisition? Build it? By partnership or contract? If your competitor buys the only bike-sharing company in the country, what will you do?
So that's my answer to the first question.
These companies are entering ride-sharing and taking on Didi because mobility – and maybe consumer services – are becoming super-platforms that combine online and physical assets into a seamless, data-driven consumer experience.
In Part 2, I will answer the second question: Can they win? Can they break into Didi's ride-sharing fortress? Note: Uber could not.
---
Jeff Towson is a private equity investor, Peking University professor, best-selling author and speaker. His writing and speaking are on Chinese consumers and digital China. 
According to LinkedIn, he is the #1 followed professor in China (+2.6M followers). He was also one of Alibaba's 15 "Global Influencers" in 2017.
He is an active speaker at companies and conferences. Engagements have included Citic Securities Investor conferences, McKinsey & Co. conferences, Financial Times conferences.
His investment / advisory work is in healthcare, primarily in the US and China / Asia. 
His latest books are the One Hour China Book, the One Hour China Contrarian Book and the One Hour China Consumer Book. All were (are) Amazon best-sellers.