Hi there! In the new age of AI technology, we are initiating this bold AI-powered pilot project.

KrASIA's parent company, 36Kr, is the leading tech and business media company in China. Every day, 36Kr delivers an enormous amount of news on Chinese startups. KrASIA wants to share these articles first-hand, but it was impossible to translate huge amount of information manually in the past.

Now, with AI, we have a solution: AI-powered translation with minimal human effort. Therefore, please understand that the translation may affect your reading experience. Nonetheless, feel free to contact us (hello@kr-asia.com) should you have any feedback.

To Chinese readers, if you'd like to read the original article in Chinese: 「值点」之后,今日头条新推的「新草APP」会是下一个「小红书」吗?

Enjoy!
Recently, KrASIA's parent company 36Kr discovered a new social commerce mobile application called "Xin Cao (新草), a probable incubation project by ByteDance (one of the fastest growing Chinese media startups) to compete with the popular lifestyle and community e-commerce platform XiaoHongShu.
Launched three weeks ago on the App Store, Xincao's describe themselves as "a community young people love". The app was developed by Beijing KuaiMaJiaBian 快码加编 Technology Co., Ltd. The largest shareholder of KuaiMaJiaBian is Liang Yibo, who is also the technical director of ByteDance's TouTiao, as well as the legal advisor of Tianjin's ByteDance and Beijing Micro Broadcast Vision Technology Co., Ltd. (developer of social media app TikTok). These indicators strongly suggest that ByteDance is backing this new company.
Not long ago, there are also reports about a project at TouTiao undergoing incubation and will collaborate with TikTok in promoting the app. The current value proposition of the product is to help young people to live a quality life, and future product positioning and functions will be adjusted according to changes in user needs.
Xiaohongshu comes to mind when we think about social content apps. Xin Cao's home page has a similar interface with sections on 'recommended content' and 'news buzz, featuring content appealing to a younger audience.
However, we still see a resemblance of TouTiao in Xin Cao's app:
The tabs include food, travel and digital. This is very similar to the TouTiao's
XinCao features their content with "picture+text" / "video+text", this user interface may also be slightly less dense than XiaoHongShu
Users will have to leave the main page to continue reading an article whereas Xiao Hong Shu allows users to read the full content without leaving the main page
As a social platform, Xincao hides their content from the homepage. The full content can be seen only when the user clicks on a topic. It is okay for TouTiao as a news provider to have such an interface. However, as a social, the interface requires too many clicks and content restrictions will deter users from sharing to other platforms, and hence reduce the amount of user-generated content.
The company might want to build a platform with more professionally generated content and topic settings in this early stage, but the community still relies on the user's spontaneous output to drive user activity. If XinCao wants to catch up with the 100-million-user XiaoHongShu, there need to be more adjustments made in product design.
36Kr learned that Xincao had already invited influencers and KOL to use the platform since August to provide more exposure to the app and bring traffic.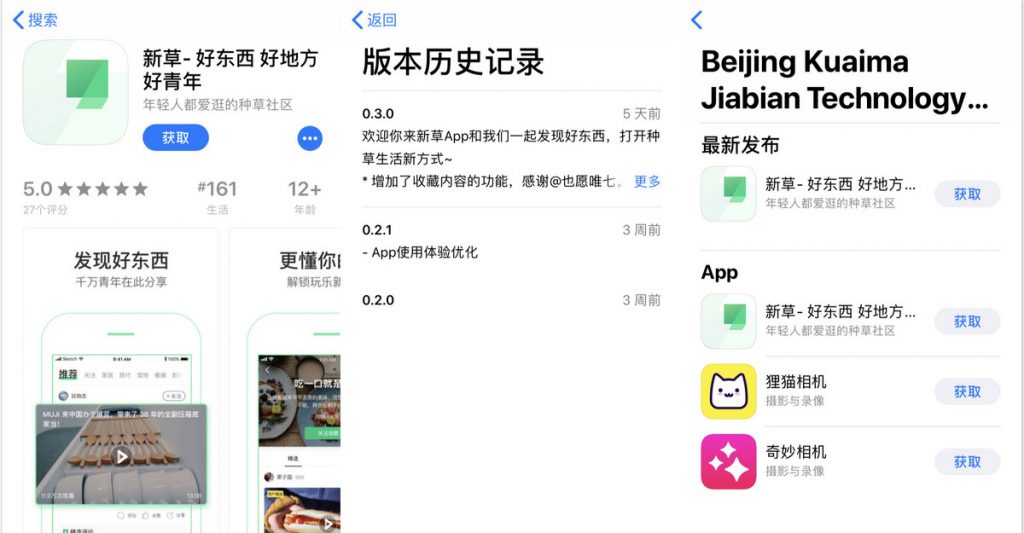 Can TouTiao disrupt the e-commerce market?
Looking at TouTiao's Xin Cao and the recently launched TouTiao backed Zhi Dian (值点), both have different strategies on diving into e-commerce. Zhi Dian positions themselves as an affordable e-commerce platform while Xin Cao provides mainly content. "ZhiDian + TouTou" and "XinCao + TikTok" seem to target two main target groups in China. The former demands cost-effectiveness while the latter wants user experience and content.  The former sells goods at a low price. The latter provides content first then the product.
Having said that, there are already many competitors in the market such as Xiaohongshu, 163's Kaola and Hupu's TheDuApp. There are even many new startups such as HuoQiuMaiShou 火球买手,BangBangTang 棒棒糖, DuWu毒物 and nice working on similar projects. These companies will not only have to convert reading consumers to buying consumers, but they will also face challenges in the supply chain and keeping up with changing trends.
It seems like XinCao will be following a monetization model similar to TikTok – directing consumers to make purchases on larger e-commerce platforms. It is still a long way for Xin Cao to build enough content to generate traffic flow but we will see if XinCao can pull through with TikTok and Bytedance as backers.