KrASIA Startup Wire gives startups a place to tell their stories. We provide a dynamic platform for startups to make their voice heard and share valuable insights with the wider community. To find out more, please contact [email protected]
Tulungagung is a district in the Indonesian province of East Java. It is designated by the government as a regional aquaculture business hub. In all, 12,220 people in Tulungagung depend on fish farming for their livelihoods. They produce catfish, gourami, black tilapia, and other edible fish. This is a low-margin business, meaning production costs are high but the selling prices may be low.
Muktasim, a catfish cultivator from Tulungagung, said fish farmers often have no choice but to sell their harvests at fixed prices determined by buyers due to conventions established by powerful players. This has been the case for Muktasim since 1996, when he had his start in this line of business, but things are changing because of eFishery, a startup that provides a diverse set of services to the fish farmers of Indonesia.
"Since joining eFishery in 2019, I have enjoyed many benefits. In particular, they provide feed automation devices that really make feeding more efficient. They also provide services like loans for fish feed, and help us with creating marketing networks," said Muktasim.
By utilizing the solutions offered by eFishery, Muktasim was able to expand his operation, taking it from 15 catfish ponds to 35 in just two years. He now harvests ten to 15 tons of catfish each month, much more than his previous monthly bounty of five tons.
Muktasim's story is not unique. Basori is a fish farmer who lives in the East Javan city of Malang. He said his business grew by 70% after he joined eFishery's programs. "They help us develop market access that we have never had," said Basori.
Muktasim and Basori are two of the 20,000 fish farmers who are part of the eFishery network. Founded in 2013, Indonesia startup eFishery started out as a provider of automated devices for fish and shrimp farming businesses. The feeding system is said to save up to 30% in feeding costs, boost productivity, and make it more convenient for farmers to control some aspects of their business remotely by using their smartphones.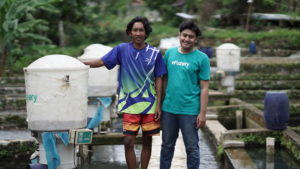 The startup recently launched eFisheryKu, a one-stop mobile application that satisfies the professional needs of their fish farmers. CEO and co-founder Gibran Huzaifah said that farmers face many obstacles in the fish industry. The major problems include difficulties in accessing fishery production facilities, loans, the means to set optimal prices, and distribution channels.
"With the launch of eFisheryKu in September, we aim to be present for fish farmers and support them in upstream and downstream processes. One of the features in the application involves a "pay later" program that enables them to buy fish feed with tenor options available from one to six months, so they can pay after the harvest season," said Huzaifah.
Now, the Bandung-based "fishtech" startup operates across 120 cities in Indonesia and has distributed more than IDR 250 billion (USD 17.3 million) in loans to their clients. Looking ahead, eFishery plans to shore up its technical capabilities and scale of services, as well as expand to other countries that have rich aquaculture ecosystems.